Trump Takes A Page From The Kremlin's Media Playbook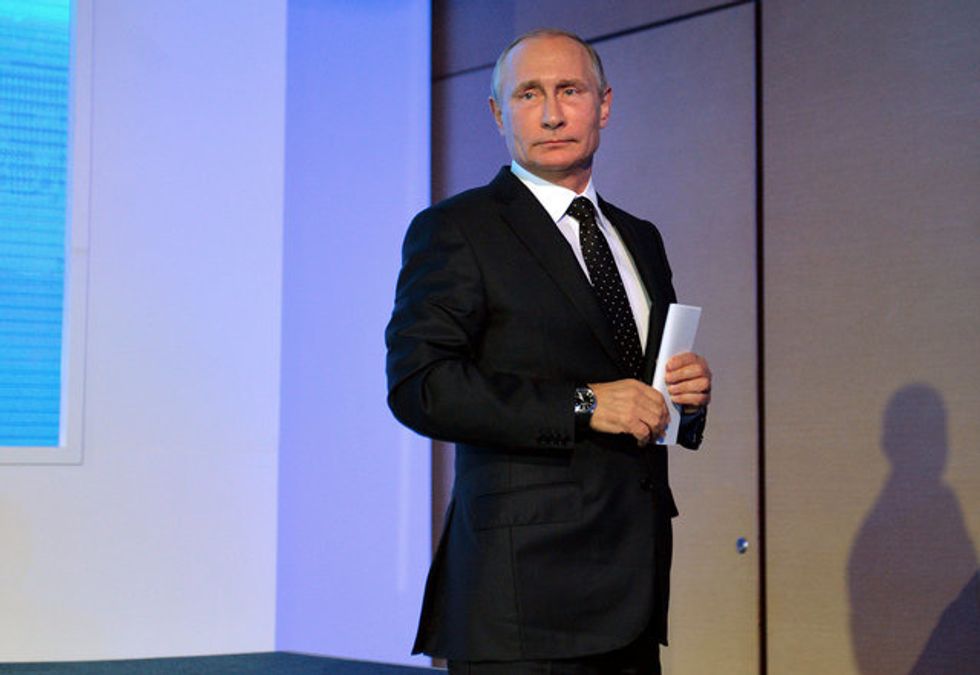 Republican presidential nominee Donald Trump's public flirtation with Russian President Vladimir Putin throughout the 2016 campaign has been met with extensive public interest, skepticism, and criticism. Whether definitive ties exist between Trump and the Kremlin remains to be seen, but the degree to which Trump has seemingly co-opted the Kremlin's propaganda playbook, and the extent to which conservative media has helped Trump execute a Russian-style media strategy built upon the spread of disinformation, is unnerving and portends trouble for the state of objective truth in American democracy.
Red flags have been raised about Trump's alleged relationship with Russia and Putin: Trump has effusively praised Putin; publicly invited the Russian government to hack Democratic presidential nominee Hillary Clinton's emails; deliberately lied that Russia was not involved in hacking attempts aimed at interfering with the U.S. election; recited Russian state-sponsored misinformation; and allegedly has Russian investments in his businesses.
Further, Trump has managed to exploit the fragmented state of American media to seemingly execute the Russian model of "information warfare," as outlined by NATO Strategic Communications Centre of Excellence's Keir Giles. The parallels between the Kremlin's strategy for planting and spreading disinformation — with the ultimate goal of "undermining the notion of objective truth" — and Trump's use of conservative media to spread lies and delegitimize traditional news sources are striking and play out in these ways:
Disinformation Initially Placed On "Sock Puppet Websites"
Russian disinformation strategy, which rests on "'undermin[ing] the very fundamentals of information and credibility that informed debate are supposed to rest upon,'" begins by "placing disinformation" on "sock puppet websites which appear to provide or aggregate news" and "can achieve substantial reach and penetration," according to Giles.
The primary "sock puppet website" at the heart of Trump's Kremlin-style media campaign is The Drudge Report, the conservative media news aggregator that traffics in conspiracy theories, lies, and anti-Clinton smears. The Drudge Report has been a stalwart Trump cheerleader and a launching pad for a series of smearcampaigns and conspiratorial claims meant to undermine Clinton, including long-running conspiracies about her health.
Drudge frequently aggregates stories from notoriously right-wing fringe and conspiratorial websites including WorldNetDaily (WND), Zero Hedge, and Gateway Pundit. At its height in July, Drudge had 1.47 billion page views.
As The Washington Post notes:
Drudge is an ideal landing place for hard-hitting opposition research on one of your political opponents. He's more likely to simply take it and post it rather than looking for where the holes are — as a more mainstream site would do. And, because of Drudge's traffic, which isn't just big but also influential (think reporters, cable TV bookers and other campaigns), everyone you want or need to see it will see it.
To underscore The Drudge Report's jolting parity to Russian "sock puppet websites," the website has openly embraced Putin himself and has linked to Russian propaganda sites at least 91 times thus far in 2016.
InfoWars, a fringe conspiracy website led by 9/11 truther Alex Jones, has also been the birthplace of nonsense claims and anti-Clinton attacks.
Trump has praised Drudge and InfoWars and repeated their conspiracy theories on the campaign trail, effectively mainstreaming the reputation of otherwise unsound sources and giving widespread credence to a variety of baseless claims. Jones himself once announced on his radio show that it has been "surreal to talk about issues here on air and then word-for-word hear [Donald] Trump say it two days later. It is amazing."
New Media Exploited To "Plant, Disseminate, And Lend Credibility To Disinformation"
In his report, Giles notes that "pro-Russian trolls and bots" also "exploit specific features of the relationship between traditional and social media in order to both plant, disseminate and lend credibility to disinformation." They utilize "a range of fora including online discussion boards, Twitter and more" to "act as a force multiplier for driving home the Russian message."
New and non-traditional online forums like Reddit, 4Chan, and Twitter have served as effective tools for Trump supporters to coalesce and subsequently blast out conspiracy theories and anti-Clinton attacks in unison.
As The New York Times highlighted:
[I]f major social media platforms are where Mr. Trump amplifies his pronouncements, sites like Reddit and 4chan have become a sort of proving ground, where an extreme, Internet-amped version of Mr. Trump's message is shared and refined.

[…]

[Reddit] users promote favorable stories, feud with foes and rally support through phone-banking or "Facebanking" — campaigning to Facebook friends. On The Donald, the message is relentless — as are the insults. Opponents are referred to as "cucks," which is short for "cuckservative," as in "cuckold" — now used as a derisive term for liberals and moderate Republicans recently popularized by far-right online commentators and white nationalists, according to the Southern Poverty Law Center. The group shares content and tone with parts of 4chan, the infamous and anonymous message board that traffics in shock, and where Mr. Trump — who regularly scorns "political correctness" — has found substantial, if oblique, support.
Bogus anti-Clinton attacks, like the claim that the Clintons did "the same thing" with their taxes as Trump —who "used a $916 million loss that he reported on his 1995 income tax returns to avoid paying personal federal income taxes for years" — by claiming a "$700,000 loss" on their 2015 tax return, originated on the pro-Trump reddit page "The_Donald" and subsequently rocketed through right-wing media.
Disinformation Then Is "Fed Into The Mainstream News Flow"
After Russian propaganda is placed on aggregate sites and gains traction among these "pro-Russian trolls and bots," writes Giles, the disinformation is then "fed into the mainstream news flow" and "picked up and reported by reputable traditional media."
Similarly, disinformation in the American media track often jumps from fringe websites like Drudge and InfoWars (frequently after and precisely because Trump cites them) to Fox News, the unabashedly pro-Trump cable network that nonetheless brands itself as "fair and balanced," and other right-wing media outlets.
Seemingly attempting to stay in sync with Trump, Fox has mainstreamed fringe right-wing conspiracies and elevated anti-Clinton smears about Clinton's health (which Trump has promoted), character, and leadership style (which Trump has echoed) — while also promoting fringe claims of a "rigged" election (which Trump ishyping), "garbage" online polls that favor Trump (which he loves to cite), allegations that Clinton has her foes murdered (which Trump nodded to), and claims regarding the Clintons' personal marriage (which Trump has floated), all sourced from the fever-swamps of conservative fringe websites.
As Trump's own campaign manager Kellyanne Conway once said, "You can draw a straight line from a Drudge link to what gets covered on cable that night."
Credible Outlets Not Wanting "To Be Left Behind" Repeat The Disinformation
Once disinformation pierces the mainstream news flow "at one or more points," "others will follow," Giles notes. "Even in the new climate of awareness, major news media do not wish to be left behind on a story which has made it to the news agenda."
Credible mainstream American outlets and journalists, perhaps concerned "they will be labeled 'biased,'" as claims John A. Tures, adopt stories that often are cultivated in the right-wing echo chamber and given life by Trump. After Clinton's September pneumonia diagnoses, several mainstream outlets went all-in on hyping how "talk of Clinton's health [is] no longer just the stuff of conspiracy theorists." Media outlets have time and timeand time again parroted right-wing pseudo-scandals about Clinton's use of a private email server and about the Clinton Foundation (stories that were also hyped by right-wing outlets like Drudge and Fox News).
Conservative shaming of the "liberal media" also is often intended to induce mainstream coverage of an otherwise fringe or unsubstantiated story. Speaking about hacked emails from Clinton campaign manager John Podesta, Fox host Ainsley Earhardt exclaimed, "Do you think the mainstream media will talk about it?" Co-host Steve Doocy added, "Or at least Donald Trump?" Guest Steve Hilton replied, "I don't think so, so that's why [Trump] needs to talk about it. Because otherwise, it's just going to disappear into the ether."
Ultimate Goal Of "Undermining The Notion Of Objective Truth"
In his assessment of "Russian objectives" behind the Kremlin's "information warfare" strategy, Giles writes, "it has as one aim undermining the notion of objective truth and reporting being possible at all," which ultimately "'undermines the very fundamentals of information and credibility that informed debate are supposed to rest upon.'"
In executing a similar media strategy, Trump and the conservative media have worked to discredit historically legitimate sources of truth. Both by planting, cultivating, and bolstering disinformation and through an unprecedented war on the press, Trump and right-wing media have ushered in an era of post-truth politics where voters have "been successfully persuaded that everything is a lie, so the only political choice you have is to select the fiction that most fits your self-conception," as explained by journalist Ned Resnikoff.*
Just as how "credibility is not always a metric of success for Russian information warfare campaigns" and that Russian disinformation thrives despite its "lack of plausibility," as Giles writes, Trump's promotion of lies and conspiracies are not depressed by the overwhelming number of fact-checks he receives, precisely because truth may not be the measure of success he is seeking.
Indeed, as CNN's Brian Stelter warned, "Trump and his supporters … are delegitimizing institutions the United States holds dear" — which, frighteningly, is exactly what Giles notes was the goal of Soviet propaganda campaigns that the current Kremlin "information warfare strategy" is emulating.
Reprinted with permission from Media Matters for America.
IMAGE: Russian President Vladimir Putin attends the annual VTB Capital "Russia Calling!" Investment Forum in Moscow, Russia, October 12, 2016. Sputnik/Kremlin/Alexei Druzhinin via REUTERS