How Trump Uses Twitter To Show His Love For Fox News
@AlKapDC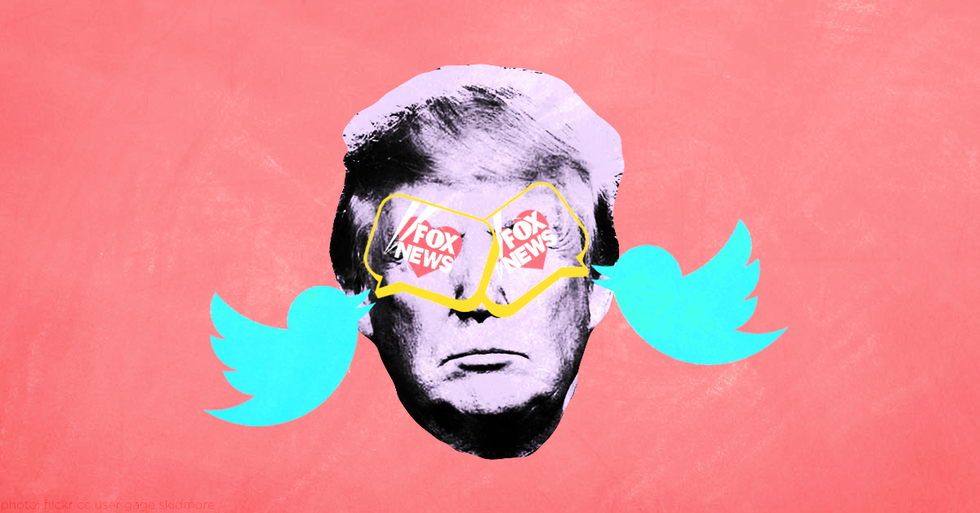 Reprinted with permission from MediaMatters.

The mutually beneficial relationship between President Donald Trump and Fox News has been readily apparent for a while, partly because of the network's Trump mania during the campaign. But after nearly 150 days of Trump's presidency, Fox — and in particular Trump's favorite morning show, Fox & Friends — has essentially become a propaganda outlet for the president. In return, Trump has praisedFox and echoed claimsmade by the network, while also attacking Fox News' competitors as "fake news."
One of the main ways Trump shows his adoration for Fox is through his Twitter account, where the president has often been explicit in his appreciation for the network's coverage. According to a Media Matters search on the Trump Twitter Archive, along with a manual search of Trump's tweets, between Inauguration Day, January 20, and June 16, Trump has:
tweeted at Fox & Friends (@foxandfriends) 16 times;
retweeted Fox & Friends (@foxandfriends) 15 times;
tweeted or retweeted a link to Fox News or Fox Business' website at least nine times; and
tweeted at Fox News (@FoxNews) 11 times.
Trump oftentimes retweets misleading or inaccurate Fox reports and graphics. For example, Fox's tweets highlighting employment gains in the February jobs report failed to note that much of the gains were part of a pattern that preceded Trump's presidency. In March, Trump retweeted a highly misleadingFox & Friends report claiming terrorists were using religious visas to enter the U.S., even though the report did not cite even one example. And in May, despite his past criticism of anonymous sources, Trump retweeted Fox pushing a dubious report from a single anonymous source who claimed Trump's son-in-law, Jared Kushner, did not suggest to the Russians that they establish a secret communications channel, which was contrary to other reporting.
In addition, Trump has also shared at least 11 Fox videos and graphics, frequently usingthemto highlight Fox's misleadingportrayal of economic news, which has been framed to look positive for Trump. Trump also seems to nearly exclusively rely on Fox whenever he wants to share footage of himself from events and ceremonies, such as an inaugural ball, the signing of executive orders, and his speech at a NATO gathering. Trump as president has also tweeted links to Fox stories more than to those of any other individual outlet, tweeting at least seven Fox articles.
Trump on multiple occasions has even used his Twitter account to laud Fox's reporting, saying "@foxandfriends is great," referencing its "great reporting," praising its segments, and congratulating the show on its ratings. In return, Fox has at least on someoccasions showed or read on air tweets by Trump that mentionthe network. Most recently, on June 16, Trump retweeted Sean Hannity's tweet that he would have on his show a "monologue on the Deep State's allies in the media."
Perhaps what makes Trump's online fawning over Fox most jarring is the sharp contrast to how he talks about other media outlets on Twitter. In line with his administration's war on the press, Trump has regularly attackedother outletsby name, often calling them "fake news" and even once going so far as to call some media outlets the "enemy of the American People." Just last week, Trump tweeted, "Sorry folks, but if I would have relied on the Fake News of CNN, NBC, ABC, CBS, washpost or nytimes, I would have had ZERO chance winning WH."
From a Media Matters analysis:
Number of tweets in which Trump invoked "fake news": at least 49
Number of tweets in which Trump attacked The New York Times: 18
Number of tweets in which Trump attacked ABC: five
Number of tweets in which Trump attacked NBC or MSNBC: eight
Number of tweets in which Trump attacked CBS: two
Number of tweets in which Trump attacked CNN: nine
Number of tweets in which Trump attacked The Washington Post: three

Header image by Sarah Wasko / Media Matters