As Trump Wages War On The Press, News Outlets Refuse To Fight Back
@EricBoehlert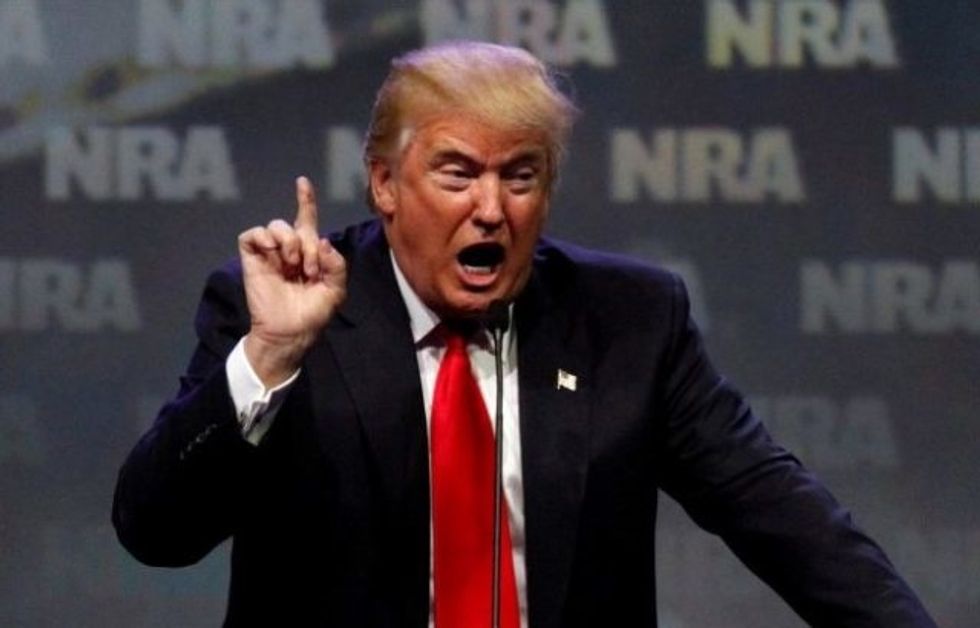 Like everything else about Donald Trump's vitriolic campaign, his attacks on journalists, and the way those assaults are being fervently amplified by Trump's whipped-up supporters, have become genuinely frightening during the finals weeks of the Republican's faltering run.
Fronting a nihilistic campaign that seeks to do lasting damage to our electoral and democratic process, Trump has shifted his all-encompassing war on the media onto more dangerous terrain this month. Graduating from his previous claims that reporters are "disgusting" and "horrible people," Trump now insists they're all part of the "rigged" infrastructure this election cycle that's conspiring against the former beauty pageant owner.
Forget blaming the messenger — Trump's now trying to bury the messenger. And his fans want to help.
In addition to lobbing regular abuse at journalists on social media, Trump and his supporters have waged their vendetta at the candidate's rallies, where journalists are corralled behind metal barricades. And his fans have become increasingly unhinged. "The traveling press corps covering Donald Trump's rally in Cincinnati had to be escorted out the back door of the event to a heavily guarded motorcade after being greeted with boos, middle fingers and a seemingly 'arena-wide' chant of 'Tell the truth!' from a crowd of 15,000 people, according to a pool report," People recently reported.
None of this is new, unfortunately. On Monday, The New York Timespublished a piece headlined "Criticism of the News Media Takes on a More Sinister Tone," which raised concerns about "dangerous" anger targeted at reporters.
It's true that the level of contempt seems to have spiked in recent days as Trump takes his campaign off the rails, with his crowds "spontaneously targeting the press on their own, at a scale not yet seen in this campaign, or any in memory on American soil," according to Politico.
But Trump's outrageous, out-of-bounds press attacks have been a staple of his campaign for more than a year.
Last winter, after Trump from a rally stage targeted NBC reporter Katy Tur as a "dishonest" "third rate reporter" and after the Trump crowd turned on her "like a large animal, angry and unchained," the Secret Service took the precaution of escorting Tur to her car after the event.
The unyielding harassment hasn't abated, according to Tur: "The wave of insults, harassment, and threats, via various social-media feeds, hasn't stopped since. Many of the attacks are unprintable."
Last week, the Committee to Protect Journalists passed a resolution "declaring Trump an unprecedented threat to the rights of journalists and to CPJ's ability to advocate for press freedom around the world." Also, the National Press Club recently condemned Trump's anti-media crusade: "We find this renewed pattern of journalist intimidation to be unacceptable and dangerous to our democracy."
These condemnations are important and welcomed, but unfortunately they're the exception and not the rule this cycle — and they arrive woefully late. In the face of Trump's ongoing bullying, much of the press hasn't fought back.
For more than a year, the Trump campaign has beat up the media, and news organizations did little in response while showering him with even more coverage and hiring his former campaign manager as an election commentator. What kind of signal does that send? Why didn't news executives ever say "enough" to the campaign bullying? And why didn't they opt for collective action to fix the obvious problems with how the Trump campaign was manhandling the press?
I am not blaming the victims here — the victims being the journalists who have been doused with verbal attacks and rancid condemnations at Trump rallies. Obviously, hard-working reporters never deserve to be treated like that.
But I do think those journalists' bosses deserve part of the blame for never summoning the courage to effectively and unapologetically push back against Trump's ugly war.
At key junctures during the election season, dating back to the summer of 2015, Trump and his campaign have pushed the press around, sometimes literally. Institutionally, how did the press respond? With hallmark timidity, driven, perhaps, by the high ratings and advertising revenue that Trump's campaign provided.
I've highlighted this contrast before, but it's absolutely essential in terms of understanding how toothless the press has been in dealing with Trump's campaign intimidation, and how the press never would have let those types of hardball attacks go unanswered coming from a Democratic candidate.
Last year, 17 journalists representing a multitude of news organizations met for two hours in Washington, D.C., because they were so angry with how Hillary Clinton's campaign was limiting access for journalists. Note that the Democratic nominee wasn't besmirching journalists, calling them names, or inciting her followers to rain insults down on reporters. She was simply accused of not granting reporters enough access, which produced a collective response from news organizations.
Last November, several news organizations did discuss their concerns with the Trump campaign, according to The Huffington Post, but seemingly nothing came of it. In fact, "facing the risk of losing their credentialed access to Trump's events, the networks capitulated," BuzzFeed reported.
So yes, the press has adopted separate standards for dealing with Democratic and Republican campaigns, especially when journalists feel they're being treated unfairly. Trump sensed that, took advantage of it, and steamrolled news organizations that seemed more concerned with not losing access to Trump's clicks/ratings-heavy campaign than with combating the candidate's smear campaign and making sure their reporters were guaranteed safe environments to work in.
The end result is the current shit show that's unfolding, where journalists remain corralled inside Trump rally press pens while his fanatic followers unleash their venom.
Reprinted with permission from Media Matters. 
Photo: Republican presidential candidate Donald Trump addresses members of the National Rifle Association during their NRA-ILA Leadership Forum during at their annual meeting in Louisville, Kentucky, May 20, 2016. REUTERS/John Sommers II