Is Trump Waging a Stealth War of Retaliation Against Sanctuary Cities?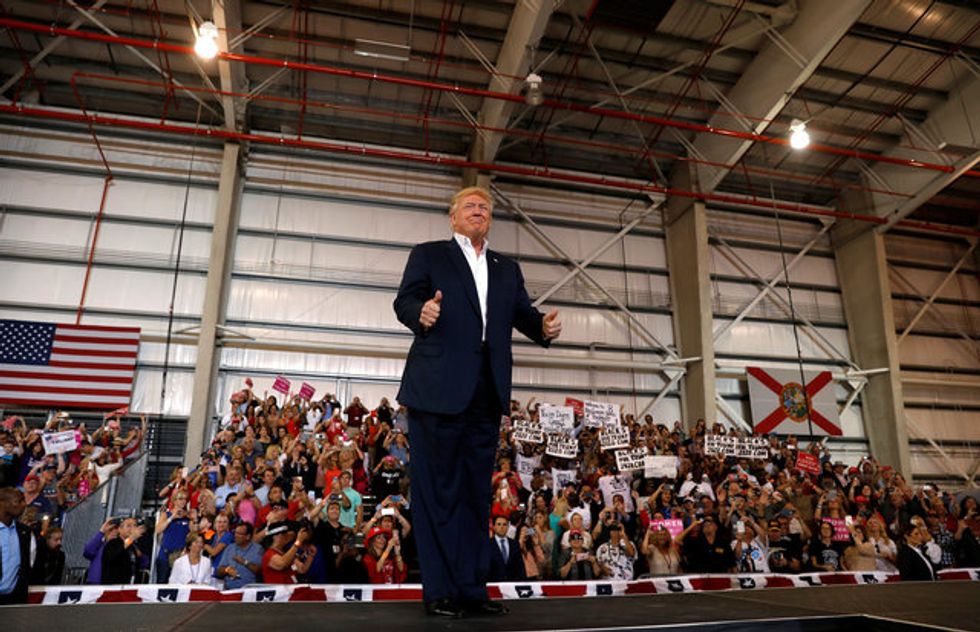 Reprinted with permission from Alternet.
As Attorney General Jeff Sessions doubles down on President Donald Trump's threats to crack down on sanctuary cities, evidence is mounting that the administration has already made them the target of retaliatory immigration raids as part of a backdoor effort to force compliance.
The term "sanctuary city" refers to the hundreds of jurisdictions across the United States that, to one degree or another, limit cooperation with federal immigration authorities.
CNN reported on March 25 that an unnamed "senior U.S. immigration official with direct knowledge of ongoing ICE actions" testified that federal authorities have descended upon sanctuary cities to pressure them to cooperate. Journalist Maria Santana wrote, "High-ranking ICE officials have discussed in internal meetings carrying out more raids on those locations [sanctuary cities]."
While Santana's source did not reveal his or her identity, a federal judge proclaimed in open court on March 20 that he was told firsthand by federal agents that aggressive immigration raids in Austin this February were orchestrated in direct retaliation for sanctuary policies adopted by a local sheriff. U.S. Magistrate Judge Andrew Austin's assertion was first reported by Tony Plohetski of the Austin American-Statesman.
In early February, Immigration and Customs Enforcement (ICE) carried out aggressive sweeps throughout Austin, arresting at least 51 people, as part of coordinated raids across the country. "They were pulling people over on the side of the road, apprehending them at their homes, knocking on doors and profiling people," Cristina Parker, an organizer with Grassroots Leadership, told AlterNet.
On January 20, the same day Donald Trump was inaugurated, Travis County Sheriff Sally Hernandez announced a plan to reduce voluntary compliance with federal immigration detainer requests at the county jail. The initiative constituted a direct response to years of Austin-area grassroots organizing led by immigrant communities, which mobilized sustained resistance to a surge in deportations stemming from the implementation of a Secure Communities program in 2009.
While Hernandez's plan, which went into effect February 1, was cheered by immigrant justice groups as a "step forward," it falls short of organizations' calls for a complete end to collaboration between local law enforcement and ICE, as it allows for continued cooperation for individuals charged with certain crimes.
Nonetheless, Judge Austin said he has firsthand information that the raids were conducted in direct retaliation against Hernandez's policy.
Addressing ICE agent Laron Bryant during a hearing, Austin noted that he, along with another federal magistrate, was briefed in late January that "we could expect a big operation, agents coming in from out of town, that it was going to be a specific operation…It was related to us in that meeting that it was the result of the sheriff's new policy that this was going to happen."
"My understanding is," Austin continued, "one of the reasons that happened was because the meetings that occurred with the field office director and the sheriff didn't go very well."
This assertion directly conflicts with claims made by Department of Homeland Security spokesperson Gillian Christensen that sweeps across the country—including Atlanta, Chicago, New York, the Los Angeles area, North Carolina and South Carolina—were "routine" enforcement actions.
"This retaliation was a vengeful tactic by ICE for all the progress the immigrant community has gained in this county in the last four years," said the Travis County campaign, ICE Out of Austin. "This is as much an attack on the local democratic process, the immigrant community and their leadership as it is on our sheriff's policy. We fought too hard and too long to let ICE intimidate us back into accepting our deportations. We will continue to struggle and fight to end deportations."
Roksana Mun, director of strategy and training for the New York-based group, Desis Rising Up and Moving, told AlterNet, "We've seen a pattern of the administration targeting sanctuary cities and cities that have sanctuary policies without using that word."
But some grassroots organizers emphasize that escalation is occurring across the board, and every jurisdiction faces increased threat.
Tania Unzueta, an organizer with the Chicago-based organization Organized Communities Against Deportation (OCAD) and the national group Mijente, told AlterNet, "We've been seeing more raids all over the country, whether the city is sanctuary or not. We're seeing felony charges where people are getting picked up in raids and hit with felony reentry charges. The number of raids and the punishments are more severe. We're seeing more shameless stuff, like picking up someone at domestic violence court, going after people doing community service, going to probation officers and street raids."
"Things are getting more intense, and there is no accountability," Unzueta continued, noting: "I think the political messaging of the Trump administration is to undermine sanctuary cities and punish the cities politically."
This messaging was in full effect at a White House briefing on March 27, where Attorney General Jeff Sessions echoed Trump's prior threats to withhold up to $4.1 billion in federal grants from so-called sanctuary cities, proclaiming: "Such policies cannot continue."
Sessions statements repeated threats issued in a January 25 executive order, offering no new policy prescriptions. They came just one week after DHS released its first ever report on jurisdictions that do not comply with federal requests to detain individuals so that they can be placed in immigration and potential deportation proceedings (the list was riddled with errors).
Sessions' threats to withhold funding were immediately assailed by legal experts, who say the Trump administration lacks the authority to take such action. "Despite the Trump administration's bluster and threats, the federal government cannot coerce local police into becoming deportation agents, and should not try to scare local authorities into taking illegal actions that undermine public safety and subject them to liability," Omar Jadwat, director of the American Civil Liberties Union's Immigrants' Rights Project, said in a statement.
The Center for Tax and Budget Accountability argued in December that the Trump administration may not have the authority to strip such funds without the consent of Congress.
Whether or not the Trump administration has the authority to punish sanctuary cities financially, organizers say now is an important time to defend—and expand—local sanctuary policies. The Movement for Black Lives is teaming up with Mijente to advance sanctuary campaigns across the United States that defend protections from criminalization at the hands of police and immigration authorities.
"ICE has been behaving so badly," said Unzueta. "It's the reason there needs to be protections for people."
This article was made possible by the readers and supporters of AlterNet.