Trump Wants To Try Americans At Guantánamo Bay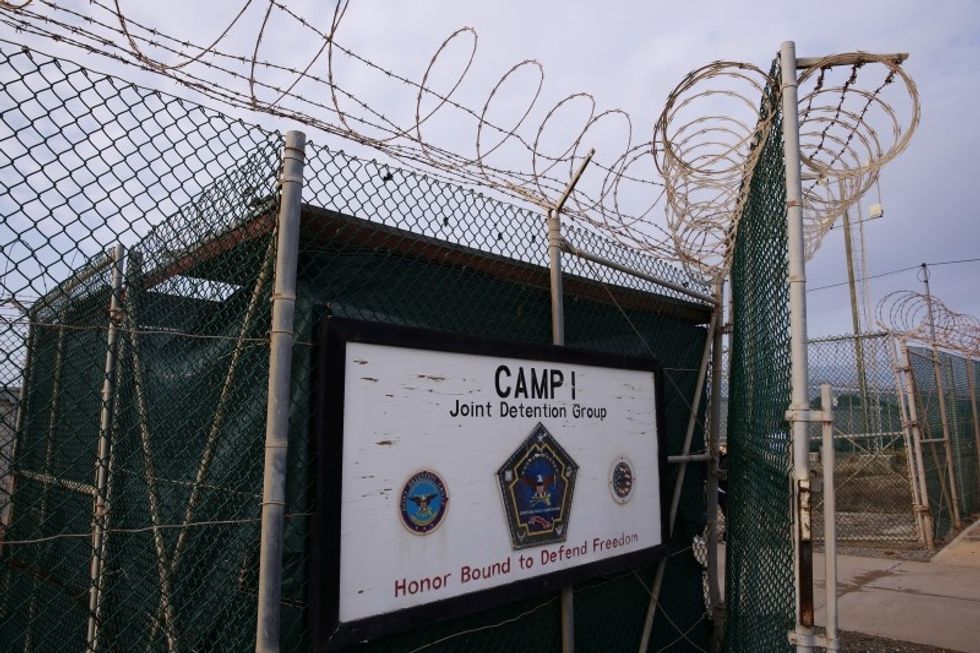 In an interview with the Miami HeraldThursday, GOP nominee Donald Trump suggested that under his presidency, U.S. citizens suspected of terrorism could be tried at Guantánamo Bay. As noted in the Herald piece, that's illegal under current federal law.
"I know that they want to try them in our regular court systems, and I don't like that at all," Trump said. According to Trump, it "would be fine" for military tribunals prosecute American citizens.
Trump has previously been asked about Guantánamo Bay and has said he would want to "load it up with bad dudes."
"I want to make sure that if we have radical Islamic terrorists, we have a very safe place to keep them," he said.
Trump also slammed President Obama over his Gitmo policies, saying Obama is "allowing people to get out that are terrible people."
The Obama administration previously faced opposition and criticism for considering trying five people alleged to be involved in the September 11 attacks in Federal court in New York City, rather than at Gitmo where they were held. The opposition was so strong that the administration changed course and decided to prosecute via military tribunal.
Closing Guantánamo Bay is something President Obama hoped to accomplish during his time in office, and he signed an executive order in 2009 intending to have the prison closed within one year. The plan was for individuals still remaining there to be returned to their own country, released, transferred to another country or brought stateside to a detention facility.
Obama has faced staunch opposition at every step, however, as many politicians and members of the public do not agree with his proposal to bring any prisoners to the continental U.S.
At one point, Obama threatened to veto the annual National Defense Authorization Act (NDAA), because it contained provisions barring the transfer of detainees to the U.S., among other things. He ultimately signed it and began an attempt to speed the transfers of detainees to their home countries or other nations.
Obama has said he feels very strongly about the closure of the prison, but he hasn't been able to form any solid plan to effectuate such a change: "I don't want to pass this problem on to the next president, whoever it is. If we don't do what's required now, I think future generations are going to look back and ask why we failed to act when the right course, the right side of history, and justice and our best American traditions was clear."
The current population of Guantánamo Bay is 76.
Photo: A sign identifies Joint Task Force Guantanamo's closed down Camp I at the U.S. Naval Base in Guantanamo Bay, Cuba March 22, 2016.  REUTERS/Lucas Jackson/File Photo