Trump Brings His Devious Social Media Director To The White House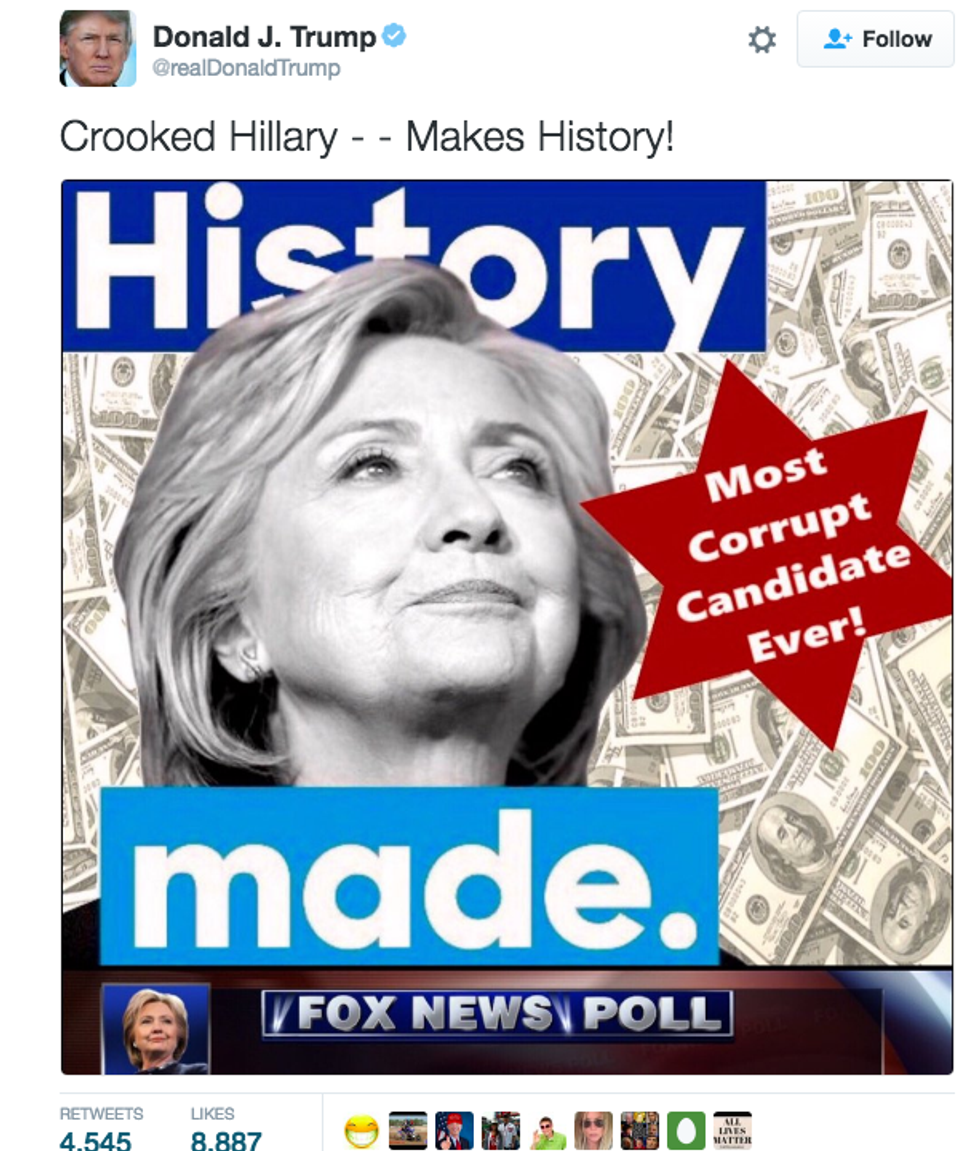 Reprinted with permission from Media Matters for America.
President-elect Donald Trump's newly announced assistant to the president and director of social media, Dan Scavino, frequently used social media while working on the Trump campaign to share links from sites that push fake news and conspiracy theories. He was also responsible for an anti-Semitic Trump campaign tweet and routinely attacked Fox News host Megyn Kelly, who cited Scavino as a reason she received death threats during the campaign.
In a press release detailing the senior members of the incoming White House communications team, President-elect Donald Trump announced that Dan Scavino will serve as assistant to the president and director of social media, calling him a "key member of my team during the campaign and transition." Scavino was "a lucky 16-year-old who happened to be in the right place at the right time" when in 1990 he was selected to caddie for Trump. He would later become general manager of Trump National Golf Club, then would "travel the world with Trump visiting courses" before becoming the social media director of the Trump campaign in February 2015. [Twitter, 12/22/2016; CNN.com, 7/5/2016]
Scavino has repeatedly promoted stories from Trump ally Alex Jones' conspiracy theory website InfoWars. Jones believes the government perpetrated the 9/11 attacks, multiple school shootings, the Oklahoma City bombing, and the Boston Marathon bombing, among many other conspiracies theories. [Twitter, 7/26/15, 3/3/16, 7/28/16; Media Matters, 12/1/16]
Scavino has shared stories from outlets including Western Journalism, The Conservative Tribune, The Angry Patriot, and Gateway Pundit on Twitter. All four of these outlets have produced fabricated news stories labeled by fact-checking websites as "false" or completely "unproven." [Twitter, 12/6/15, 1/9/16, 3/23/16, 4/12/16; Snopes.com, 7/31/15; Media Matters, 12/14/16]
BuzzFeed reported in December 2015 that Scavino "shared a video on Twitter Friday, falsely asserting that it showed Syrian refugees in Germany rallying for ISIS. The video, which has existed on YouTube since 2012, actually shows Salafist Muslims protesting an intentionally provocative rally held by an extreme right-wing group in Germany." BuzzFeed noted that the video "has found new life on the Internet since November, when people on the far-Right began claiming that the clip depicted a pro-ISIS rally." Scavino's tweet has since been deleted. [BuzzFeed, 12/21/15; Twitter.com, 12/18/15]
Mediaite reported that Scavino shared on Twitter a video that alleged Sen. Ted Cruz had an affair with Amanda Carpenter, a former staffer for the Texas senator. Carpenter, a CNN contributor, responded to Scavino's tweet in an interview with Jake Tapper, denouncing the "sexist smears" directed against her. [Mediaite, 3/29/16]
Scavino published multiple video news clips claiming to bolster Trump's false claim that "thousands" of Muslims in New Jersey celebrated the 9/11 attacks. The Washington Post's fact-checker explained that the reporter in the clips "later tweeted that his reports did not back up Trump's claim of 'thousands' cheering on the roofs" [The Washington Post, 11/22/15]
During the GOP primary, Scavino suggested on Twitter that an NBC News/Wall Street Journal that showed Cruz leading Trump was manipulated by Journal owner Rupert Murdoch. Trump later attacked Murdoch over the poll, calling it a "Rupert Murdoch hit."
 On July 2, Trump's official Twitter account shared an image showing opponent Hillary Clinton superimposed over a pile of money. The image included a Star of David with the text "Most Corrupt Candidate Ever!" Mic.com reported that the image "was previously featured on 8chan's /pol/ — an Internet message board for the alt-right, a digital movement of neo-Nazis, anti-Semites and white supremacists newly emboldened by the success of Trump's rhetoric." Before Trump's campaign tweeted it, the image had also been shared on Twitter by a now-defunct account that often posted material "most people would consider racist or anti-Semitic," according to PolitiFact. Responding to the ensuing controversy, Scavino released a statement in which he claimed the Star of David image was actually a "sheriff's badge — which is available under Microsoft's 'shapes.'" Trump confirmed that Scavino "put out" the tweet. [Mic.com, 7/3/16; PolitFact, 7/5/16; CNN.com, 7/4/16; Media Matters, 7/6/16]
After a contentious interview in which Fox host Megyn Kelly asked former Speaker of the House Newt Gingrich about sexual assault allegations against Trump, Scavino wrote on Twitter that Kelly is "not very smart" and also said, "Watch what happens to her after this election is over." [Mediaite, 10/25/16; Twitter, 10/25/16; Twitter, 10/25/16]
Angry over the fact that Kelly asked Trump during a debate about his past sexist statements, Scavino sent nine tweets using the hashtag #KellyFailed on August 6 and 7. [Twitter, accessed 12/22/16]
The Guardian reported, "Journalist Megyn Kelly, who is under armed guard after receiving death threats, has accused Donald Trump's social media director of stirring hatred on the Internet." Kelly said during a December talk in Washington, D.C., "It's that far corner of the Internet that really enjoys nastiness and threats and unfortunately there is a man who works for Donald Trump whose job it is to stir these people up and that man needs to stop doing that. His name is Dan Scavino." [The Guardian, 12/6/16]