As U.S. Jobs Flee The Country, One Of Trump's Biggest Campaign Promises Is Already Going Down In Flames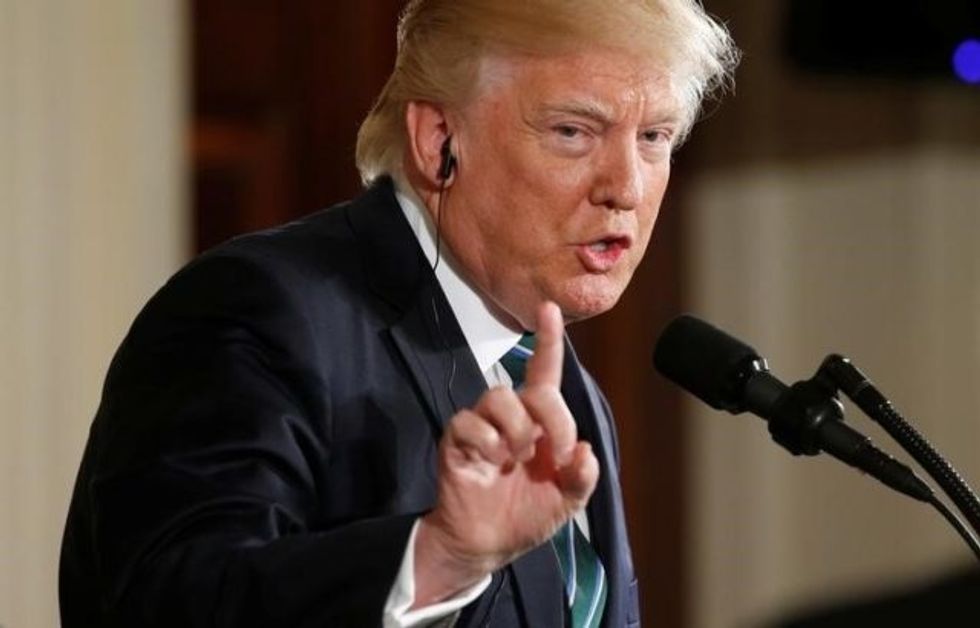 Reprinted with permission from Alternet.
Again and again on the campaign trail, Donald Trump made promises he couldn't keep, playing on the ignorance of his base and revealing his own glaring misunderstanding of policy. The GOP candidate repeatedly vowed to strongarm companies into keeping jobs at home instead of sending them to Mexico, renegotiate NAFTA and impose stiff import taxes on foreign goods. It was a message that appealed widely to Trump supporters, blending the illusion of economic hope with the rubric of "America First" nationalism.
Problem is, nothing about Trump's vision has anything to do with reality, and U.S. jobs continue to be sent across the border. As Bloomberg reports:
Illinois Tool Works Inc. will close an auto-parts plant in Mazon, Illinois, this month and head to Ciudad Juarez. Triumph Group Inc. is reducing the Spokane, Washington, workforce that makes fiber-composite parts for Boeing Co. aircraft and moving production to Zacatecas and Baja California. TE Connectivity Ltd. is shuttering a pressure-sensor plant in Pennsauken, New Jersey, in favor of a facility in Hermosillo.
Those companies aren't alone. Indianapolis-based firm Rexnord is moving 300 jobs to Monterrey, Mexico, despite a December tweet by Trump meant to shame the company into staying. That company is located just up the road from Carrier, the air conditioning manufacturer Trump falsely claimed to have bribed into keeping 1,100 jobs in its home state. Like nearly every victory claimed by the president, it too was a lie. As CNN Money notes, only 800 factory jobs were saved while 500 are still being shifted south.
Trump's falsehood moved a local union leader to declare POTUS had "lied his ass off."
"Trump and Pence, they pulled a dog and pony show on the numbers," Chuck Jones, president of the local steelworkers union, told the Washington Post. "I almost threw up in my mouth."
More smoke-and-mirrors shenanigans surround Trump's recent boasts of job-saving at Ford Motor Company. "Big announcement by Ford today," Trump wrote in an intentionally misleading tweet. "Major investment to be made in three Michigan plants. Car companies coming back to U.S. JOBS! JOBS! JOBS!"
But those jobs—there are just 130 of them—had nothing to do with Trump. The same is true of the company's decision to put the brakes on a plan to transport 700 jobs to Mexico, announced after Trump criticized the move on social media. As Reuters notes, "both projects were part of 2015 negotiations with the UAW, when Ford said it would invest $9 billion in U.S. plants over four years." If, as Trump seems to think, a president deserves credit for every new job created when he is in office, then the point for this one goes to Obama.
Trump may also be backing off of promises to raise tariffs on incoming goods and renegotiate NAFTA. The shift in tone comes on the heels of a series of calamitous failures that have come to define this bumbling presidency. Days ago, according to the New York Times, "a draft letter suggesting a softening of his views began circulating among members of Congress this week." The report goes on to state that the draft proposal appears "to propose keeping much of the agreement in place."
This article was made possible by the readers and supporters of AlterNet.