Trump's Broken Promises Highlighted In Budget Coverage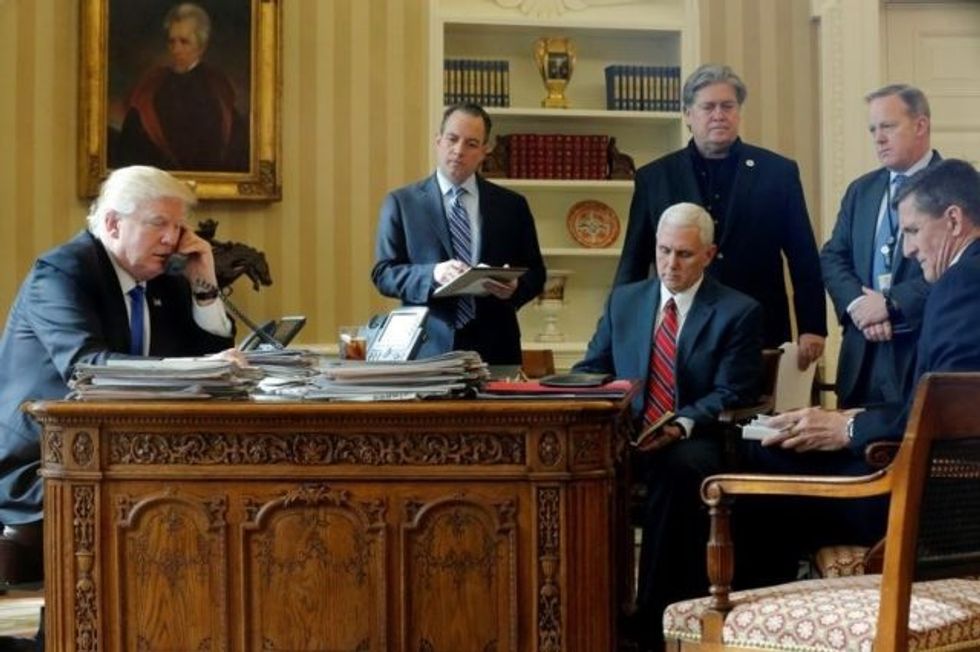 Reprinted with permission from MediaMatters.
Multiple news outlets have reported on the harsh human toll of President Donald Trump's budget proposal, which is expected to gut programs that guarantee basic living standards, including parts of Medicaid and Social Security. These cuts directly contradict Trump's promise to save the programs "without cuts."
The White House first hinted at slashing programs that help working- and middle-class Americans on February 26 when, according to Bloomberg, Trump floated proposals to increase defense spending by 10 percent while cutting programs including assistance for low-income Americans while still promising not to touch Medicare, Medicaid, and Social Security. The White House claimed these drastic cuts would help spur economic growth, an absurd claim that was resoundingly ridiculed by economists as "deep voodoo" and "wholly unrealistic." The administration's initial budgetary proposals were so drastic and poorly thought out that they stunned many observers and experts. The White House even advocated cutting assistance to the Corporation for Public Broadcasting, which would be particularly harmful to "small-town America," and Meals on Wheels, which "doesn't make economic sense" and would cruelly deny millions of elderly Americans basic companionship and a hot meal.
On May 21, The Washington Post reported that the White House will unveil a formal federal budget proposal that goes even further than the administration's earlier indications by proposing "massive cuts to Medicaid" and other anti-poverty public assistance programs. On May 22, Axios reported that the president plans to cut $1.7 trillion over 10 years from federal assistance programs including the Supplemental Nutrition Assistance Program (SNAP), the Children's Health Insurance Program (CHIP), and Social Security Disability Insurance (SSDI), which collectively serve tens of millions of people. (Axios incorrectly stated that Trump's budget plan "won't reform Social Security or Medicaid," before outlining Trump's plan to cut SSDI and incorporate massive Medicaid restrictions that would become law if his Obamacare repeal plan is ever enacted.)
As details of Trump's budget plan continued to leak, some media outlets explained the devastating consequences for millions of Americans if the White House gets its way and these drastic cuts take effect. They also explained that Trump's embrace of deep cuts to components of Medicaid and Social Security represent a betrayal of his promises from the campaign.
CNN chief business correspondent Christine Romans explained on the May 22 edition of CNN Newsroom that much of the money being cut from mandatory spending would come from Medicaid, which could see up to a 25 percent reduction in federal funding, pushing the financial burden onto the states and kicking 14 million people off their health insurance programs. Romans mentioned that protecting Medicaid is one of many campaign promises from Trump "that are turning out not to be true."
On the May 22 edition of MSNBC Live, host Chris Jansing went even further in breaking down the human toll of Trump's budget cuts with NBC News senior editor Beth Fouhy and New York Times national reporter Yamiche Alcindor. The show aired part of an interview with a mother of two young children, who told Fouhy that if these cuts are enacted, the costs of care for her child with cerebral palsy will bankrupt her. Then they showed a clip of Trump on the campaign trail proclaiming that he would "save Medicare, Medicaid, and Social Security without cuts." Alcindor discussed a report she wrote for the Times earlier this month about the human costs of budget cuts that would lead eliminate programs that help provide small communities with access to clean drinking water, drug rehabilitation centers, and jobs programs: