Trump's Cable TV Network Is The Vanity Project He Needs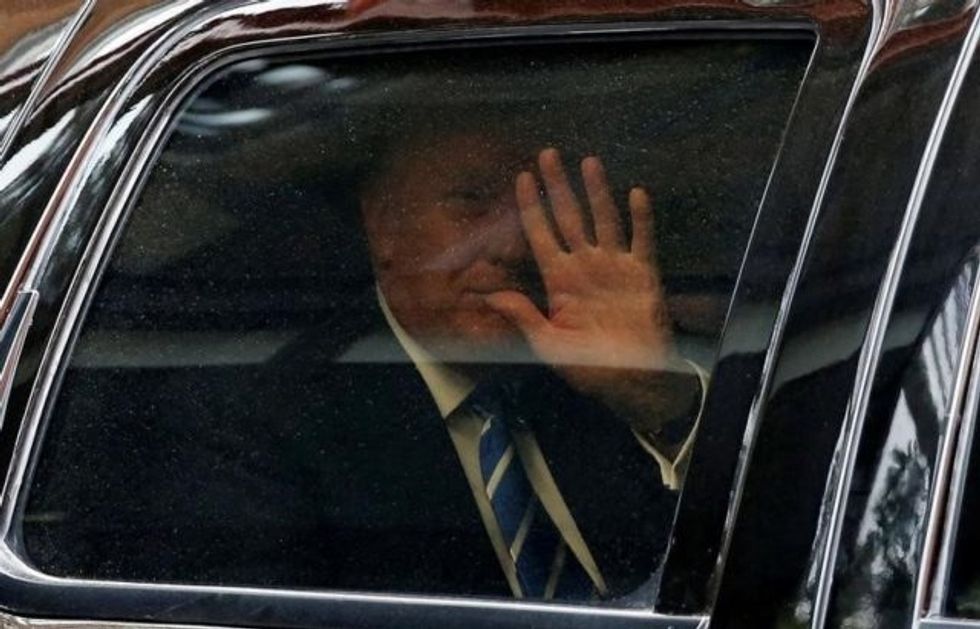 If a report published Thursday in Vanity Fair — that Donald Trump is considering creating a "mini-media conglomerate," anchored by a cable news network aimed at his current base — turns out to be accurate, it confirms the worst aspect of Trump's candidacy for president: This is all about him.
Donald Trump never wanted to be president, I figure: He wanted to be the most famous person in the world. And after achieving that goal by winning the Republican nomination, he has run a lackluster, losing campaign, race baiting presidents and federal judges even though it's obvious that that immeasurably hurts his chances at the Oval Office; and continuously returning attention, even in his response to America's worst mass shooting, to himself.
Appreciate the congrats for being right on radical Islamic terrorism, I don't want congrats, I want toughness & vigilance. We must be smart!

— Donald J. Trump (@realDonaldTrump) June 12, 2016
We should have expected as much. From the first day of his campaign, Trump has run on a platform of… his own personality.
Just a month into his campaign Trump bragged that "I'm not sure I have" ever asked God for forgiveness. "I don't bring God into that picture," he said.
After the bombing of a Christian theme park in Pakistan in March, Trump ominously reminded supporters of his stance on counterterrorism: "I alone can solve".
On Tuesday, after withering criticism from within GOP when he implied the president of the United States knew in advance about the massacre of 49 people in Orlando, Trump reminded them who ought really be at the center of attention: "Either stick together, or let me just do it by myself," he said. "I'll do very well."
Sure, Donald. You'll do fine. Incidentally, recent polls show the most unpopular major party presidential nominee has gotten even more unpopular.
The move to turn the ultra media savvy campaign into an ultra media savvy news or entertainment effort would require the same skills Trump has leaned on his whole life — bullying, bluster, bullshitting — without the faux patriotism or commitment to service or charity.
Trump won't be alone in monetizing his political success: After Mike Huckabee's 2008 presidential campaign, he got his own Fox program, Huckabee, and his own daily radio show. Ben Carson went on a book tour during his presidential campaign. Joe Scarborough turned the charm of a brief congressional career into a much more lucrative morning spot on MSNBC.
And Sarah Palin, perhaps the closest in style and lack-of-substance to Trump's verbal spasm of a political career, ended her governorship of Alaska a year early to star in Sarah Palin's Alaska on TLC and publish a book, Going Rogue. In 2014, The Sarah Palin Channel began a one-year life online before crashing and burning.
Donald Trump obviously marks somewhat of a departure from the conservative media industrial complex: He was famous before he was political, for one, and if anything his surely-brief career as a conservative figure has so far made him much less popular than the cruel boss he played on The Apprentice. Most people don't want that guy running the country.
But Trump's supporters do. Which begs the question: Assuming Trump loses the presidency — which he seems to believe, unless he plans on running a media company from the White House, breaking more than a few federal laws in the process — will his supporters feel the same loyalty to a Donald Trump neutered of all potential political power?
Here's my guess: Without the potential for political control, Trump will turn into a sad echo of his current persona — neutered, powerless, and sad.
But he will still be Trump, and so he will continue to constitute his own identity through the eyes of his "audience," whether they be voters with the ability to ruin the course of American history, duped wealth seminar enrollees, tourists passing in front of his goofy buildings, or a brand new TV audience.
God willing, Donald Trump won't step foot in the White House. From all indications, he'd be much happier delivering his opinions to households around the country without the burden of responsibility. So let him get his ego fix, just don't give him the launch codes.
Photo: Republican U.S. presidential candidate Donald Trump departs after he was deposed for a lawsuit involving partners in a restaurant venture at offices in Washington, U.S. June 16, 2016.  REUTERS/Jonathan Ernst