Trump's Christmas Present To Putin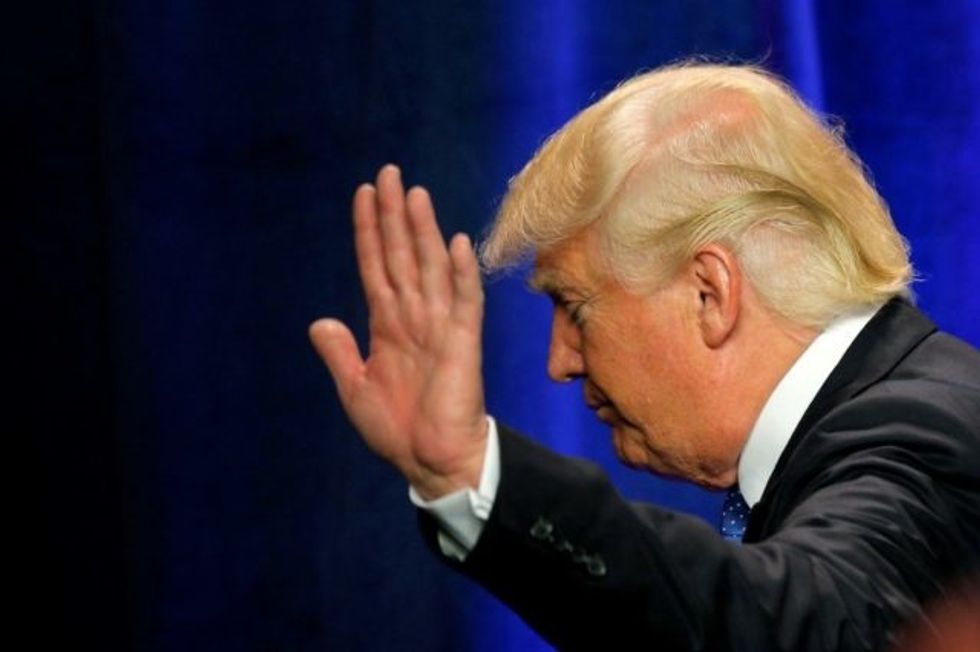 Reprinted with permission from Shareblue.com
In a move that went largely unnoticed last week, Donald Trump quietly handed Russian President Vladimir Putin the best Christmas gift he could possibly ask for — an invitation to continue undermining American democracy, with no strings attached.
Trump made the controversial move last Tuesday night, when most of the country had their eyes on the Alabama Senate race.
Hours after signing the annual defense spending bill called the National Defense Authorization Act (NDAA), Trump released an accompanying presidential signing statement formalizing his opposition to a slew of measures aimed at enforcing a tougher U.S. policy towards Russia.
The measures, which passed with large bipartisan majorities in both chambers of Congress, focus on combatting Russian aggression in the U.S. and around the world, with a specific focus on hybrid warfare operations. They were included in the NDAA as part of a broader response to Russian election interference and ongoing influence campaigns waged by the Kremlin.
But when the bill reached Trump's desk, he couldn't bring himself to just sign it and let the provisions become law. Instead, he attached a special statement to let Putin know that Congress was forcing him to sign the mean bill, and that he wouldn't sign it if he didn't have to.
In the statement, Trump explicitly objected to over 40 provisions included in the bill, most of which were aimed at bolstering our defenses against Russian aggression.
Among other things, Trump signaled his opposition to Section 1239 of the NDAA, which directs the U.S. government to "develop and implement a comprehensive strategy to counter threats by the Russian Federation." He specifically noted his objection to the subsection directing the military and other government agencies to strengthen our defenses against cyberattacks, as well as developing new strategies to counter the "use of misinformation, disinformation … active measures, propaganda, and deception and denial activities of the Russian Federation in the United States and Europe, through traditional and social media."
All of this comes on the heels of Russia's unprecedented and successful interference in the 2016 presidential election, which is currently being investigated by U.S. intelligence agencies and multiple congressional committees.
Even more worrisome is that it comes amid an escalating influence campaign carried out by the Kremlin, with the intent of disrupting and dividing U.S. society. This includes ongoing disinformation campaigns and other forms of perception management on social media platforms like Twitter and Facebook — and yet Trump isn't willing to commit to developing new defenses against these hostile acts.
As James Clapper, former director of national intelligence, warned during his congressional testimony in May, Russia has been emboldened by their success — and even more so by the lack of punitive responsefrom the Trump administration.
"They must be congratulating themselves for having exceeded their wildest expectations with a minimal expenditure of resource," Clapper said about Russia. "And I believe they are now emboldened to continue such activities in the future both here and around the world, and to do so even more intensely."
"I hope the American people recognize the severity of this threat and that we collectively counter it before it further erodes the fabric of our democracy," he added.
While the American people largely acknowledge the threat of Russian hybrid warfare operations, it's apparent that Trump doesn't recognize it — or worse yet, he simply doesn't care.
This move is just the latest a series of decisions by Trump to stand down in the face of Russian aggression, rather than holding the line or retaliating against Putin's attempts to divide and sow chaos in U.S. politics and society.
Although the presidential signing statement doesn't mean that the provisions won't go into effect, it does mean that Trump is willing to use his powers as president to object to their implementation as written — and potentially to raise constitutional objections to their enforcement.
So while the practical implications remain to be seen, the message is crystal clear: Putin can attack our democratic process, undermine our allies, and feed disinformation to our citizens — and as long as Trump is president, he'll do everything he can to make sure Russia doesn't have to deal with any consequences.
Putin couldn't ask for a better Christmas present.