Trump's DHS Spending Millions To Spy On 'Caravan'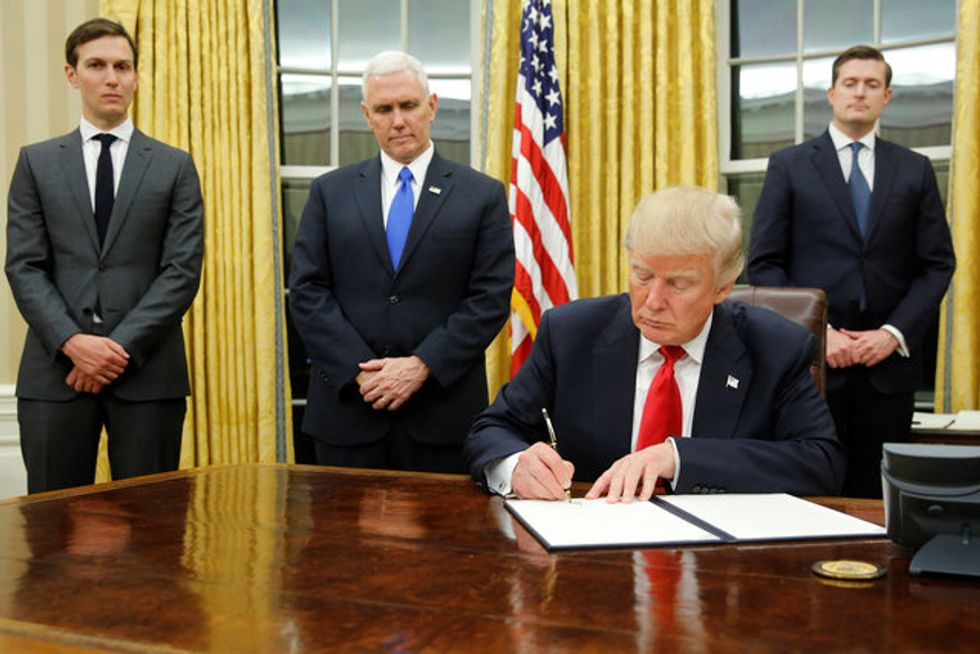 Reprinted with permission from Shareblue.
The Trump administration is reportedly paying undercover informants to infiltrate the migrant caravan and spy on the group as they make their way north after fleeing violence in Central America.
According to NBC News, the Department of Homeland Security is overseeing the operation to gather intelligence from the group of about 4,000 asylum-seeking migrants.
In addition to placing undercover informants within the caravan, DHS personnel are also reportedly collecting intelligence from migrants using WhatsApp groups to communicate along their journey.
On Monday, officials from DHS said the intelligence they'd gathered had led them to believe that a large group of migrants was planning to rush the border by running through the car lanes of a border crossing near San Diego.
That prompted Customs and Border Control to close all northbound traffic lanes near the port of entry for three hours on Monday. However, the supposed influx of migrants never occurred.
The use of taxpayer dollars to spy on asylum-seeking migrants has come under scrutiny from some national security officials, who say that although it's not illegal to pay informants and fund efforts to monitor communications, it's a highly questionable use of limited resources.
"Those resources have to come from some place. They are not being devoted to thwarting terrorist threats, mass shootings, mailed fentanyl coming into the country or cyberattacks," John Cohen, former acting undersecretary of intelligence for DHS, told NBC News.
"I find it hard to believe that the highest risk facing this nation comes from this caravan," he added.
While Trump has tried to portray the migrants as a threatening group of terrorists, gang members, and drug dealers — even sending thousands of troops to the border in a desperate and costly stunt — there have been no reports of violence from the caravan and no indication that they pose any risk to anyone.
Furthermore, the Defense Department's own risk assessment contradicts Trump's claims about the migrants being a national security threat.
However, Trump's apocalyptic fear-mongering did resonate with gun-toting militia members and other far-right extremists, who interpreted his rhetoric as a call to arms and responded by descending on the border region.
Military and law enforcement officials were alarmed enough by the prospect of armed vigilantes gathering alongside thousands of U.S. troops at the border that they were forced to issue warnings to Army commanders and local communities.
Meanwhile, as Trump authorizes the use of tax dollars to spy on people fleeing violence, he is simultaneously stripping funding from programs aimed at combating the exact type of far-right extremism he's inflaming with his anti-immigrant fear-mongering — in other words, exactly the outcome you'd expect when racism and xenophobia are used to inform public policy.