Trump's Doctor Says He Would Be Healthiest President Ever! (But There's A Catch)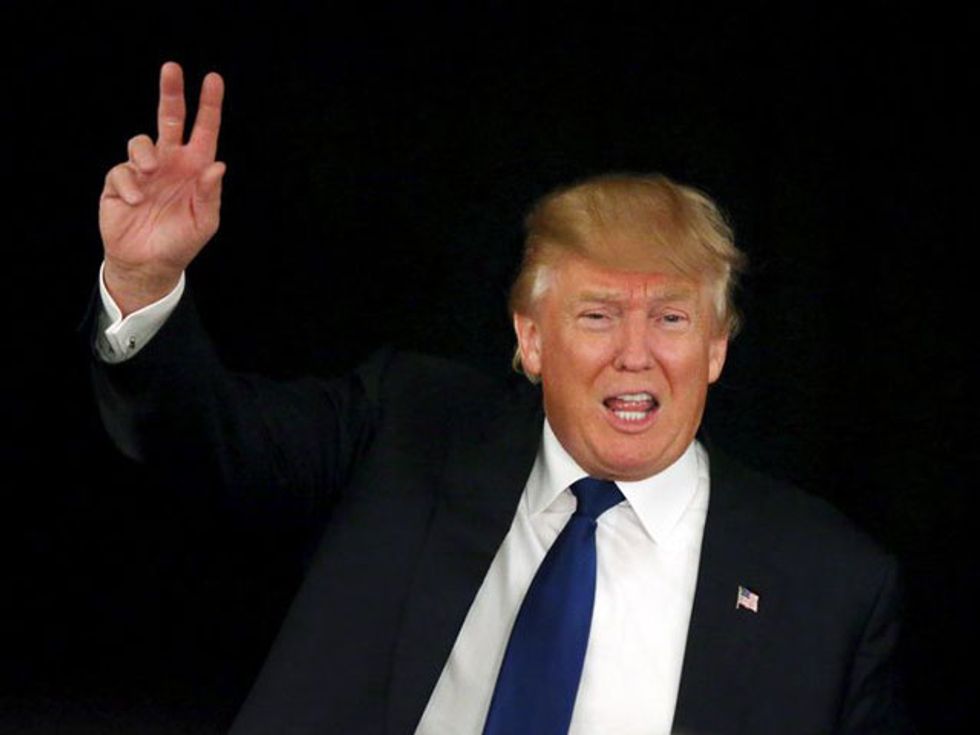 Update below.
Donald Trump has released a statement regarding his health records, hailing him as the epitome of physical fitness — but close examination, there might just be a problem with The Donald's memory.
The statement from Trump's physician, Dr. Harold Bornstein, is written with all the gusto and bravado we would expect from Trump himself — celebrating The Donald's "astonishingly excellent" lab results, and proclaiming that "his physical strength and stamina are extraordinary."
Dr. Bornstein concludes: "If elected, Mr. Trump, I can state unequivocally, will be the healthiest individual ever elected to the presidency."
It should be noted, however, that Trump said in his press release and in the accompanying posts on Twitter and Facebook, that the report was "written by the highly respected Dr. Jacob Bornstein of Lenox Hill Hospital."
However, Dr. Jacob Bornstein passed away five years ago, at age 93. A search of the Lenox Hill Hospital web site does not show a listing for any other doctor named Jacob Bornstein, either.
Trump's current doctor is, in fact, Harold Bornstein, who says that he has been Trump's personal physician since 1980 — and before that, it was his father Dr. Jacob Bornstein. In total, Harold Bornstein says he has been treating Trump in some capacity for the last 39 years.
A request to the Trump campaign for clarification was not immediately returned.
Update: Trump has deleted the original posts from Twitter and Facebook, and put up new ones in their place that properly credit "the highly respected Dr. Harold Bornstein of Lenox Hill Hospital." There is not, however, any note of correction for the prior error.
STATEMENT ON DONALD J. TRUMP RECORD OF HEALTH

I am proud to share this report, written by the highly respected Dr. Jacob Bornstein of Lenox Hill Hospital, stating that I am in excellent health. I am fortunate to have been blessed with great genes — both of my parents had very long and productive lives. I have truly enjoyed working on the campaign trail with one objective in mind, to Make America Great Again! People have been impressed by my stamina, but to me it has been easy because I am truly doing something that I love. Our country will soon be better and stronger than ever before. – Donald J. Trump
To Whom My [sic] Concern:

I have been the personal physician of Mr. Donald J. Trump since 1980. His previous physician was my father, Dr. Jacob Bornstein. Over the past 39 years, I am pleased to report that Mr. Trump has had no significant medical problems. Mr. Trump has had a recent complete medical examination that showed only positive results. Actually, his blood pressure, 110/65, and laboratory test results were astonishingly excellent.

Over the past twelve months, he has lost at least fifteen pounds. Mr. Trump takes 81 mg of aspirin daily and a low dose of a statin. His PSA test score is 0.15 (very low). His physical strength and stamina are extraordinary.

Mr. Trump has suffered no form of cancer, has neVer had a hip, knee or shoulder replacement or any other orthopedic surgery. His only surgery was an appendectomy at age ten. His cardiovascular status is excellent. He has no history of ever using alcohol or tobacco products.

If elected, Mr. Trump, I can state unequivocally, will be the healthiest individual ever elected to the presidency.

Harold N. Bornstein, M.D., F.A.C.G.
Department of Medicine, Section of Gastroenterology
Lenox Hill Hospital, New York, NY
Photo: U.S. Republican presidential candidate Donald Trump waves as he leaves the stage after speaking at the meeting of the New England Police Benevolent Association in Portsmouth, New Hampshire December 10, 2015. REUTERS/Mary Schwalm