Trump's EPA Chief Billed Taxpayers $90,000 For First-Class Flights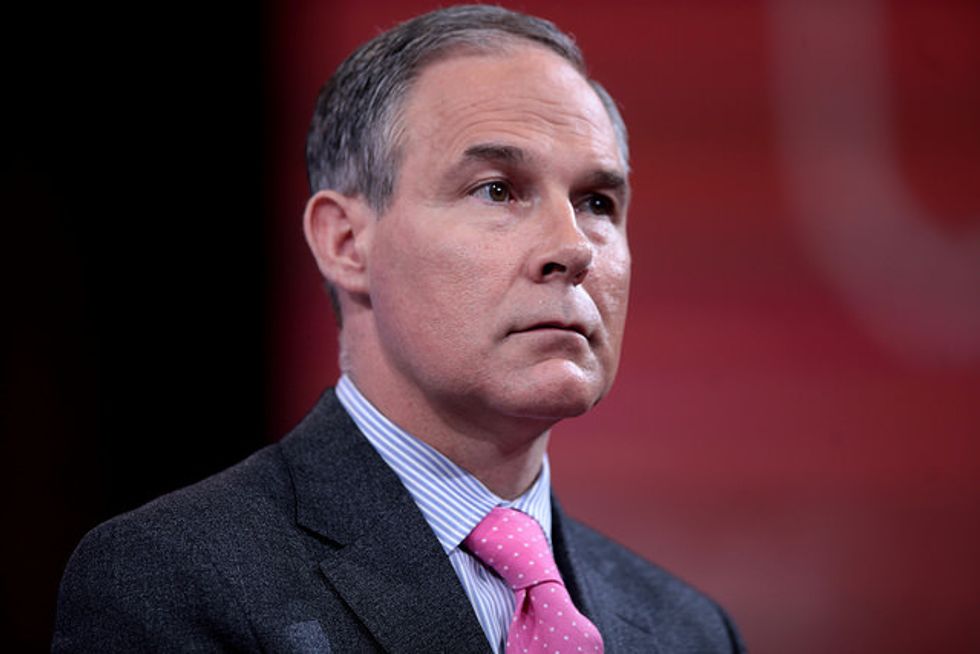 Reprinted with permission from Shareblue.com
Taxpayers are paying a hefty price for Environmental Protection Agency head Scott Pruitt to travel in style around the country and around the globe.
A new report from the Washington Post sheds more light on Pruitt's fondness for luxurious travel on the taxpayer dime, reporting tens of thousands of dollars spent on first-class tickets to jet around the country. During a short stretch in early June 2017, Pruitt's expensive taste for premier travel cost the American government at least $90,000.
The cost of these flights is just now coming to light thanks to a Freedom of Information Act (FOIA) request from the Environmental Integrity Project.
Receipts obtained from the request show the EPA spent more than $1,600 so Pruitt could relax in first class on a short flight from Washington, D.C., to New York City in June 2017,  while his aides flew in coach. Pruitt's ticket cost six times as much as his aides.
Pruitt also spent thousands of dollars for first-class flights to Utah, Minnesota, Colorado, Iowa, Texas, and other domestic locations. The same Washington Post story reports that officials in previous administrations usually flew coach.
Expensive taste in airline seats is not the only perk taxpayers lavish upon Pruitt. "While on the road, Pruitt often stays at high-end hotels, according to travel records: the Kimpton in Salt Lake City, Le Meridien in Minneapolis, the Capital in Little Rock and the Michelangelo in New York."
Pruitt's penchant for treating himself is nothing new. In October 2017, it was revealed that Pruitt booked four charter flights for official business, costing at least $58,000.
Federal regulations state that government employees "should consider the least expensive class of travel that meets their needs," except in cases of medical or physical necessity, and other select reasons.
Pruitt, like his boss Trump, is also fond of charging taxpayers to shuttle him to and from far-flung locations for weekend getaways. In July 2017, Pruitt "spent nearly half the spring months taking extended weekend trips to and from his home state of Oklahoma, paid for mostly by taxpayers."
Pruitt's frequent travel, and his considerable expenses, are being investigated by the EPA's Inspector General's office, which opened an inquiry last year to examine "whether travel policies were followed, and whether those policies are sufficient to prevent waste, fraud, and abuse," according to CNN.
Prior to these revelations, Trump's Cabinet had already racked up more than $1 million in luxury travel expenses. Health and Human Services Secretary Tom Price resigned in large part due to the scandal around exorbitant spending on air travel.
There is no word as to whether Pruitt will follow in Price's footsteps, and step down in disgrace.