Trump's Final Insult To A Patriot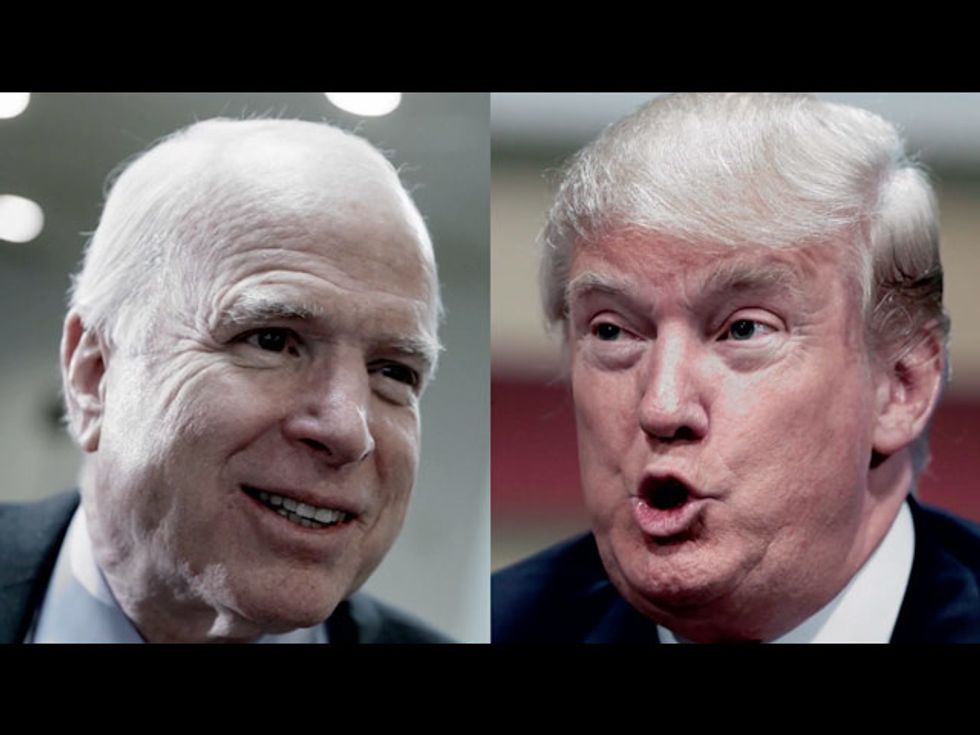 Reprinted with permission from Shareblue.
As the country learned of Senator John McCain's (R-AZ) passing Saturday evening, Trump made one last shameful contribution to his petty vendetta against a war hero who served our country for 60 years.
About an hour after McCain passed away, Trump tweeted a message to the late senator's family — but very conspicuously said nothing about McCain himself.
"My deepest sympathies and respect go out to the family of Senator John McCain. Our hearts and prayers are with you!" Trump wrote.
Trump made no mention of McCain's heroic military service or lengthy and distinguished political career. In fact, he said nothing about McCain at all.
The omission would be glaring in any context, but is particularly insulting given Trump's long history of disparaging McCain.
During the 2016 presidential campaign, Trump infamously called McCain a "loser," and said that McCain wasn't a hero.
"He was a hero because he was captured," Trump said in 2015. "I like people that weren't captured."
That comment was disgusting enough on its own. But it was even worse given that Trump has infamously joked about how avoiding sexually transmitted diseases was his own "personal Vietnam."
After the "captured" remark caused an uproar, Trump defended it and refused to apologize.
Apparently, Trump had held this view for a very long time. Trump made similar remarks questioning McCain's heroism in a recently unearthed 1999 CBS interview with Dan Rather.
Trump changed his tune momentarily when he needed Senator McCain's vote to help him destroy healthcare for millions. Trump tweeted that McCain was an "American hero" for returning to Washington, D.C., to vote on a Republican bill to repeal Obamacare that would have cost 16 million Americans their health insurance.
McCain shocked many by joining 48 Democrats and two other Republicans in voting down Trumpcare, giving a dramatic "thumbs down" sign when he registered his no vote on the Senate floor.
After that, Trump began attacking and disrespecting McCain anew — including cruelly mocking the senator's arm movements, which are restricted because of the torture he suffered as a prisoner of war.
In many of his attacks on McCain over the health care vote, Trump pointedly refused to say McCain's name. He also seemed to glory in the sounds of his crowds jeering the senator.
Despite Trump's accusations of disloyalty, McCain was in fact a loyal Republican who voted with Trump 83 percent of the time.
But unlike Trump and many other Republicans, McCain also displayed strong loyalty to his country. He often spoke out against Trump's worst offenses, including Trump's disgraceful refusal to side with the U.S. intelligence community in a joint press conference with Vladimir Putin.
Trump had to know that McCain's passing would focus attention on Trump's longstanding vendetta against the senator.
But instead of making the slightest effort to honor McCain's legacy, Trump chose to snub McCain one last time.
Published with permission of The American Independent.