Trump's Immigration Pick Attacked Obama Programs In Ghost-Written Senate Letters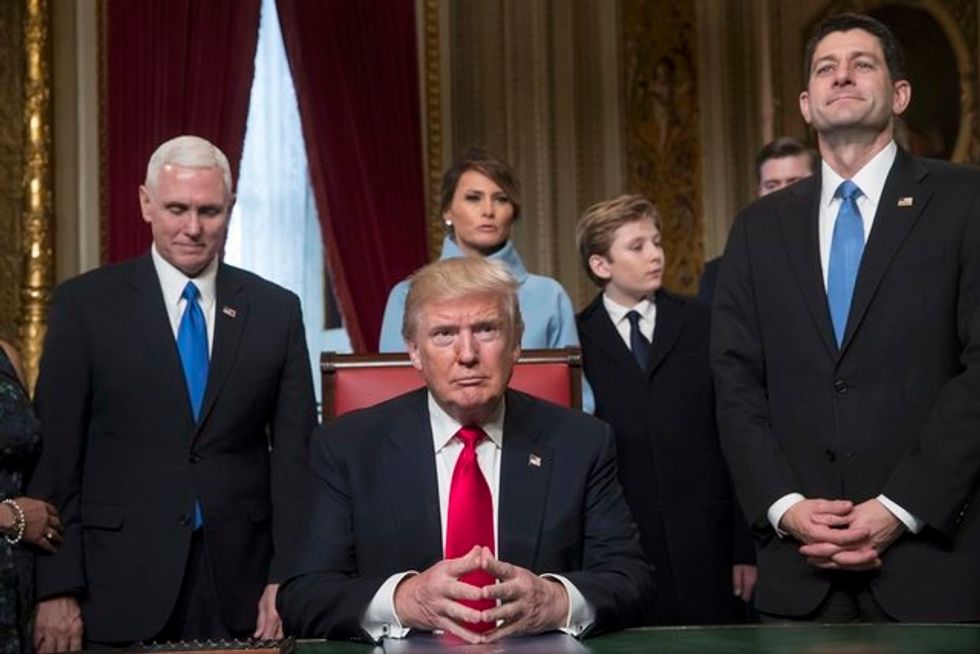 Reprinted with permission from ProPublica.
by Marcelo Rochabrun
Lee Francis Cissna, President Trump's nominee to head the federal agency that handles applications for visas, refugee status and citizenship, has put little on the public record in his 20 years as a lawyer, government employee, diplomat and Capitol Hill aide.
But it turns out he has left many clues about how he could reverse Obama-era policies if he becomes director of U.S. Citizenship and Immigration Services, a non-enforcement arm of the Department of Homeland Security.
On Wednesday, May 24, Cissna, 50, who has worked on immigration policy at Homeland Security for much of his career, is scheduled to appear at a confirmation hearing chaired by Senate Judiciary Committee Chairman Charles Grassley. From 2015 until earlier this year, Cissna worked for Grassley on immigration issues, having been detailed to his staff by Homeland Security. During that time, he remained on the agency's payroll.
While there, he drafted dozens of letters under the senator's name to Homeland Security officials, helping Grassley, an Iowa Republican, to intensify his oversight of immigration and creating a blueprint for dismantling President Obama's initiatives, according to a dozen current and former agency and congressional staff members.
ProPublica reviewed more than 60 of the letters sent by Grassley during the time Cissna worked in his office. Among the policies they criticized were:
Many of the Obama-era humanitarian immigration programs were created through executive action and thus can be easily overturned. Trump has already issued several executive orders on immigration intended to restrict the leeway of immigration officers to admit people into the U.S. Many of the details of these policy changes, as well as how they will be carried out by the 19,000 USCIS employees, will fall to Cissna if he's confirmed.
And Cissna would help cement Grassley's influence at the agency. Another of the senator's former aides was recently named to a senior position: Kathy Nuebel Kovarik, now chief of the USCIS Office of Policy and Strategy.
The Grassley letters written during Cissna's tenure "exhibit an overall anti-immigrant view," said Stephen Yale-Loehr, a professor of immigration law at Cornell who reviewed them at ProPublica's request. "They seem to think that immigrants are only causing harm to the United States as opposed to giving it a more nuanced view of both benefits and the potential dangers of immigration."
Cissna did not respond to requests for comment. Taylor Foy, a spokesman for the Judiciary Committee, said Cissna had produced "initial drafts" of some oversight letters, adding that "all of this work was subject to a review and approval process by permanent committee staff and it may not reflect Cissna's own policy preferences."
Foy added it was "absurd" to suggest that it's being unfair to immigrants to perform congressional oversight aimed at preventing fraud. "How is working to ensure that sponsors of unaccompanied minors are appropriately vetted, addressing policies that allow for exploitation of foreign labor, or improving the integrity of our lawful immigration system anti-immigrant?" he asked.
'Almost Derogatory'
Cissna, who graduated from the Massachusetts Institute of Technology and Georgetown Law School, is well-versed in the details of immigration. He served as an attorney at USCIS, as well as in private practice, and as immigration policy director at Homeland Security. He also worked for the State Department in Sweden and Haiti, according to the White House.
The job of USCIS director requires "a minimum of 5 years of management experience" under the law that created the Department of Homeland Security and its sub-agencies in 2002. Several former agency officials questioned whether Cissna had any managerial experience, saying he has focused mostly on the policy minutiae of employment visa programs. In announcing Cissna's nomination, the White House stated that at Homeland Security he "develops and coordinates policy with particular emphasis on temporary worker, immigrant, and other immigration benefits programs."
It's not unusual for agency employees with expertise to be detailed temporarily to congressional staffs and, in that capacity, it would be routine to help draft oversight letters. But Cissna was unusually prolific. While he was on staff, Grassley sent the agency at least 93 letters on immigration matters, which records reviewed by ProPublica show was six times as many as Grassley sent during the previous two years.
The volume elicited a complaint from then-Homeland Security Secretary Jeh Johnson, who in late 2015 wrote to Grassley, saying the inquiries were preventing his staff members from getting their work done. One November 2015 letter requested information "in precise detail" on 250,000 immigrants — and gave the agency two weeks to respond.
Some people at the agency found the letters to be especially hostile.
"They became these very detailed, almost derogatory letters with knowledge about agencies that an ordinary Hill staffer wouldn't know about," said a former Homeland Security official, who spoke on condition of anonymity.
Despite being a career bureaucrat, at a public forum in Washington, D.C., in 2014, Cissna hinted that he had disagreements with the Obama administration's policies. "If I say something that's not exactly party line, then it's me [speaking], not DHS," said Cissna, whose remarks were videotaped. "Though if I don't come to tomorrow's panel, then you know that I was eliminated or something for having spoken wrongly."
But then, he gave no policy specifics. And he kept his job.
On Grassley's staff, Cissna also worked on legislation aimed at changing the controversial visa program for college-educated foreign workers known as H-1B, which Grassley has criticized as displacing American workers with people willing to work more cheaply.
At a 2015 conference organized by the Center for Immigration Studies, a nonprofit that favors restrictions on immigration, Cissna said his boss' bill "addresses this whole nightmare." He said there were "elements of monkey business and shenanigans in this program that we think ought to stop. The primary reform of the bill is it requires the employers to hire an American first if there is an American who's available and eligible to do the job." A video of the event shows the audience cheering when he says he worked for Grassley.
Dealing with 'Parole'
The new USCIS director will help decide how to manage Obama programs expanded under an authority in immigration law known as "parole." It allows the executive branch, on a case-by-case basis, to admit foreigners who don't fall under visa categories created by Congress if there's a humanitarian or public interest reason.
"Parole was always meant as an exception that was to be used sparingly," said Jessica Vaughan of the Center for Immigration Studies, which has been critical of the Obama administration's policies.
A November 2015 letter from Grassley said, "with each parole program implemented by this Administration, further damage is caused to the Constitutional authority of the United States Congress."
One parole program Grassley criticized admits children from Guatemala, Honduras and El Salvador who have parents in the U.S., aiming to discourage them from going through Mexico to cross the border illegally. According to USCIS, 1,500 children have been granted travel documents through the program, but advocates say the program has been on hiatus since shortly after Trump took office, with no official explanation.
Nina Zelic, director for refugee services at the Lutheran Immigration and Refugee Service, said that because so few children from the region have been granted the more stringent status of refugee in recent years, "parole offers a life-saving alternative. It's a recognition of the humanitarian crisis in Latin America."
Earlier this month, the Lutheran group and some 30 other organizations pleaded with Trump's Homeland Security Secretary, John Kelly, to continue granting travel documents. "Eliminating or reducing parole or other aspects of the program will leave children no choice but to embark on the treacherous migration journey northward in order to save their lives," the organizations wrote, according to a copy of the letter provided to ProPublica.
Another parole program, launched in 2014 for the purpose of "family reunification," granted discretionary admission into the U.S. to Haitians who had been approved for family-based green cards — the document that allows permanent residency — but couldn't travel yet because of a visa backlog that can last for as long as a decade. Citing the need for "reconstruction and development" in Haiti, USCIS argued it was important to allow "Haitians to safely and legally immigrate sooner to the United States." As of last month, more than 5,000 Haitians have been able to do so, according to USCIS.
A November 2015 Grassley letter to Homeland Security objected to that program as setting a bad precedent. "On what rational basis," said the letter, "would USCIS deny a request from Syria, Liberia, Bangladesh, or any other country on earth with severe reconstruction and/or economic development needs to implement a parole-based 'family reunification' program for such a country?"
Two parole programs announced by the Obama administration but not implemented are likely to fade away under the new leadership.
One program would allow foreigners to create startups in the U.S., but according to a November 2015 Grassley letter it "circumvents the visa programs that Congress has established as the exclusive means to bring foreign workers into the country." Another Obama proposal would have permitted foreigners who were victims of crimes in the U.S. and are willing to assist in the investigation of those crimes to travel even if the 10,000-a-year quota for that particular type of visa had been met. But Grassley's December 2016 letter said that "fraud and abuse of the program can lead to unjustified approvals leaving legitimate victims in the shadows."
Overall, the letters argue that creating immigration programs is the business of Congress, not of the executive branch.
"The parole authority isn't a magic wand that the Department can use whenever it wants to create a visa program that Congress has … chosen not to pass or even consider," an October 2016 letter from Grassley read.
Yale-Loehr, the Cornell law professor, said the Grassley letters on parole are so thorough they "look like a legal brief that probably went into the administration's thinking in drafting its executive orders."
Indeed, Trump's Jan. 25 executive order on border immigration made clear that the administration wants immigration rules to be interpreted very narrowly, particularly parole.
However, Homeland Security and USCIS haven't yet settled on how to implement those provisions. A Jan. 25 draft memo from Homeland Security said it was the "consistent and clear intent" of the law that parole should be used "rarely, and only in exigent circumstances." But a second draft, issued Feb. 17, softened that language somewhat, saying that the law on parole only "appears to strongly counsel in favor of using the parole authority sparingly." The final version, issued three days later, simplified things further: "In my judgment, such authority should be exercised sparingly," wrote Kelly, the agency's head.
A narrow interpretation is likely to be embraced by Cissna. One of the Grassley's letters from November 2015 derided as "nonsense" an opinion by the Obama administration that argued the agency had substantial discretion in deciding when parole programs were justified.
David Martin, who was deputy general counsel at Homeland Security under Obama, said that the guidelines for using parole are more flexible than what the Trump administration is willing to acknowledge.
"But it's perfectly within the administration's prerogative to argue that the previous uses were unlawful," Martin said in an interview. "It just means that we have a new leader in town and they want to use parole in a narrow set of categories."
Another Grassley Choice
Nuebel Kovarik, the other Grassley aide in a top job at USCIS, was appointed after Grassley sent public tweets about her to Trump's Twitter account.
Grassley watched a segment about the H-1B visa program on CBS's 60 Minutes one Sunday in February. First the senator called the visa program a "ripoff." Then, he addressed President Trump himself:
It's unclear if they ever spoke, but two Sundays later, Nuebel Kovarik got the job.
Nuebel-Kovarik had spent 19 years with Grassley as a legislative aide — having taken that job immediately after graduating college — before taking a temporary political appointment on the seventh day of the Trump administration. According to her USCIS biography, she worked on "all immigration legislation" on Grassley's behalf.
One change showed up almost immediately after her appointment. On the Sunday Nuebel-Kovarik was formally appointed, a banner on the agency's website was still promoting the H-1B program in starkly positive terms as "Strengthening the U.S. workforce."
By that Monday, the phrase was gone.
At noon the same day, the agency issued a press release titled, "Putting American Workers First," and promising an end to "H-1B Visa Fraud and Abuse." The agency also announced a tip line to report H-1B abuses and said it would be conducting more workplace inspections at companies that hire foreign workers.
The unit that Nuebel Kovarik is heading up is "an extremely important office," said Stephen Legomsky, former chief counsel at USCIS.
For example, she will be in charge of completing the official USCIS policy manual, an initiative begun under the Obama administration. According to the agency's website, the sections that have yet to be written include those on parole, asylum and refugee programs.
ProPublica is a Pulitzer Prize-winning investigative newsroom. Sign up for their newsletter.