The Trumps: 'An Incestuous Intertwining with Organized Crime'
@stevevillano11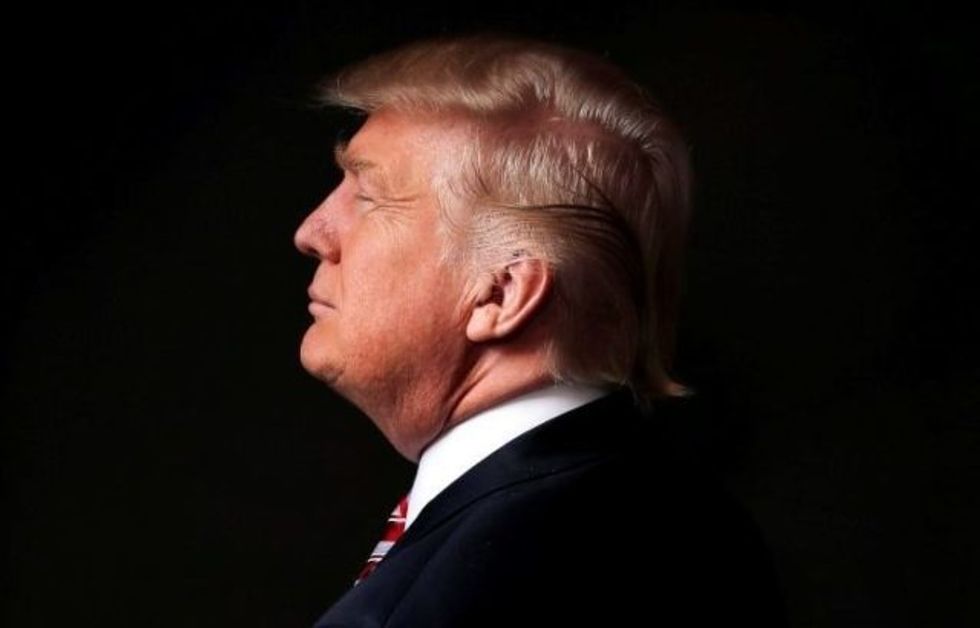 As an Italian-American and a former staff member for Mario Cuomo, I've been wrestling with how best to express my outrage over the fact that if Donald Trump's name contained six vowels — like say, Mario Cuomo's — his Presidential candidacy would be swimming with the fishes; Trump has been in bed with mobsters for his entire professional life.
The list of the Trump family's — both Fred Trump, who left his son $200 million dollars and a legacy of lying about his wealth and businesses, and Donald's — ties to organized crime, or "Mob-Nobbing" as Wayne Barrett aptly named it in his book Trump: The Deals & the Downfall, reads like a Who's Who of Mafioso in the New York/New Jersey/Philadelphia Metropolitan Areas over the past 45 years. Here are just a few of the law-breaking luminaries or their mob-fronted companies, who can easily be found in Barrett's book, who either did business with the Trumps, served as their partners (secret or otherwise), or made labor or building problems go away in exchange for cash:
Manny Ciminello; construction contractor, racketeer, tied to S & A Concrete;
Paul Castellano; head of Gambino Mob; secret owner of S & A Concrete;
Fat Tony Salerno; head of Genovese Mob; secret owner of S & A Concrete;
S & A Concrete; Mob-front concrete company, run by Nick Auletta; built Trump Tower and Trump Plaza;
Willie Tomasello; Fred Trump's partner on Beach Haven; Genovese associate;
Nicky Scarfo; Atlantic City/Philadelphia Crime Boss; Cleveland Wrecking Co;
Cleveland Wrecking Company; mob-front demolition co., hired by Trump;
Wachtel Plumbing; mob-front co.; hired by Trump in Atlantic City & NYC;
Teddy Maritas; mobbed-up head of Carpenters Union; NYC Trump contract;
Circle Industries; Maritas' mobbed up Drywall Co; Trump hired, NYC;
John Cody; mobbed-up head of Teamsters Local 282; jailed for racketeering; bragged that "Donald liked to deal with me through Roy Cohn."
Nick Auletta: President of S & A Concrete, mob-controlled cement company;
Joe DePaolo; President of Dic Underhill Co; company with alleged mob connections; helped build Trump Village with Fred Trump;
Danny Sullivan; partner in SSG, Inc; deal-making arm of Scarfo Mob, negotiated with Trump on land in Atlantic City;
Kenny Shapiro; scrap-metal dealer, partner SSG; principle financier for Scarfo's Philadelphia Crime Organization.
Writing in Politico just last week, David Cay Johnston, a Philadelphia Inquirer reporter whose book Temples of Chance: How America Inc. Bought Out Murder Inc. to Win Control of the Casino Business carefully details Trump's ties with organized crime, stating:
"No other candidate for the White House this year has anything close to Trump's record of repeated social and business dealings with mobsters, swindlers, and other crooks. Professor Douglas Brinkley, a presidential historian, said the closest historical example would be President Warren G. Harding and Teapot Dome, a bribery and bid-rigging scandal in which the interior secretary went to prison. But even that has a key difference: Harding's associates were corrupt but otherwise legitimate businessmen, not mobsters and drug dealers."
The torrent of thugs, terrible people, and mob-front businesses Trump and his father were involved with going back more than 45 years permeates every present-day action Donald Trump takes. If Mario Cuomo was in the same room with just one of the mobsters that Donald Trump did business with daily, his political career would have been finished. Instead, Trump shrugs it all off; an amoral actor playing among amoral peers.
Imagine, for a moment, if Cuomo — anytime between 1985-1991 — had gone to a private meeting in a posh New York townhouse with the boss of one of New York's biggest crime families under investigation by the FBI, the way Wayne Barrett's book recounts a meeting between Trump and Genovese Crime Boss "Fat Tony" Salerno, who controlled the cement industry in New York. Would the media be silent about such a meeting? Would Cuomo be given a free pass because he was just doing business with New Yorkers?
Even a Mob/Trump meeting broker as unsavory as Roy Cohn, whose long list of organized crime clients were clearly of financial value to Trump, would have been cited as proof that there were Mafia "skeletons" in Cuomo's closet. The lame argument that "everybody was doing it" in the business would have been no defense for Cuomo, just as it should not be for Trump, especially since other major New York City real estate developers like LeFrak were not doing it, and were, instead, pleading with the FBI to free them of mob's control of the concrete business. Trump, no friend of law enforcement authorities, just kept quiet and paid his tithe. Such silence would have sentenced Mario Cuomo to political death by insinuation.
Stick a vowel at the end of Trump's name, and see if his family's decades-long "incestuous intertwining with organized crime," as Barrett described the many Trump/Mafia marriages of convenience, would go unnoticed. Does any American who believes in the rule of law and justice really want someone so cozy with Mobsters to have power over the U.S. Justice Department, the FBI, the CIA, the IRS, and every other federal law enforcement entity?
Photo: Republican U.S. presidential candidate Donald Trump poses for a photo after an interview with Reuters in his office in Trump Tower, in the Manhattan borough of New York City, U.S., May 17, 2016. REUTERS/Lucas Jackson