Trump Suddenly Rushes To Praise Pence After Special Counsel Subpoena
@next2godwin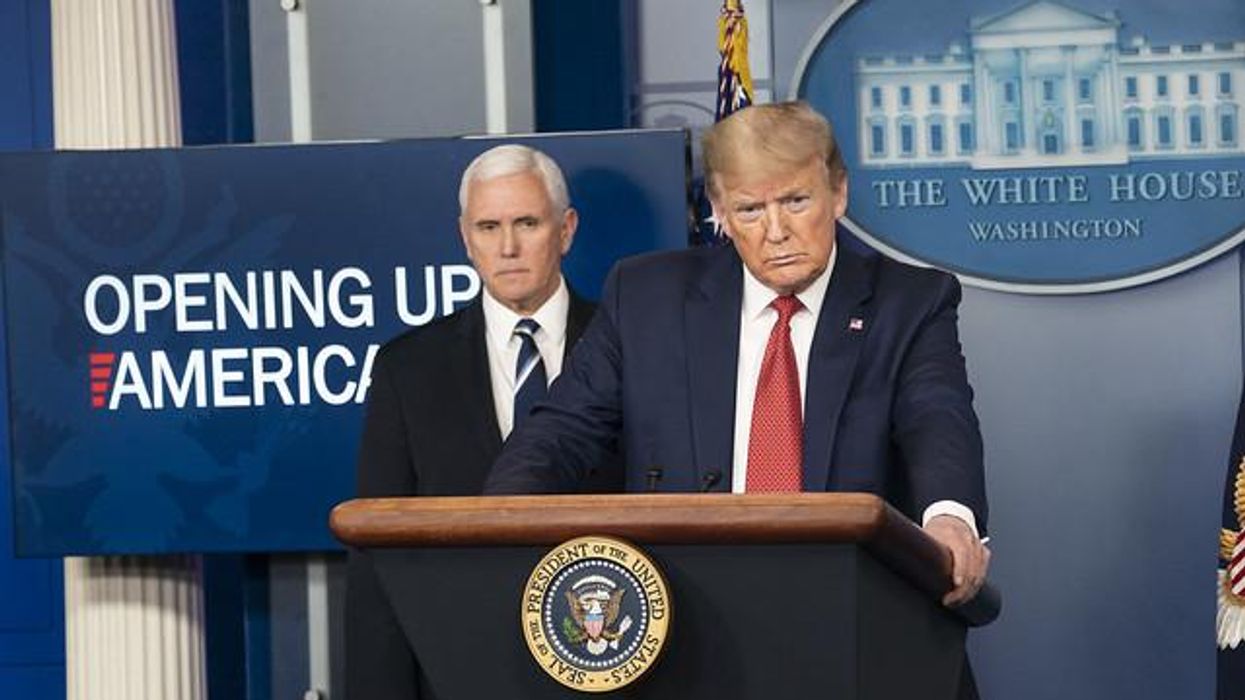 Former President Donald Trump is suddenly praising former Vice President Mike Pence -- after reports emerged that the Justice Department special counsel handling concurrent investigations into Trump has subpoenaed Pence.
In an exclusive interview with Fox News Digital on Friday, Trump called Pence "an honorable man," lauding the former veep whom he had repeatedly denounced for rejecting his entreaty to sabotage the congressional certification of Trump's electoral loss.
Trump's unexpected praise came a day after Jack Smith, the special counsel appointed by the Justice Department in November to investigate Trump, reportedly issued Pence a subpoena for documents and testimony regarding the January 6, 2021, attack on the U.S. Capitol.
Federal investigators want Pence's direct and sworn testimony about his interactions with Trump before and on January 6 to ascertain whether the former president should face criminal charges for his efforts to overturn his loss in the 2020 presidential election.
Pence divulged some of his interactions with Trump after the election in his memoir, So Help Me God, in which he said Trump "sowed" the seeds for the Capitol invasion on January 6.
"In the end, that day the president made the fateful decision to put Giuliani and Sidney Powell in charge of the legal strategy, " Pence wrote — referencing a fiery post-election meeting between Trump and allies to discuss their failing election challenges in court — "the seeds were being sown for a tragic day in January."
Representatives for Pence and the Justice Department declined to comment on the subpoena.
"Are they going to look for the people that spied on my campaign?" Trump asked during his Fox News interview, hoping to divert public discourse to a distorted right-wing narrative that Hillary Clinton's 2016 campaign had spied on him.
Trump's tirade during the interview comprised a stew of grievances untethered from reality, including groundless claims that Twitter and Facebook had suppressed the Hunter Biden laptop story to rig the 2020 elections, allegedly stymying the materialization of a claimed "17-point difference [in Trump's favor] in the election."
In a Truth Social post afterward, Trump touted Pence as "very decent" in the course of another diatribe decrying Smith's investigation and citing the widely-debunked right-wing election conspiracy documentary 2000 Mules.
"Will Trump Hating Prosecutor Jack Smith be investigating the FACT that they SPIED on my campaign, even as I was in the Oval Office, they Stuffed the Ballot Boxes (per 2000 Mules), used Covid to cheat, that the FBI pushed Twitter & Facebook around, causing massive voter disruption, and so much more?" Trump wrote.
"That's really what he should be looking at, not asking a very decent Mike Pence why he didn't send the votes back to State Legislatures for scrutinization, which he could have done. Get the RIGGERS!" he added.
\u201cTrump not happy about Jack Smith issuing a subpoena to Mike Pence.\u201d

— Ron Filipkowski \ud83c\uddfa\ud83c\udde6 (@Ron Filipkowski \ud83c\uddfa\ud83c\udde6) 1676121180
Trump had also leapt to Pence's defense on January 24 after an attorney for the former vice president found and turned over to the FBI a dozen classified documents at Pence's Indiana home.

"Mike Pence is an innocent man. He never did anything knowingly dishonest in his life. Leave him alone!!!" Trump posted on Truth Social.
Trump, who is running for president in 2024, is also under investigation for his handling of hundreds of secret classified documents at his Mar-a-Lago estate in Florida and his refusal to obey repeated demands to return them.
The relationship between Trump and Pence shattered after Pence refused Trump's demands that he reject Electoral College votes for then-Democratic presidential candidate Joe Biden.
In a book titled The Divider: Trump in the White House, 2017-2021, Trump was said to have dismissed any suggestion that he'd pick Pence again as his running mate in 2024.
"It would be totally inappropriate," Trump said, according to authors Peter Baker of The New York Times and Susan Glasser of The New Yorker. "Mike committed political suicide."