Saudi Dictator Secretly Paid Trump Millions Over Past Two Years
@DevilsTower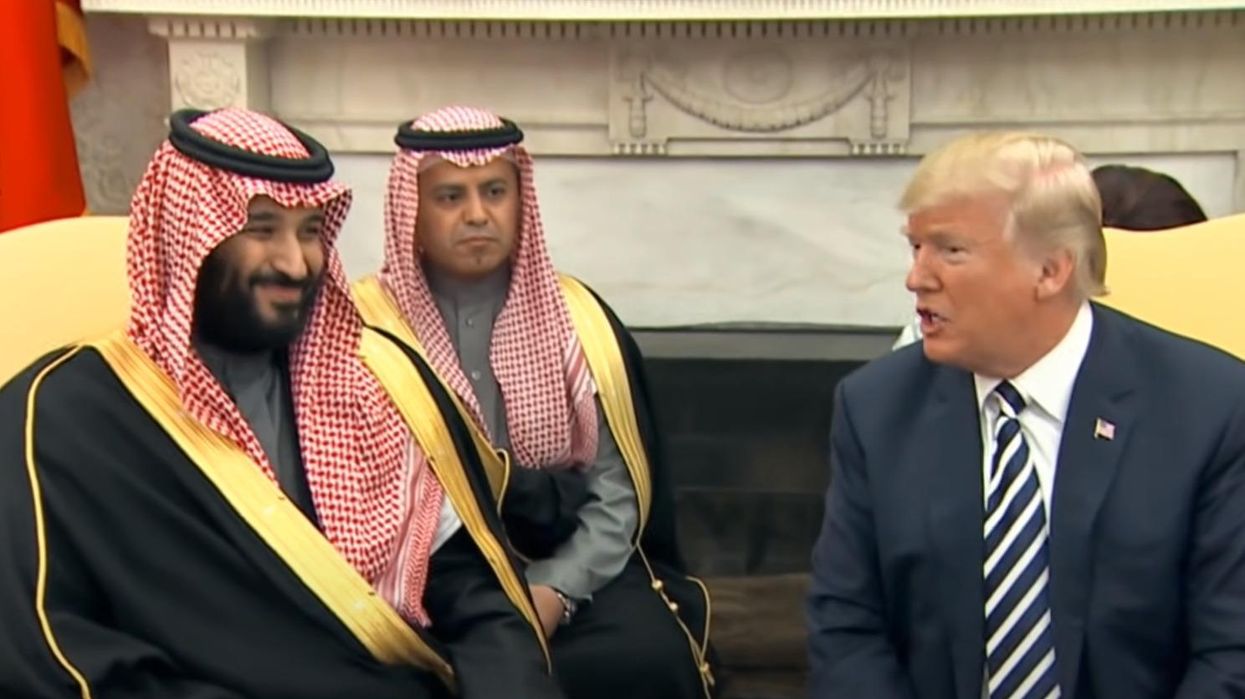 Youtube Screenshot
It's not often that an article in Golfweek sets the tone for the actual week, but on Saturday the premier journal of hitting small balls with sticks noted continuing problems for the nascent LIV Golf tour. The schedule of tournaments isn't full. The roster of big name players that LIV needs to make itself seem a legit competitor to the 93-year-old PGA Tour have failed to materialize. The team-based structure of LIV has failed to create the kind of rivalries that the creators suggested would help raise interest in the new offering.
However, all those concerns could turn out to be minor. That's because a court case in California, where LIV has filed an antitrust suit against the PGA, has gone in a direction that LIV definitely, definitely did not want. While fighting back against this suit, the PGA has sought to compel discovery about the real sources behind the fund picking up the ticket on LIV's considerable expenses. As it happens, a slip of the tongue from a LIV attorney during the trial revealed that the fund owns 93% of LIV Golf and covers all of its expenses.
The chairman and controlling officer of that fund is Saudi Crown Prince Mohammed bin Salman. Its bin Salman paying all the bills and taking all the risks for LIV Golf. But who is making a profit?
[LIV Golf] has paid Trump-owned golf resorts unknown millions of dollars to hold its events there, and former President Trump has publicly championed the new league, made prominent appearances at its events, and urged PGA players to sign on with LIV Golf.
Exactly how many millions is bin Salman funneling to Donald Trump through LIV? We don't know.
That LIV Golf was at least partially owned by Saudi sources was never a secret and has been a concern since the tour began. However, as a private company, its internal ownership and funding was obscured until the unfolding court case opened up the details of just how little involvement there is from anyone else. It's not just that bin Salman owns 93% of the tour on paper. He's picking up 100 percent of the bill.
In response to the effort to compel discovery on LIV's finances, the Saudi Arabian Public Investment Fund (PIF) insisted that it could not be forced to reveal anything. They don't have to talk, because they are an "organ of the Saudi state" and protected by "foreign sovereign immunity."
That doesn't exactly make things better.
According to Sarah Leah Whitson, executive director of Democracy for the Arab World Now, "The revelation that a fund controlled by Crown Prince MBS actually 100 percent funds LIV Golf means that MBS has been paying Donald Trump unknown millions for the past two years, via their mutual corporate covers." She also stresses that this has implications that go way beyond golf and beyond Trump fattening his wallet. "The national security implications of payments from a grotesquely abusive foreign dictator to a president of the United States who provided extraordinary favors to him are as dangerous as they are shocking," said Whitson.
In 2018, Trump son-in-law Jared Kushner paid a visit to bin Salman at a time when he was seeking $1.8 billion to bail his company out of a devastatingly bad real estate investment. At the time, there was great suspicion that Kushner, who later received his rescue in the form of a secret bailout, may have been selling bin Salman national security secrets, including the names of U.S. sources and dissidents in Saudi Arabia.
Also in 2018, bin Salman had Washington Post columnist Jamal Khashoggi lured into a Saudi embassy, bound, tortured, dissected, killed, and burned. In that order. Later reports showed that, while he would not admit it, Trump was aware of bin Salman's role in the journalist's horrific death.
In 2022, the classified documents found in Trump's private office in Mar-a-Lago reportedly included nuclear secrets from a foreign nation. Many reports have indicated that this information related to the Iranian nuclear program — information that would certainly be of direct interest to bin Salman.
Still, Donald Trump is being paid millions by Mohammed bin Salman. How many millions? We don't know. What did bin Salman get from Trump in return? We don't know.
But we shouldn't be getting revelations from Golfweek.
Reprinted with permission from Daily Kos.