Eric Trump Blames Dad's Beloved Brexit For Big Losses At Scottish Golf Courses
@next2godwin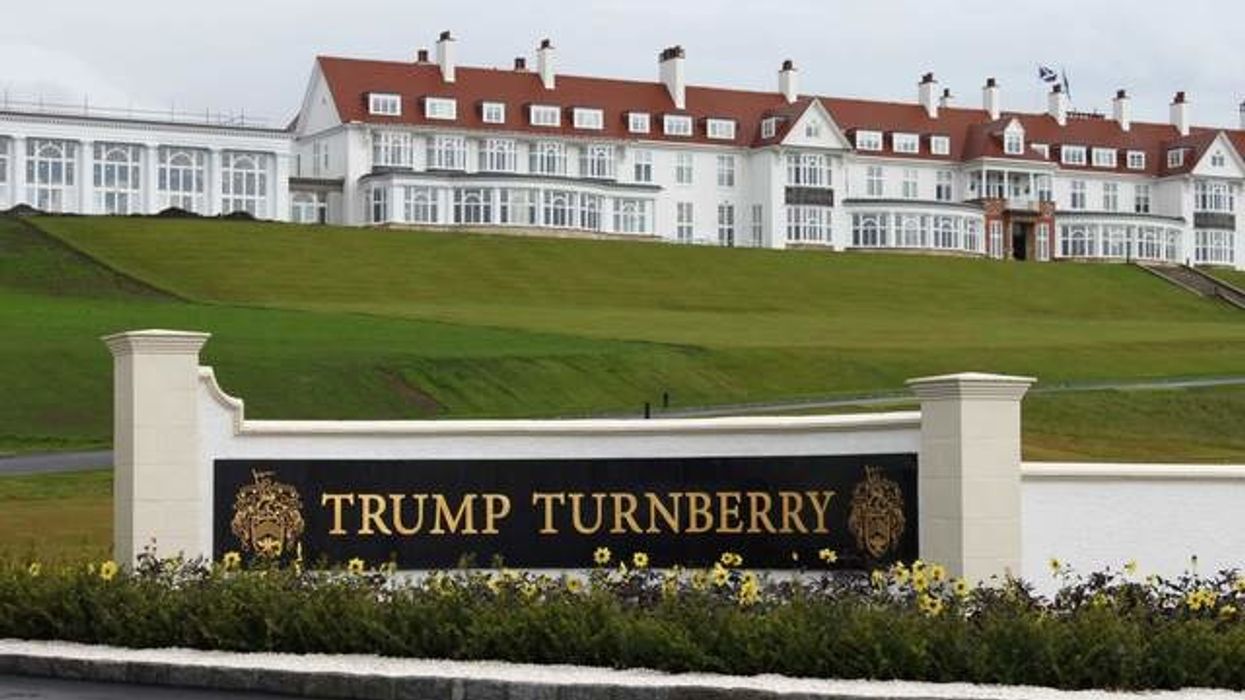 Eric Trump has blamed Brexit — the UK's 2016 referendum to leave the European Union, which his father supported and extolled as a "great victory" — for the millions of dollars in losses suffered by his father's Scottish golf courses.
Trump's Scottish golf courses — Turnberry in South Ayrshire and another golf resort in Balmedie, Aberdeenshire — disclosed losses of £4.4 million in 2021 in newly published financial statements, BBC reported Thursday.
The disclosure starkly contrasted with Trump's prediction in 2016 to reporters on a two-day visit to Scotland that the UK's decision to depart the EU would finally benefit his Turnberry golf resort.
"When the pound goes down, more people are coming to Turnberry, frankly," Trump had said, after which he criticized the then-Democratic presidential nominee, Hillary Clinton, for "[getting] Brexit wrong."
\u201cCrooked Hillary Clinton got Brexit wrong. I said LEAVE will win. She has no sense of markets and such bad judgement. Only a question of time\u201d

— Donald J. Trump (@Donald J. Trump) 1466979340
Time proved the reverse was the case, as Trump's Turnberry resort suffered over £3.7 million in losses in 2021, and the Aberdeenshire golf resort, despite out-performing its previous year's numbers, still sustained a £696,000 loss in 2021, according to reporting by the BBC and Independent.
In 2016, then-US president Trump had sought to garner support for his far-right administration's extreme policies on issues like immigration by invoking Brexit, an emotive, populist movement sold to the electorate as an effort to "take back control."
"They're angry over borders. They're angry over people coming into the country and taking over. Nobody even knows who they are," Trump said of Brexit voters, 52 percent of whom voted to leave the EU. "They're angry about many, many things. They took back control of their country. It's a great thing."
The former president had even suggested to reporters that running a gold course was akin to running a country, saying, "You'll be amazed how similar it is," per the Washington Post.
Indeed, in addition to administrating the failure of his Scottish golf courses, Trump, as president, oversaw over 400,000 covid deaths, the biggest economic contraction on record, the 2020 country-wide racial justice protests, and was impeached twice, a first in American history.
When Trump took office in 2017, he handed control of the resorts to Eric Trump and his first son Donald J. Trump Jr.
Eric Trump, who signed off the Turnberry golf course's financial accounts as the company's director, blamed Brexit, which has had a lasting influence on immigration, for "impact[ing] our business as supply chains have been impacted by availability of drivers and staff, reducing deliveries and the availability of certain product lines," BBC reported.
The network also noted that Eric Trump had "said staff availability had been a 'challenge' due to wage inflation caused by "increased business levels" in the retail and logistics sectors" and added that the "staffing pool" available to the resort lacked "access to European staff for businesses in general resulting in greater demand for the individuals previously available at the resort."
Both resorts were named in the 222-page civil lawsuit the New York Attorney General, Laeticia James, brought against Trump, his three adult children, and their company, the Trump Organization, for what she said was years of "staggering" financial fraud."
The suit stated that Trump had "improperly and materially inflated the value of the golf course" at the Aberdeenshire resort and prepared "materially false and misleading valuations" for the Turnberry resort.
Trump has since denied all allegations of wrongdoing, calling the fraud lawsuit "a witch hunt" and James, who is black, a "racist."
Despite vehemently proclaiming his innocence in insult-laden social media posts, the 2024 presidential candidate repeatedly invoked the Fifth Amendment in a deposition, refusing to answer questions, a newly-released video of the deposit showed.