Trump's Mitch Warns Him: We're Going To Lose Midterm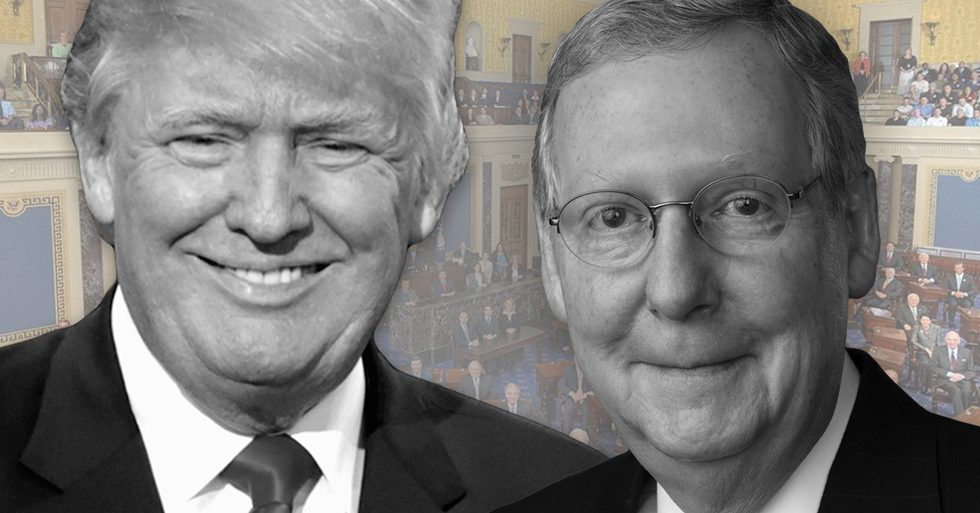 Republican leaders and senior White House officials are so concerned that Trump is leading the party towards a midterm election disaster that they have staged an intervention with him, hoping to get him to change his behavior before November.
The New York Times reports that Senate Majority Leader Mitch McConnell (R-KY) directly confronted Trump with the dire situation at a dinner meeting alongside other Republican congressional leaders.
According to the Times, McConnell said Trump was central to the 2018 campaign. And he noted that their one-seat advantage in the Senate is in jeopardy. Previously, McConnell has admitted the party faces a situation similar to a "Category 5" hurricane going into the election.
At the same meeting, White House legislative liaison Marc Short reportedly told Trump the Republican majority in the House of Representatives is all but doomed.
Meanwhile, at a Republican retreat held by outgoing Speaker Paul Ryan, Republican pollster Kristen Soltis Anderson singled out Trump as "a major source of the party's woes," according to attendees who spoke to the Times.
In her presentation, Anderson noted that Trump's job approval lagged his predecessors at this point, including President Barack Obama, who still lost 63 seats in the 2010 midterms.
Unfortunately for Republicans, sources say Trump was unable to be persuaded. "That's not going to happen," he said repeatedly when warned about the possible midterm wipeout.
He seems to base such assertions on his 2016 win. Of course, that victory was due largely to the quirks of the electoral college. Trump lost the popular vote by nearly 3 million to Hillary Clinton.
His confidence also appears to stem from his re-election campaign manager Brad Parscale. To feed Trump's ego, Parscale has repeatedly assured him that his approval rating has "never been higher."
In fact, Trump's approval ratings have consistently been low. Real Clear Politics currently shows an average of 41.8 percent support. And his rating has actually been higher in the past — 45.7 percent, a month after his inauguration.
Trump is an electoral millstone around his party's neck. On his watch, it has lost statewide elections in New Jersey, Virginia, and Alabama, as well as congressional seats in some of the most pro-Trump districts in America.
Republicans face massive headwinds not only on their home territory, but in swing districts that in other years could have worked as a firewall against a Democratic midterm surge.
The Times notes that Republicans like Wisconsin Gov. Scott Walker are avoiding campaigning with Trump, because the association motivates the growing wave of Democratic voters.
Trump believes his own hype, and the funhouse mirror reflection of that hype as seen on Fox News. In that world, Trump is an asset, not a liability.
But that isn't the real world, and leaders like Mitch McConnell and Paul Ryan understand it. They see blue voters straight ahead, ready to break up their majorities. And they are begging Trump to get his act together.
He thinks he knows better, and he isn't listening to anyone who disagrees.