Muslim Ban Faces New Trouble In Federal Appeals Court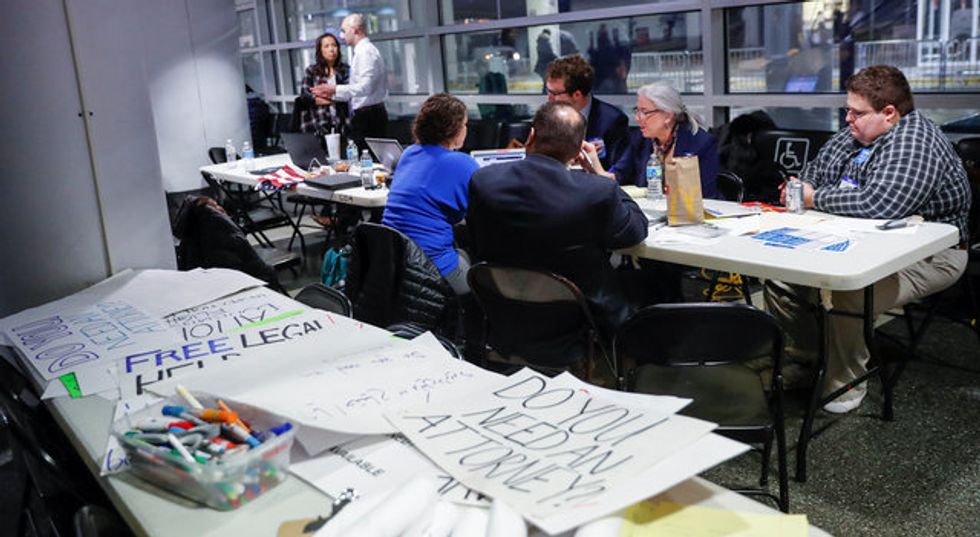 Reprinted with permission from AlterNet.
President Trump's sweeping executive order banning travelers from seven Muslim countries appears to be in trouble and unlikely to fully survive federal court review.
That was the sense after a three-judge federal appeals court panel gave a hard time to lawyers for Trump and two states suing him in the most high-stakes lawsuit challenging the travel ban. Last weekend, Washington and Minnesota won a temporary restraining order (TRO) blocking the ban nationwide.
The Justice Department went from opening with a full-throated defense of Trump's authority to issue executive orders, citing national security concerns, to a closing suggestion that the court preserve the travel ban on people who have never been to the U.S. before.
"At most, the injunction should be limited to the class of individuals on whom the state's claims rest—previously admitted aliens who are temporarily abroad now, or who wish to travel and return to the United States in the future," said DOJ Special Counsel August E. Flentje. "That is the core of the harm they've identified… and not issued more broadly."
Meanwhile, Washington state's Solicitor General, Noah G. Purcell, who was also representing Minnesota, didn't appear to persuade all of the judges that the White House travel ban should be entirely suspended while the court challenges play out in federal district court.
"It goes to what level of deference is owed to the executive," he said, responding to a question about whether Trump exceeded the authority granted to him by Congress to make immigration policy. But that same question hung over the appeals court hearing Tuesday, as well as suits challenging the Muslim ban filed in more than a half-dozen districts courts across the U.S.—where almost every judge has concluded Trump's order was sloppily unconstitutional.
While those district courts issued decisions limiting Trump's ban in their jurisdictions, the ruling in response to Washington and Minnesota's lawsuit was most sweeping because it led to a TRO suspending it nationwide. That response led to the White House's appeal before the U.S. Court of Appeals for the Ninth Circuit—based in San Francisco and one of the nation's most liberal—where a ruling is expected to follow as early as Wednesday.
The White House is hoping the appeals court will lift the TRO, reviving the travel ban, while the district court litigation continues. But there are several scenarios. The appeals court could do that—although the judges' astonishment of many of the Justice Department's answers makes that seem unlikely. Or it could issue its own decision striking down parts of Trump's executive order—such as sections targeting legal residents. Or it could send the entire matter back to district court without taking any action, and let that process unfold over the next few weeks.
The issues before the court are complex. They go beyond the White House's power to set immigration policy. To start, Washington and Minnesota argue that they have legal rights to sue and stand up for their residents—thousands of foreigners with legal residence, from community members, to employees at major corporations like Microsoft, to students at state universities. The Justice Department countered that the states didn't have any such standing to sue.
The states then made a series of claims about how Trump's travel ban was unconstitutional. The executive order—as signed by Trump, and critically, it has not been updated nor replaced—didn't just apply to foreigners with visas to visit the U.S., whether family members, students or business people. It also banned legal residents, who have rights in U.S. courts. That blanket prohibition has been seen by several federal courts as violating constitutional rights to due process, or access to the court system to redress legal grievances.
The states also argued that Trump's targeting of Muslims—based on innumerable campaign statements where he called for a "total and complete" travel ban from Muslim countries—was a major violation of the Constitution's Establishment Clause, which bars the federal government from persecuting anyone based on their religion. The states also said that Trump's executive orders exceeded his authority under several laws passed by Congress.
Against this backdrop, each side had 30 minutes before the three-judge appeals court panel. The Justice Department went first, with Flentje defending Trump. After repeatedly asserting no district court should "override the president's judgment" on national security, Judge Michelle T. Friedman interrupted, "Are you saying the president's decision is unreviewable?" Flentje replied, "Yes… with constitutional limitations." When asked what those limitations were, he didn't say but reiterated that the president has power to "exclusively exclude aliens" and "the state of Washington doesn't have these kinds of constitutional interests."
Noah G. Purcell, Washington's solicitor general, argued otherwise. He repeated that families, students, employers, and state institutions like universities all had been hurt by having their lives and business upended by the sudden travel ban. He flatly rejected Flentje's contention that the TRO suspending Trump's travel ban nationwide was too broad because the modern realities of travel to and from his state and Minnesota criss-crosses the entire country.
Purcell was given a hard time by Judge Richard R. Clifton, who was "not entirely persuaded" that Trump's executive order was a Muslim travel ban, saying the seven countries "represent only a small percentage of the Muslims worldwide." Earlier, Flentje made that point, urging the court not to look at anything Trump had said during the campaign or on Twitter—but only at the words contained in the executive order itself. Purcell replied that Trump repeatedly called for a "complete" ban on Muslims and their suit continued numerous citations of such statements in the media. "His advisers said on television they were asked for a way that [the executive order] would be legal."
Intriguingly, the judges did not press Purcell or Flentje on Trump's national security authority. Instead, they focused to the issues of standing to sue, the harm done by the executive order, the scope of the restraining order, and the anti-religious bias prohibition in the Constitution's Establishment Clause. When Judge Friedman gave Flentje a few minutes for final comments, he reiterated that Trump's orders were "a national security determination by the president" and Trump had congressional authority to issues these immigration decrees.
But then she asked if the lawsuit challenging the order shouldn't be allowed to proceed at the district court level to determine if the executive order intended to deprive its targets of their rights under First Amendment and the Establishment Clause. The ensuing dialogue was revealing.
"Shouldn't the case proceed, perhaps to discovery, to see if that [anti-Muslim bias] really was the motivation or not?" she interrupted.
"We're not saying the case shouldn't proceed," Flentje said, "but it is extraordinary for a court to enjoin the president's national security determination based on some newspaper articles [where Trump repeatedly called for a Muslim ban]. And that's what has happened here. That is very troubling second-guessing of the national security decision made by the president."
"Stop. Stop. This is Judge Clifton," he interrupted. "Do you deny the fact that the statements attributed to then candidate Trump and to his political advisers, most recently Mr. Giuliani, do you deny that those statements were made?"
"Judge Clifton—I, no, I would note that Judge Robart [who issued the TRO] said he wouldn't look at campaign statements," Flentje replied.
"That's a different point," Clifton said. "I understand the argument they shouldn't be given much weight. But when you say we shouldn't be looking at newspaper articles, we're all on the fast track here. Both sides have told us this is moving too fast. Either those kind of statements were made or they we not… If they were made, it is potential evidence. It is the basis for an argument. I just want to know what's on the table."
"Well, those are in the record," he replied.
Moments later Clifton asked his final question, why the federal appeals court should be in the position of having to sort out what the White House's order meant—when after it was sloppily issued, Trump's staff, reacting to protests, said the ban no longer applied to legal permanent residents traveling from the seven counties. (Trump hasn't updated the order to reflect that.)
"Why shouldn't we look to the executive branch to more clearly define what the order means, rather than have to look through the lens of these subsequent interpretations?" Clifton asked.
Flentje would not acknowledge that the travel ban was sloppily drafted. But then he read from the Justice Department's reply brief, suggesting that if there was to be a TRO against Trump's executive order, that, "At most, the injunction should be limited to the class of individuals on whom the state's claims rest—previously admitted aliens who are temporarily abroad now, or who wish to travel and return to the United States in the future."
In other words, Flentje's closing comments strongly suggest that the Justice Department knows that Trump's blanket Muslim travel ban will not stand. The question is how much of it will be allowed to resurface, and when—immediately, if a federal appeals court rules that way; or several weeks or months from now, after the litigation plays out in federal courthouses.
Steven Rosenfeld covers national political issues for AlterNet, including America's democracy and voting rights.
IMAGE: Chicago area immigration attorneys listen through their laptops to the court hearing on immigration ban at O'Hare International Airport in Chicago, Illinois, U.S. February 7, 2017. REUTERS/Kamil Krzaczynski