Trump's New CEO: A Domestic Violence Charge And Possible Voter Fraud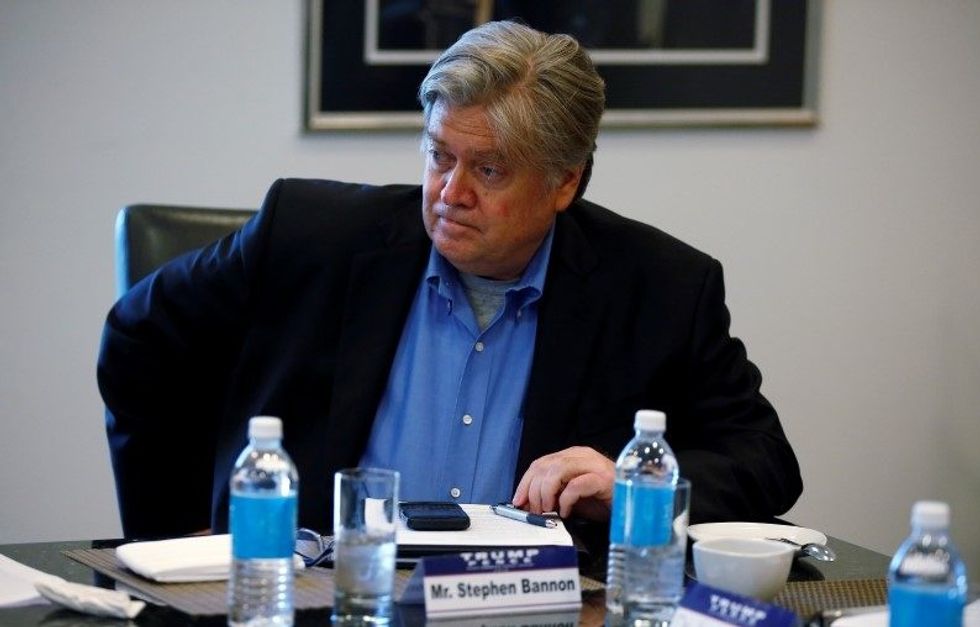 Donald Trump's new campaign CEO, Stephen Bannon, was charged with domestic violence in 1996, according to a Politico report out this week, and may have committed felony voter fraud in 2016 by having an active voter registration at a property set to be demolished in Florida.
According to Politico, though the domestic violence case was ultimately dropped, Bannon was charged with battery, dissuading a witness, and misdemeanor domestic violence. The police report Politico relied upon is from Santa Monica, California, and states that Bannon's wife at the time alleged the couple were having an argument over their finances, and he pulled her neck and wrist. An officer's report corroborates this account. It is also alleged that Bannon broke the phone when she attempted to call the authorities.
Bannon pleaded not guilty and geared up with representation for the legal proceedings, but Bannon's ex-wife did not show up in court, leading the case to be dropped.
A spokesperson for Bannon commented on his current relationship with his ex-wife and their twin girls but appeared not to address the allegations directly: "The bottom line is he has a great relationship with the twins, he has a great relationship with the ex-wife, he still supports them."
That's not the end of the bad publicity today for Bannon, however: An exclusive report from The Guardian revealed that he is registered to vote at the address of an empty house in a critical swing state: Florida.
Neighbors told The Guardian the house had been abandoned for several months.
Bannon apparently never lived at the house himself, but rented it for his ex-wife. This is also not the first time Bannon linked his voter registration to a house he never occupied: he previously did the same with his ex-wife for a two year period starting in 2013.
Neither Bannon nor Trump's representatives chose to comment to the publication, initially. Eventually, a Trump spokesman issued the following snippet to The Guardian via email: "Mr Bannon moved to another location in Florida."
Florida laws mandate voters be permanent residents of the location where they intend to vote. If Bannon's registration can be shown to be willful, he could face up to five years behind bars for a third-degree felony.
Trump has already faced his fair share of headaches after his appointment of the aggressive alt-right poster boy as CEO. Bannon's organization, Breitbart News, is known for being closely aligned with alt-right values of nativism, anti-immigration sentiments and, in a twist of irony, voter fraud concerns.
Photo: Campaign CEO Stephen Bannon listens during Republican presidential nominee Donald Trump's round table discussion on security at Trump Tower in the Manhattan borough of New York, U.S., August 17, 2016. REUTERS/Carlo Allegri