Trump's Palpable Fear Of The Truth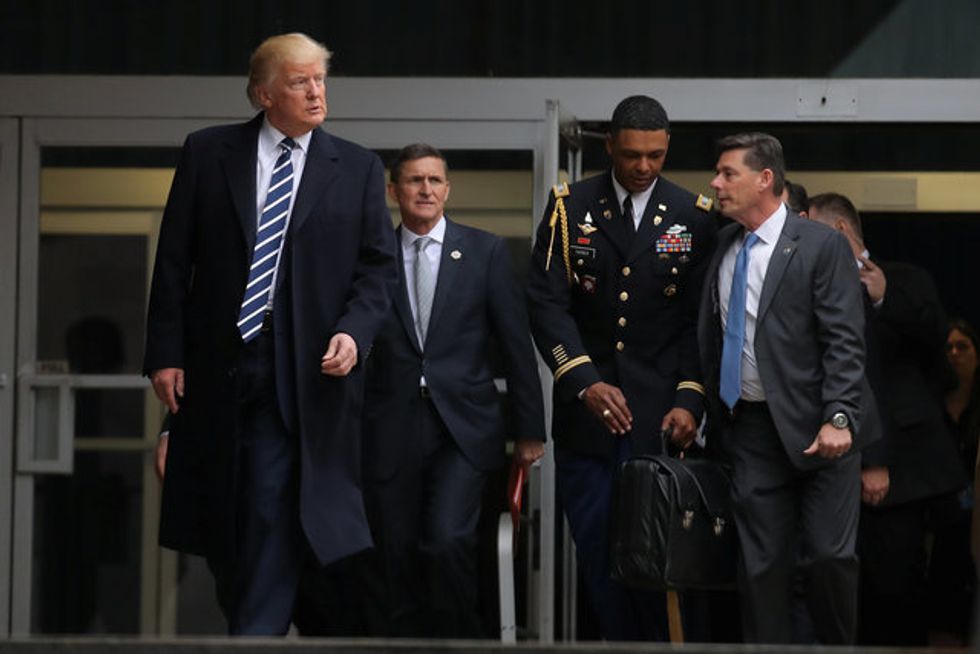 Reprinted with permission from Creators.
None of us knows when the moment to gain immortality will arise, but Sarah Huckabee Sanders saw her opportunity and seized it. Asked Thursday about James Comey's assertion that President Donald Trump had lied, the White House spokeswoman answered, "No, I can definitively say the president's not a liar."
It is an audacious person who would stake her reputation, if not her immortal soul, on Trump's veracity. Years from now, people will have forgotten much about the scandal surrounding the president right now. But Sanders' risible assertion is built to live on as an example of taking mendacity too far. If she lives to be 100, her obituary will quote that sentence.
Sanders knows better than most that Trump cannot be taken at his word. After the president fired the FBI director, she said he had made the decision after getting a memo from Deputy Attorney General Rod Rosenstein — only to hear the next day from Trump that in fact, he had made up his mind beforehand.
Trump's lawyer showed an equal devotion to dissembling. After Comey testified before a Senate committee, Marc Kasowitz released a letter stating, "Mr. Comey's testimony also makes clear that the President never sought to impede the investigation into attempted Russian interference in the 2016 election."
It does no such thing. Comey testified that Trump said he hoped Comey would drop the investigation into his former national security adviser, Michael Flynn. When Sen. Marco Rubio, R-Fla., asked whether the FBI director "perceived it as an order, given his position, the setting and some of the circumstances," Comey said, "Yes."
The White House can dispute what the president said in one-on-one conversations with Comey, though Trump's long habit of pathological lying does not give him an advantage in the credibility contest. But let's review what is not in dispute.
Attorney General Jeff Sessions met with the Russian ambassador at least twice last year and then denied doing so in his confirmation hearings. Flynn discussed the U.S. sanctions on Russia with the Russian ambassador in December and then lied about it to Vice President Mike Pence. Trump son-in-law Jared Kushner had many meetings with Russian officials but didn't disclose them as required when he applied for a security clearance.
Trump, by his own account, fired Comey because of the investigation into possible collusion between his campaign and agents of the Russian government. Hosting Russian officials in the Oval Office the next day, he told them, "I faced great pressure because of Russia. That's taken off." When the conversation was leaked to The New York Times, press secretary Sean Spicer criticized the leak but did not deny its accuracy.
All of this yields a picture of a president who does not want all the facts known. That image is enhanced by what has been said publicly by officials in the administration who are not notorious liars.
According to Comey — whose veracity was taken for granted, even by the Republican senators — Trump expressed a wish for him to drop the Flynn probe, asked him to state publicly that Trump was not being investigated and informed him, "I expect loyalty." Comey didn't comply and was cashiered.
He's not the only one subjected to such requests. The Washington Post reported that the president asked Director of National Intelligence Dan Coats to urge Comey to lay off Flynn and that he asked Coats and National Security Agency Director Mike Rogers to publicly say there was no evidence that his campaign colluded with the Russians.
When senators questioned them about that report Wednesday, they refused to answer and refused to say why. Sen. Martin Heinrich, D-N.M., told them, "I think your unwillingness to answer a very basic question speaks volumes."
Whether Trump's conduct rises to criminal obstruction of justice is not clear. What is clear is that Trump does not comport himself like an innocent person who knows that the truth will vindicate him.
Why would the president be so eager to see the investigation finished — as he has made clear he is? The simplest explanation is a fear it will find evidence of guilt. The repeated secrecy and dishonesty exhibited by Trump and his subordinates raise the questions: Why did they hide what they did? What else are they hiding?
Special prosecutor Robert Mueller is likely to find out. After Comey was done, several Republicans pronounced it a good day for Trump. Compared with the days that lie ahead, they are probably right.
Steve Chapman blogs at http://www.chicagotribune.com/news/opinion/chapman. Follow him on Twitter @SteveChapman13 or at https://www.facebook.com/stevechapman13. To find out more about Steve Chapman and read features by other Creators Syndicate writers and cartoonists, visit the Creators Syndicate website at www.creators.com.