All Of Trump's Possible VP Picks Disagree With Him On Trade Deals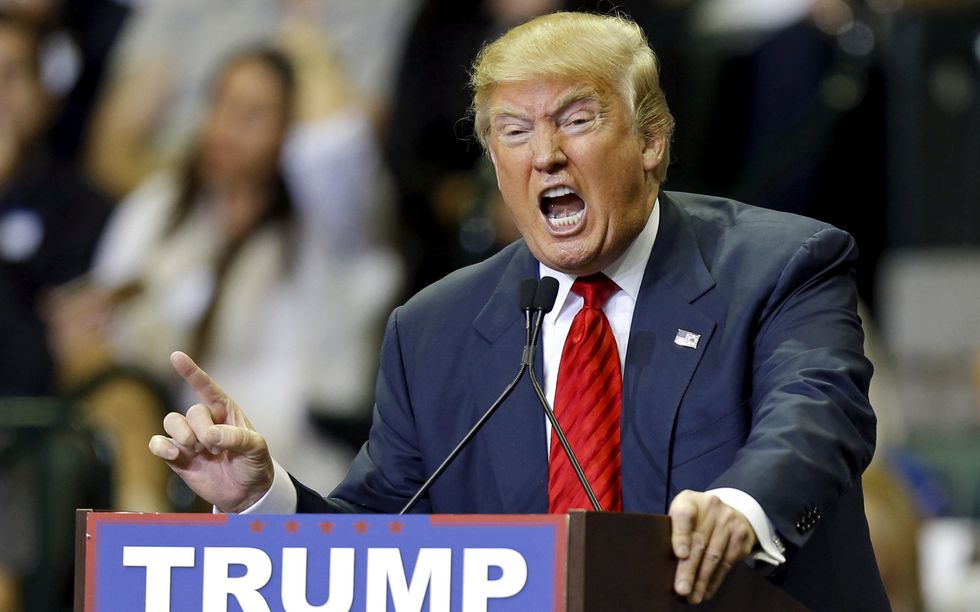 When the Republican platform committee finalized a draft of the party's priorities early this week, they were noticeably silent on the central issue to Trump's campaign: Trade.
"We need better negotiated trade agreements that put America first," the platform reads. "We cannot allow foreign governments to limit American access to their markets while stealing our designs, patents, brands, know-how and technology."
In other words: "America First!!"
But there isn't any specific language about NAFTA, which Trump has blamed for the decimation of American manufacturing, or about the Trans-Pacific Partnership, which Trump has portrayed as a gift to the Chinese, one that justifies a trade war. What gives?
"We know that our presumptive nominee isn't in favor of it, one … and we have some senators who are running across the country that were in support of it at one time," said Tracey Monroe-Winburn, an Ohio delegate, to Politico.
In fact, before Trump stomped onto the scene last year, the Republican consensus on trade was nearly unanimous. Now, Trump has another problem: All of his potential vice presidents are free traders.
Newt Gingrich, the "grandiose" former Speaker of the House who suggested that poor kids work as janitors after school, presided over the passage of NAFTA as Speaker and worked with Bill Clinton to implement it. He also supported joining the World Trade Organization, and granting the president fast track authority to do so.
In 2006, Gingrich said on his website that "[t]hose who advocate economic isolationism and protectionism are advocating a policy that could help China and India surpass the US in economic power in our children's or grandchildren's lifetime."
Now, however, Gingrich has reversed course, saying he agrees with Trump's stance on trade. "We are now in a different era," he told Politico, referring to the decades-long process it took to pass NAFTA as a member of the self-styled "Clinton-Gingrich Pro-American Growth Team."
Mike Pence, the traditionally conservative governor of Indiana, has backed the Central American Free Trade Agreement (CAFTA) and the Trans-Pacific Partnership, as both The Washington Post and Mother Jones have noted. As a congressman, Pence was, like most Republicans, a reliably pro-trade vote on dozens of bills and amendments.
Pence has trumpeted the benefits NAFTA has had for Indiana and the rest of the nation, saying that under the agreement, "the volume of US corn exports to Mexico has nearly tripled since 1994." In Congress, Pence made what has become a standard argument for expanding our trade agreements: That they spread economic benefits of globalization to the developing world, opening poor countries up to American political influence.
"Let us not in this Congress and in this nation turn our backs today on those same fledgling democracies that are embracing our principles of free-market economics and freedom," Pence said in a pro-CAFTA speech.
Chris Christie would suffer at least one immediate effect of Trump's trade wars: No more Oreos! At least, that's one dietary order Trump insisted Christie follow, at a campaign event to pay off the New Jersey governor's campaign debts.
Christie has managed to avoid answering questions on the merits of the Trans-Pacific Partnership, pinning his supposed doubts about the measure on the president: "I wouldn't let this president buy me a car, that's how bad a negotiator he is. So, I will not support the TPP as negotiated by this president," Christie said last November. However, he has not commented on whether he would support the passage of the TPP in a Trump administration.
However, as governor of New Jersey, Christie has repeatedly made efforts to expand the state's international trade relationships, traveling to Canada, the UK, Israel,
In April 2015, Christie called for the "next generation" of NAFTA. "I do think that we need to take another look at NAFTA," he said at the annual Washington Conference on the Americas. "You know, it's been 20 years now since NAFTA was put into effect. And what's the next chapter going to look like?"
Photo: U.S. Republican presidential candidate Donald Trump speaks during a campaign stop in Tampa, Florida February 12, 2016. REUTERS/Mike Carlson/File Photo