Trump's Rabbit Hole Is Getting Deeper By The Day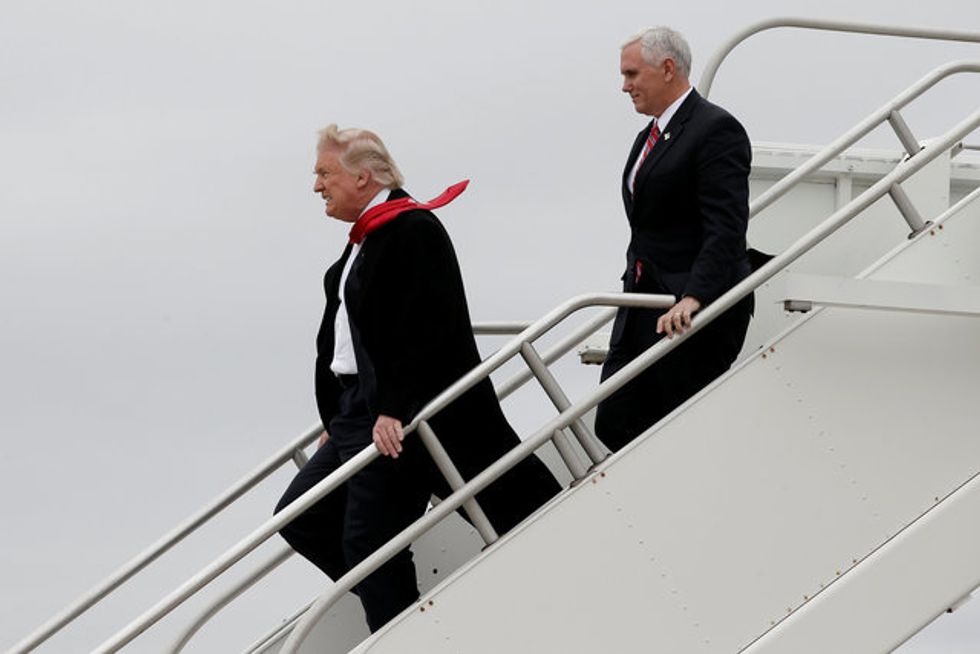 If you're feeling a little like Alice in Trumpland these days, it's no wonder. Reality has been turned upside own, grossly distorted, rendered a hall-of-mirrors hallucination. We're going down the rabbit hole to find the Mad Hair, er, Hatter.
It seems just a couple of months ago (it was, wasn't it?) that Donald Trump was running on a pledge to "drain the swamp" of pernicious influences — lobbyists, corporate titans, Washington insiders and other influence peddlers. He'd return the White House to the people, the white working-class voters who had come to believe the system was "rigged" against them.
He battered his rival, Hillary Clinton, for her connections to Wall Street. She had given a few pricey speeches to financial firms, including Goldman Sachs, and Trump claimed that proved she was unfit for the presidency. She was "owned by the banks," he said.
So it's discombobulating — vertigo-inducing, really — to hear that Trump's nominee for secretary of the treasury, Steve Mnuchin, comes straight from Wall Street; he was a partner at Goldman Sachs for 17 years. He later co-founded a bank called OneWest that took advantage of the devastating financial crisis to make millions off folks who were already hurting. According to Politico, OneWest once foreclosed on a 90-year-old woman over a 27-cent payment error.
In addition, Trump has tapped billionaire businessman Wilbur Ross, who also spent years on Wall Street, to be commerce secretary. Instead of draining the swamp, the president-elect has invited the alligators into the executive suite.
In a similar head-spinning move, Trump is considering retired general David Petraeus, former head of the CIA, for secretary of state. Here's the irony: Petraeus' political career ended when he pleaded guilty to mishandling classified materials. Isn't that the very crime that Trump insisted Clinton, whom he bashed for using a private email server, should be sent to jail for?
Still, if any of this is a surprise, it shouldn't be. Throughout the campaign — indeed, throughout his career — Trump was a world-class liar.
Somehow, though, that description fails to do justice to Trump's talents, his sui generis capacities. It's tempting to call him a con artist, but good cons are usually out to genuinely fool the mark. While a fraud such as Bernard Madoff was also a world-class liar, he tried hard to make his deceptions believable.
Trump does no such thing. He flits from one falsehood to another, even as proof of his mendacity is put before him. He doesn't care; he's not embarrassed. In Trumpland, there is no truth, just desires and needs; there are no facts, just impulses; there is no reality, just the force of power and will.
"In a world where nothing is true, the only real choice available to voters is between competing fictions," Ned Resnikoff writes in a brilliant essay for the ThinkProgress website. "Trump offered a particularly compelling set of fictions, but he also found various ways to telegraph that he knew what he was doing. … If everything is a lie, then the man who makes his lies obvious is practicing a peculiar form of honesty. The president-elect is speaking the language of dictators."
The Trump phenomenon and its distorted reality will prove costly — not just to the civic fabric, but also to the very working-class voters who put Trump in office. Take a look at his administration's plans for Medicare, for example.
During the campaign, Trump sought to distinguish himself from the hated Republican elite with, among other things, a pledge to protect the social safety net, especially programs such as Medicare and Social Security, which make such a difference in the lives of less-affluent Americans. So what did the president-elect do as soon as the votes were counted?
He nominated a health and human services secretary, U.S. Rep. Tom Price (R-Ga.), who has made privatizing Medicare a crusade. Price, an orthopedist, is a member of the ultraconservative Association of American Physicians and Surgeons, which was formed in 1943 to fight "socialized medicine." He plans to offer older Americans subsidies to purchase private insurance — which virtually guarantees they will receive less access to low-cost medical care than they do now.
Welcome to Adventures in Trumpland, where the madness has only just begun.
(Cynthia Tucker won the Pulitzer Prize for commentary in 2007. She can be reached at cynthia@cynthiatucker.com.)
IMAGE: U.S. President-elect Donald Trump and Vice-President elect Mike Pence walk off Trump's plane upon their arrival in Indianapolis, Indiana, U.S., December 1, 2016. REUTERS/Mike Segar