Trump's Sociopathic Slur Against 'Blue States' Sparks Fury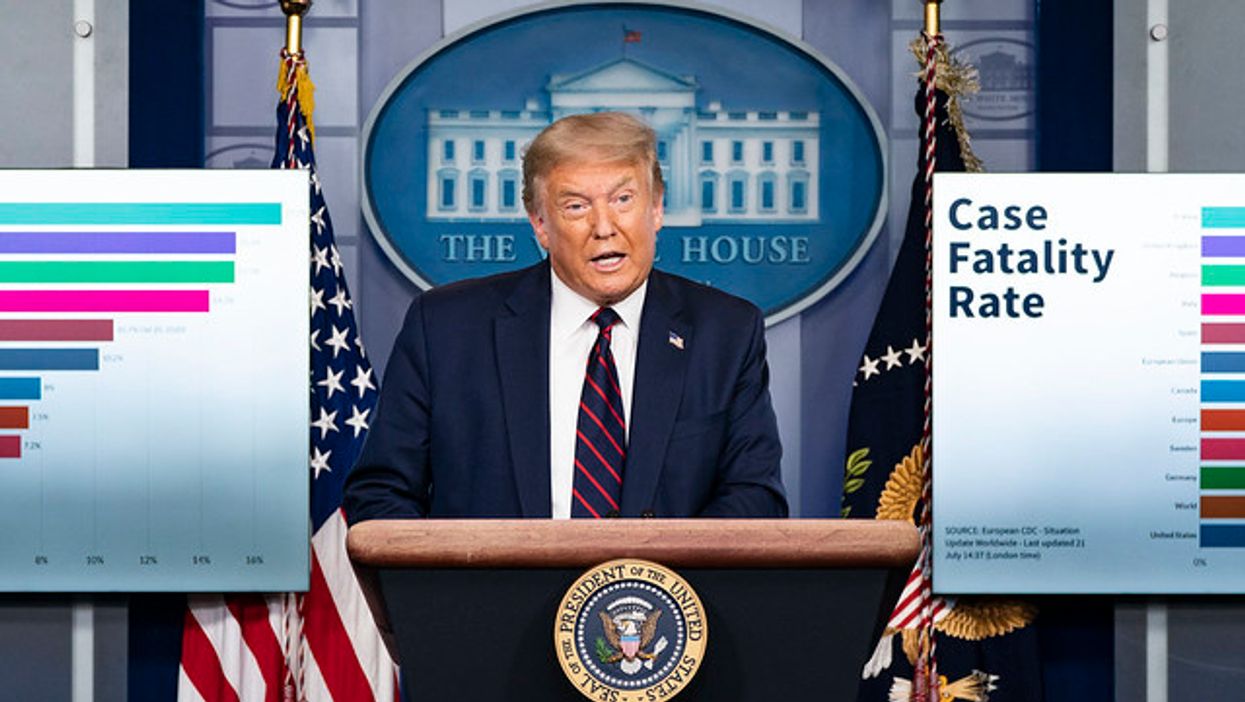 Official White House Photo by Shealah Craighead
Reprinted with permission from Alternet
In a briefing featuring his galling contradiction of the CDC director's claims about vaccine development , President Donald Trump also made a startlingly callous comment about the deaths of his fellow Americans.
Referring to the COVID-19 death count in the United States, Trump claimed: "If you take the blue states out, we're at a level I don't think anybody in the world would be at."
It was yet more evidence that Trump isn't concerned about the deaths of his political opponents, and that he's incapable of feeling true empathy for those who have been affected by the virus. He only cares about boosting his own ego and personal standing, so he twists the numbers around however he thinks will reflect best on him.
---
"This is quite simply one of the most appalling and inhuman statements ever uttered by an American President," said Democratic Rep. Don Beyer of Virginia.
MSNBC's Chris Hayes noted: "The deaths in the blue states don't count is probably the sickest and most honest belief I've heard Trump express."
And while it's true that Democratic leaning states have been hit harder than Republican leaning states, Trump's claim that the GOP portions of the country have been performing remarkably well by a global standard is just false, as Charles Gaba pointed out:
And of the top 10 U.S. states with the highest COVID-19 death totals, four are led by Republican governors and six are led by Democrats. The partisan split is just not as simple as he wants it to be. And even if it were, it's his obligation to be president for the whole country. His repeated failures to provide the necessary leadership in the country have been extensively documented. Moreover, while Democratic states were hit hardest initially, it's Republican states that have recently been experiencing the worst toll from the outbreaks:
"Trump
much more explicitly dismissing "
blue states
" as not really part of America is a super worrying development, if you're counting," said Farhad Manjoo. "We get inured to this sort of stuff — once it was a scandal when he called it the China virus, now it's just a Wednesday — but this is bad."
Christine Pelosi noted: "Trump can't pit blue states against red states; we are the UNITED States. Imagine if a governor said 'blue counties in my state are OK not red ones so we are OK' — that would be ridiculous and unacceptable. The truth is, ALL of us are in this together."
Some suggested that Trump's urge to divide the country into red and blue states while discussing the death rate from a pandemic showed the pernicious influence of the Electoral College: