Trump's Son: 'My Father Is A Patriot, And He's An American'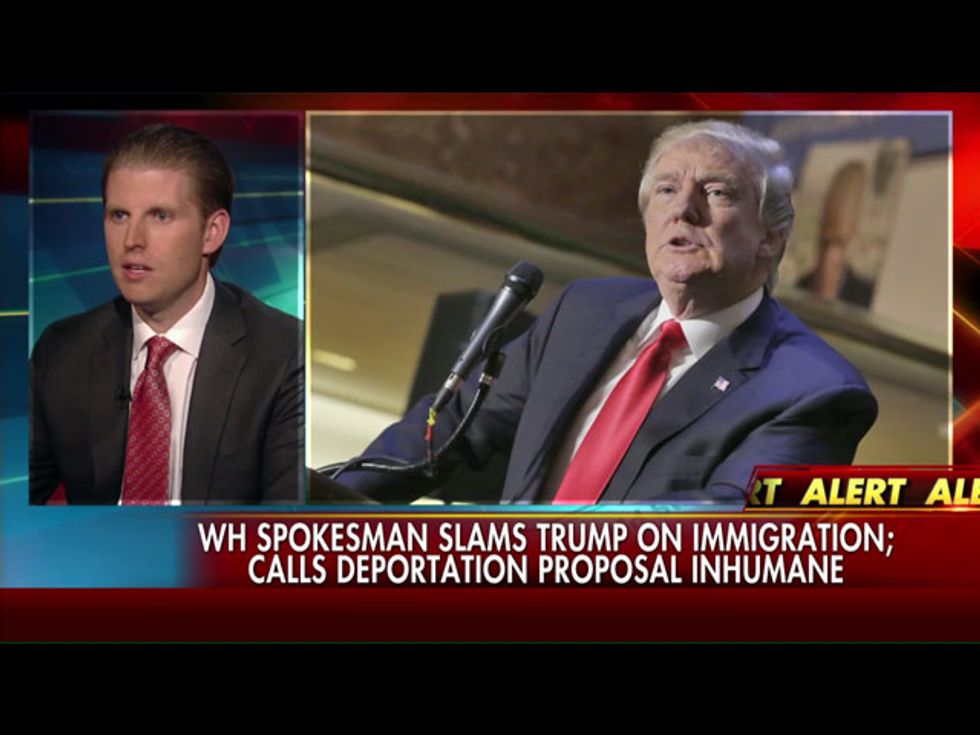 Donald Trump is in hot water for calling for mass deportations, and for fondly recalling during Tuesday night's debate the good old days of "Operation Wetback" under President Eisenhower. On Thursday, his son Eric Trump launched a vociferous defense of his father's character.
"I don't think there's anything inhumane about it," Trump the Younger declared, in an appearance on Fox News' Your World with Neil Cavuto, displaying the trademark Trump bluster. "The reality is we have 102 million Americans that don't have work — and my father is a patriot, and he's an American, and he thinks the citizens of this country should have a job waiting for them."
Note: Trump and his campaign often make astronomical claims about the number of Americans who can't find work. PolitiFact has drilled into these numbers, and shown that in order to get there from the working-age population, Trump must count a whole lot of demographics that don't normally work on a regular basis.
This would include such categories as: senior citizens, the disabled, stay-at-home moms and dads, high school students, full-time college students, and people still in job training. But hey — let's Make America Great Again, and get the old folks back on the assembly lines!
Eric Trump continued: "And you see all these college students out there right now — and many graduate from the best colleges, and they literally can't find work. Yet there are people coming across the border illegally — despite the fact that there are literally millions of people signed up, and trying to get into this country legally — they're coming across illegally, and no one's doing anything about it."
It does seem kind of odd to imagine the white-collar job searches of college graduates being confounded by the manual laborers crossing the Mexican border.