Trump's Team Of TV Surrogates Constantly Lie
@EricBoehlert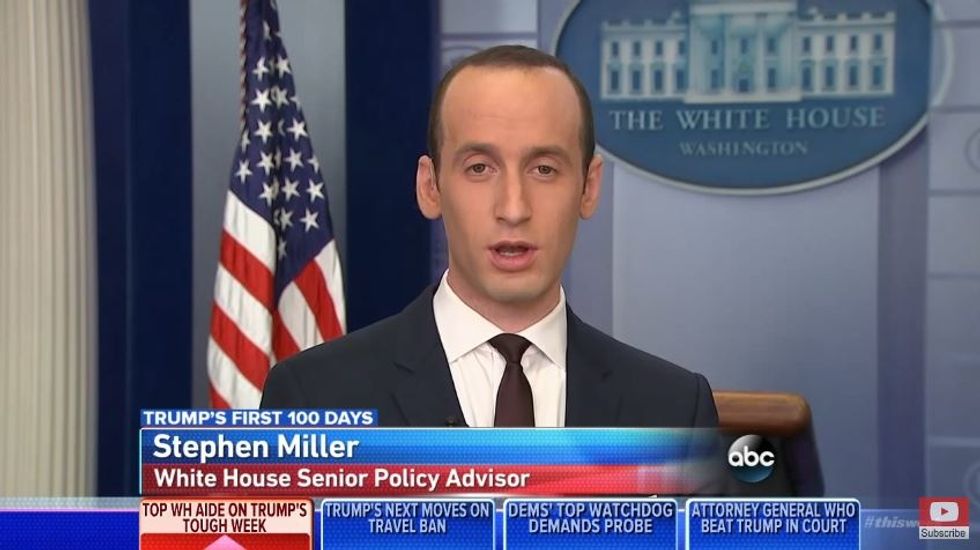 Reprinted with permission from Media Matters for America.
Here are some of the blatant falsehoods White House senior policy adviser Stephen Miller told on the Sunday shows this week:
Fourteen percent of noncitizens in the United States "are registered to vote."
Voter fraud is a "very serious" problem in New Hampshire.
The White House has provided "enormous evidence" to confirm widespread voter fraud in the U.S.
White House press secretary Sean Spicer, "as always, is 100 percent correct."
It was a stunning display of mendacity.
So here's my question: If President Donald Trump's adviser Kellyanne Conway has a widely acknowledged "credibility" problem, given her long history of fabrication on behalf of her boss, how should the press describe the trouble now hovering over Miller, who became the latest Trump TV surrogate who forcefully wrestles the truth to the ground?
Additionally, how should the press describe Spicer's daily White House briefings, which are accentuated with bold fabrications?
For anyone under the illusion that Conway was an outlier among Trump's TV surrogates, we now have overwhelming proof that she's simply part of a team at war with reality. And that means the press needs to expand its circle of who is deemed to have potentially crippling "credibility" problems.
It was Conway's recent Bowling Green "massacre" fabrication that received lots of attention in the press, as did CNN's decision to decline her as a State of the Union guest last week, in part because of questions about her trustworthiness. Days later, the news channel did invite Conway back for an interview, but questions about her veracity certainly linger and it continues to be a topic of intense media analysis inside the Beltway.
And it should be.
But the debate shouldn't revolve around only Conway. She's not the overarching problem. This current crisis of confidence is about an entire White House philosophy of dishonesty driven by Trump himself. And that certainly includes Trump TV surrogates such as Spicer and Miller, who are quickly amassing resumes built around pushing daily falsehoods. If news producers are avoiding Conway, they should also be pondering the worth of hosting Spicer and Miller.
Have we ever had a modern-day press secretary who put some many substantial lies up on the board in just a few short weeks?
From Media Matters' running tally:
Additionally, Spicer has repeatedly defended as a "success" the U.S.-led military raid in Yemen last month — which The New York Times described as a situation where "everything that could go wrong did."
Spicer told reporters the raid was planned during the Obama administration, and that the goal was "intelligence-gathering." But NPR reported that neither claim was true. (The plan was to nab high-ranking Al Qaeda leaders, which didn't happen.)
While Spicer has gotten criticism (and the SNL treatment) over his repeated lying, he's still drawn some friendly coverage recently. "On the airwaves … he is daytime television's new big hit," the Times reported, even though ratings have ticked up just 10 percent when Spicer's briefings air live. The Times also downplayed Spicer's dishonesty in a second, recent news article highlighting how Spicer is "shaking up" the briefings.
And now we have the arrival of Miller as Trump's favorite new TV surrogate. Pushing an array of previously debunked claims, assertions, and flat-out fabrications, Miller gave such a strange, detached-from-realitytelevision performance that you have to wonder about the parallel universe that's being assembled inside the White House these days.
For the record, Kellyanne Conway isn't the only one building it.