How Trump's Thuggish Style Incites And Rationalizes Violence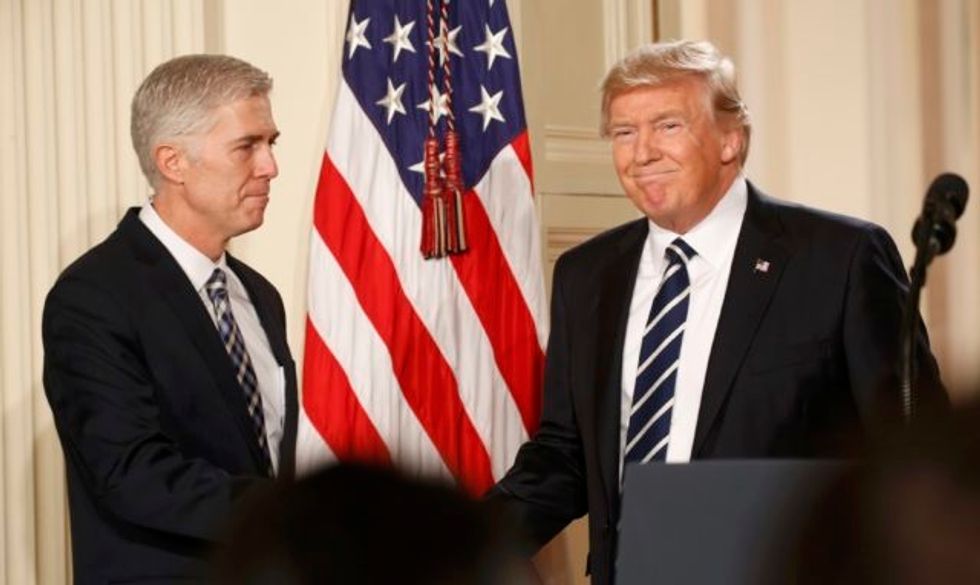 Reprinted with permission from Alternet.
The president of the United States sets a tone, an example, a style. With Donald Trump, that tone conveys a suffused rage and a violent intolerance that equates questions with insults and disagreement with disloyalty. It is a style that openly sanctions assault on those who dare to dissent.
The seeds were planted at Trump campaign rallies where, according to Politico, the candidate's security detail attracted repeated complaints for use of excessive force and aggression, racial profiling and trampling free speech. The results have now blossomed.
When Greg Gianforte, the Republican candidate for a hotly contested congressional seat in Montana, was charged with "body-slamming" British reporter Ben Jacobs, he was defended by right-wing media organizations. Gianforte gleefully reported he raised $100,000 in donations after being charged, and his supporters condoned the assault.
Gianforte, who won the seat, apologized, saying, "I made a mistake." His defenders showed no such decency.
Rationalization
"How could people support Gianforte after he reportedly assaulted a journalist?" asked right-wing PJ Media.
"Perhaps the more pertinent question is, how could Trump voters not pull the lever for him? The Montana Republican was constantly badgered by Guardian reporters like Ben Jacobs. After the swagger of Trump, who repeatedly attacks the misleading 'fake news' media, carried Montana by huge margins, some are predicting that the assault actually favored Gianforte."
The reporter's offense? Jacobs had asked Gianforte a question about the new budget analysis that says House Republicans' health care legislation would deprive 23 million people of health insurance, when Gianforte attacked him. The idea that "constant badgering" (that is, persistent reporting) justifies a violent response is a triumph of Trumpism—and perhaps a warning sign of things to come.
That violent response to dissent was on display in Washington last week when bodyguards of Turkish president Tayyip Erdogan charged Kurdish demonstrators, sending 11 people to the hospital. Erdogan, an authoritarian strongman whom Trump admires, watched the incident from nearby, and some suggested he might have ordered it. The New York Times analyzed video of the incident and identified 26 Turkish men who knocked down, punched and kicked the protesters. One man choked Ceren Borazan, 26, a protester, and slammed her to the ground. "He was saying 'You are dead,' I felt so awful. As a woman, as an American, as a Kurd. Right now I don't even feel safe here," Borazan told the Times.
The rationalization for the violence in Washington was the same as in the Montana incident: self-defense. One Turkish bodyguard told the Times the protesters were "terrorists," who started the fight by punching and spitting on him when he tried to get them to "calm down."
The common Trumpian denominator: the belief that people exercising their free speech rights is intolerable, therefore a violent response is justifiable.
The State Department condemned the attacks on the protesters. So did Washington mayor Muriel Bowser. But no one has been arrested or charged. Think about that: Two-dozen foreigners attack peaceful demonstrators in the nation's capital on behalf of a dictator; yet no one has been charged, and the White House, which hosted Erdogan, has said nothing. Could there be a clearer demonstration of the normalization of autocracy in America? Violence against those who exercise free speech rights will be tolerated in Trump's America.
Like the riots that have greeted right-wing provocateur Milo Yiannopoulos on college campuses, and the fracas that prevented conservative writer Charles Murray from speaking at Middlebury, the attacks on Ben Jacobs and the Kurdish demonstrators indicate that substantial numbers of Americans are becoming less tolerant of free speech and more permissive of political violence to silence view they don't like.
One difference: the leftist protesters did not physically assault the speakers who offended them. Trump's allies did.
Demons
"What will happen to American politics if, as now appears likely, the Republican Party nominates Donald Trump?" asked Peter Beinart in The Atlantic last year: "Here's one bet: It will get more violent."
Beinart got that right.
"The United States is headed toward a confrontation, the likes of which it has not seen since 1968, between leftist activists, who believe in physical disruption as a means of drawing attention to injustice, and a candidate eager to forcibly put down that disruption in order to make himself look tough," he wrote.
"He's unearthed some demons," Rep. Mark Sanford (R.-S.C.) said of Trump after Gianforte's assault on Jacobs. "People feel like if the president of the United States can say anything to anybody than I guess I can too, and that is a very, very dangerous phenomenon."
Even Breitbart News, while giving the story a pro-Erdogan spin, accurately reported on the breakdown of American norms.
The D.C. police have been criticized for not doing more to control the situation, especially since bodyguards for President Erdogan have an established history of assaulting both demonstrators and journalists on American soil. The Trump administration has received criticism for not speaking out more forcefully against the actions of Turkish personnel, who appear to have flagrantly abused diplomatic immunity to attack peaceful protesters and then retreat into the safety of the Turkish embassy.
The violent display by Erdogan's bodyguards is Turkey's "new normal," says the Guardian.
It may be America's new normal, too.
This article was made possible by the readers and supporters of AlterNet.