Trump's Worst Nightmare? New York's Tish James
@alexvhenderson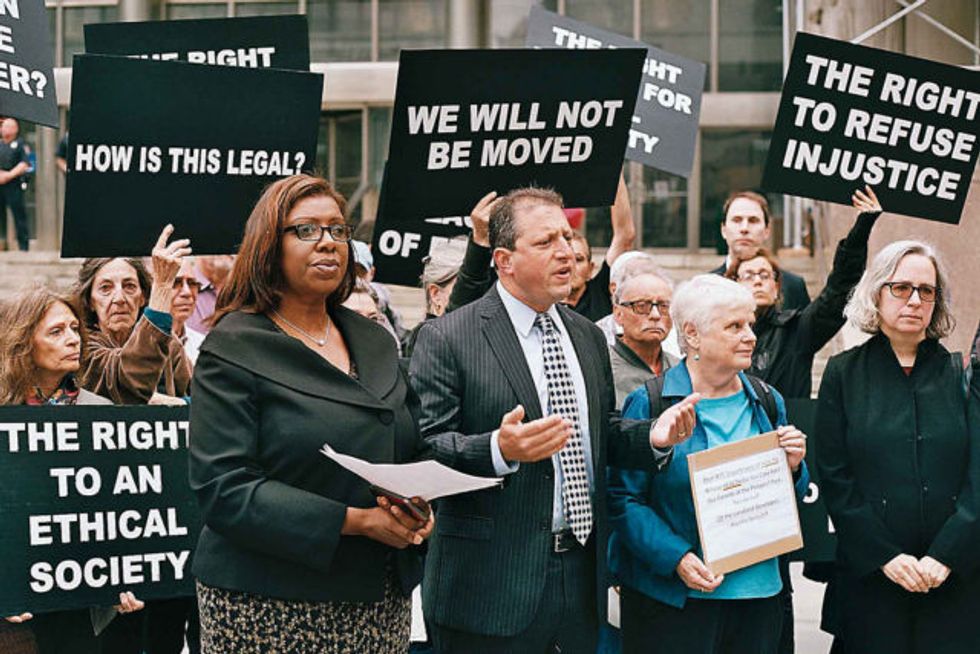 Reprinted with permission from AlterNet.
The blue wave that came with the 2018 midterms was bad for President Donald Trump not only because Democrats obtained a majority in the House of Representatives (with a net gain of 40 seats) and picked up more than 350 seats in state legislatures around the United States—they were also bad for the president because of a Brooklyn native named Letitia James. On November 6, the 60-year-old Democrat was elected attorney general for New York State. And James has made it abundantly clear that after she starts her new job in January, she will launch comprehensive investigations of Trump, his family and his business associates.
In 2019, Trump's legal headaches at the federal level will include Special Counsel Robert Mueller's ongoing Russiagate investigation, the investigations of the U.S. Attorney's Office for the Southern District of New York and the new Democratic House of Representatives—which will be able to launch all kinds of investigative committees and subpoenas. But the election of James in November presents a different type of legal headache for Trump, his family and his associates: one at the state level.
As president of the United States, Trump enjoys certain executive powers—including the power to issue pardons for federal crimes. The people Trump has pardoned so far at the federal level range from Scooter Libby to former Maricopa County, Arizona Sheriff Joe Arpaio, who was convicted of criminal contempt for his unconstitutional tactics against undocumented immigrants. But the keyword with the Libby and Arpaio pardons is "federal": Trump had the power to pardon them for federal crimes—and he has the power to grant Paul Manafort (his former campaign manager) a presidential pardon for tax fraud, bank fraud and all the other crimes he has been convicted of. But Trump does not have the power to issue presidential pardons for criminal convictions in individual states, including any that might come about in 2019 in New York State. And James obviously plans to keep her staff very busy next year.
James, in a recent interview with NBC News, was quite specific about the things she plans to investigate—including whether or not Trump's business interests in New York City represent a violation of the U.S. Constitution's emoluments clause, which restricts presidents and other federal politicians from receiving gifts or payments from foreign powers (for example, the Russian government).
James has said that she plans to investigate the June 9, 2016 Trump Tower meeting in New York City that was attended by Manafort, the Trump Organization's Jared Kushner (who is married to the president's daughter, Ivanka Trump) and Donald Trump, Jr. as well as Russian attorney Natalia Veselnitskaya and others. And New York State's incoming attorney general also noted that she will be investigating Trump's real estate holdings in NYC for potential illegalities.
James told NBC News, "We will use every area of the law to investigate President Trump and his business transactions and that of his family as well…. We want to investigate anyone in his orbit who has, in fact, violated the law."
Further, James has asserted that she would like to pursue state charges against any Trump associates who are pardoned for  federal crimes allegedly committed in New York State. Presently, James might have difficulty doing that because of a double jeopardy law in New York State. But in the midterms, she campaigned on modifying that law—and doing so, James told NBC News, "is a priority because I have concerns with respect to the possibility that this administration might pardon some individuals who might face some criminal charges, but I do not want them to be immune from state charges."
James has been crystal clear on her view of Mueller's investigation. Mueller, she asserted during her NBC News interview, is "doing an excellent job."
And in 2019—if she conducts even half of the Trump-related investigations she has talked about—the president's critics are likely to be saying the same thing about Letitia James.
Alex Henderson is a news writer at AlterNet and veteran political journalist. His work has also appeared in Salon, Raw Story, Truthdig, National Memo, Philadelphia Weekly, Democratic Underground, L.A. Weekly, MintPress News and many other publications. Follow him on Twitter @alexvhenderson.