Trumpsters Running Smear Campaign Against Khashoggi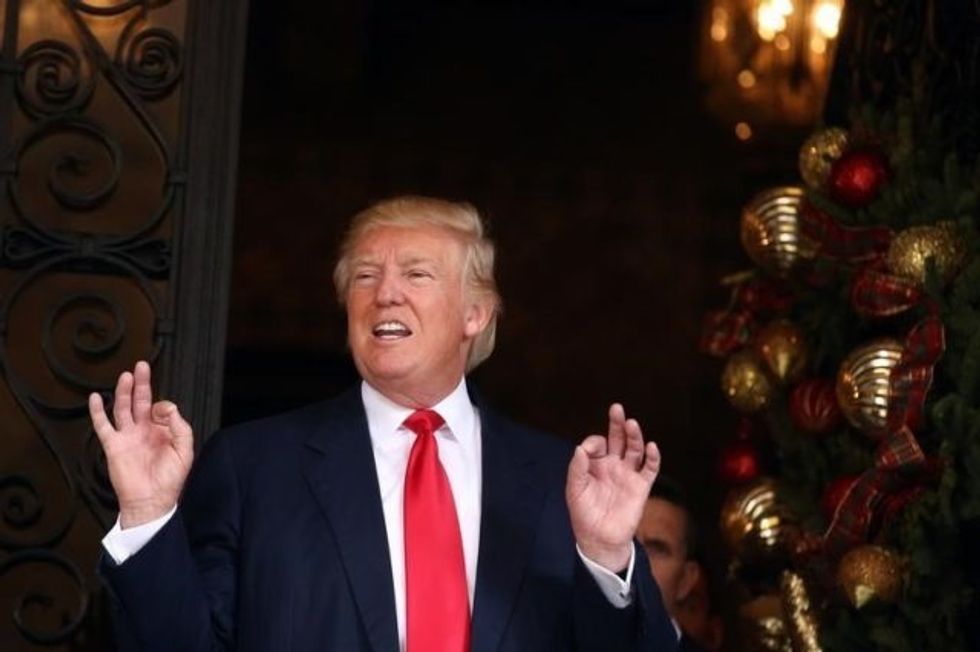 Reprinted with permission from Shareblue.
In a sick new form of victim-blaming, Republicans and right-wing pundits are mounting a smear campaign against murdered journalist Jamal Khashoggi in what appears to be a twisted effort to shield Trump from criticism of his poor handling of the scandal.
Citing four anonymous GOP officials, the Washington Post reports that "a cadre of conservative House Republicans allied with Trump has been privately exchanging articles from right-wing outlets that fuel suspicion of Khashoggi," an apparent first step in a coming character assault.
What started as a behind-the-scenes "whispering campaign" has begun to spill over into the public eye as pro-Trump media figures and platforms — including Rush Limbaugh, Donald Trump Jr., Front Page, Fox News, and several prominent voices on social media — have started to amplify the attacks and conspiracy theories about Khashoggi, who was reportedly murdered and dismembered at the Saudi consulate in Istanbul under orders from the Saudi crown prince.
The smears, which have been amplified by pro-Saudi accounts on Twitter, "are aimed in part at protecting Trump" and supporting his refusal to confront his allies in the Saudi regime about the slain journalist, the Post reports. On Thursday, Twitter removed a network of pro-Saudi automated accounts ("bots") that were spreading false claims about Khashoggi.
According to the Post, the main lines of attack focus on falsely characterizing Khashoggi as a terrorist sympathizer with close personal ties to the Muslim Brotherhood, and distorting his interactions as a journalist with former Al Qaeda leader Osama bin Laden in the 1980s and 1990s.
The GOP officials who spoke with the Post declined to reveal the identities of the Republican lawmakers and other Trump allies who are circulating the information attacking Khashoggi "because they said doing so would risk exposing them as sources."
However, some of these attacks have already made their way into public view as pundits on Fox News have parroted the smear linking Khashoggi to the Muslim Brotherhood, and using it to imply that the journalist isn't deserving of such a widespread outpouring of support, and even that he may have brought on his own murder.
On conservative CR-TV, a broadcast viewed more than 12,000 times labeled Khashoggi a "longtime friend" of terrorists and attributed the outcry over his murder to an "insane" media conspiracy targeting Trump.
Meanwhile, on Twitter, Glenn Beck invoked the same line of attack to suggest that Khashoggi was "not a good guy" and that "both sides are bad here," while pro-Trump conspiracy theorist Laura Loomer cited the smear before warning that people should "not allow yourselves to be manipulated by the media into feeling sorry for Jamal Khashoggi." This came after Donald Trump Jr. shared a post smearing Khashoggi as a terrorist.
Virginia GOP Senate candidate and white supremacist sympathizer Corey Stewart joined in on the attacks Thursday, telling a local radio show that "Khashoggi was not a good guy himself."
Other pundits, including Sean Hannity and Rush Limbaugh, have invoked Benghazi as a justification for dismissing the outcry over Khashoggi's murder, with Limbaugh taking things a step further and floating a conspiracy theory about the journalist not really being dead.
Throughout it all, Fox News has tried to muddy the waters and cast doubt on Saudi Arabia's involvement in Khashoggi's murder, apparently in an attempt to take the heat off Trump as he coordinates with the Saudi regime to cover up its alleged role in the brutal killing.
All of this appear to be laying the groundwork for a massive smear campaign aimed at finding a way to excuse Trump's inexcusable silence about the alleged torture, murder, and dismemberment of a U.S. journalist. The excuse they're going with, evidently, is that Trump's failure to respond is acceptable because the victim isn't deserving of anything more.
Even for a crowd that trafficks in victim-blaming, an orchestrated hit job on a murdered journalist is a sickening new example of how low Trump supporters are willing to go to justify his unjustifiable failures as a president and a person.
Published with permission of The American Independent.