Carlson Eulogizes Hell's Angel Sonny Barger, Violent Criminal And Drug Smuggler
@johnknefel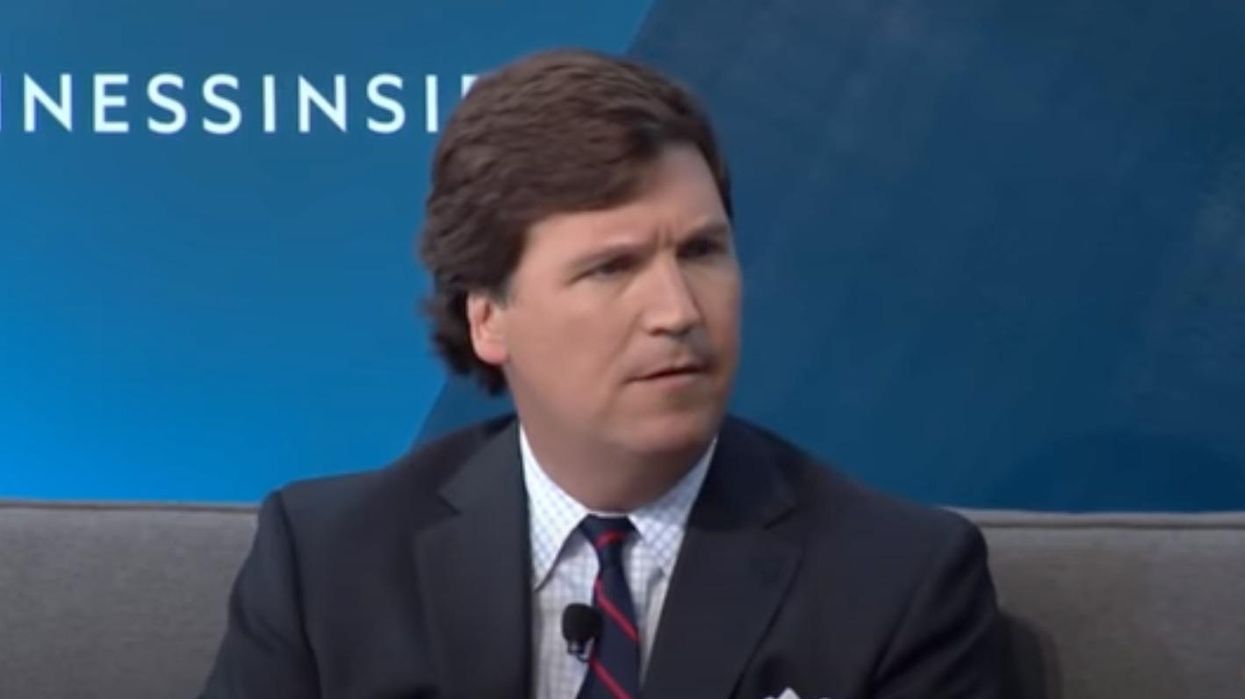 Youtube Screenshot
Fox News star Tucker Carlson eulogized Ralph "Sonny" Barger over the weekend, effusively praising the founder of the vigilante biker gang Hells Angels just one month after telling Republicans to run on crime policies. Barger spent around 13 years in prison following convictions for assault with a deadly weapon and kidnapping, among other charges.

Carlson celebrated Barger in his remarks, presenting him as the type of person Carlson aspires to be. "Stand tall, stay loyal, remain free, and always value honor," Carlson said in a clip shared to Twitter by right-wing conspiracy theorist Jack Posobiec. Quoting Barger's supposed philosophy, Carlson remarked, "If there is a phrase that sums up more perfectly what I want to be, what I aspire to be, and the kind of man I respect, I can't think of a phrase."
BREAKING: Tucker Carlson make surprise appears to deliver tribute at funeral of Hells Angels biker gang founder in California pic.twitter.com/nsI66uGlGc

— Jack Posobiec XLV (@JackPosobiec) September 26, 2022
The Department of Justice considers the Hells Angels to be linked to organized criminal activities, including cross-border drug smuggling, as well as "assault, extortion, [and] homicide."
Barger himself had a long history of criminal charges and convictions stemming from drug distribution and violence. In 1988, he and another member "were convicted of conspiracy to transport and receive explosives in interstate commerce with intent to kill and damage buildings" belonging to a rival motorcycle club, The Associated Press reported at the time. He was charged in 2002 with aggravated assault after allegedly breaking his wife's ribs and lacerating her spleen, according to Tom Barker, a professor and expert on outlaw motorcycle gangs.
Carlson's kind words for Barger come just weeks after he hyped a supposed increase in crime nationwide and instructed Republicans to campaign on it. "If every Republican office-seeker, every Republican candidate in the United States focused on law and order and equality under the law, there would be a red wave" in the November midterms, Carlson said in his August 19 monologue. The next day, Carlson stated that "suddenly, there is a huge amount of stealing in the United States. It's everywhere." He offered no evidence for his claim.
Carlson's simultaneous endorsement of Barger and the Hells Angels on the one hand, and propagandizing about a supposed crime wave on the other, is obviously superficially hypocritical. But beneath the hypocrisy lies a consistent political ideology. For reactionaries like Carlson, criminal activity isn't — and can't be — an objective, neutrally applied description of behavior.
The classical music composer Frank Wilhoit offered a pithy summary of conservatism that aptly resolves Carlson's seemingly contradictory positions. "Conservatism consists of exactly one proposition, to wit: There must be in-groups whom the law protects but does not bind, alongside out-groups whom the law binds but does not protect," Wilhoit wrote in 2018.
For Carlson, shoplifting is a crime, but conspiring to overturn the 2020 election and engaging in an attempted fascist insurrection isn't. In his analysis, whether someone counts as a criminal is a post hoc determination based on the identity of the person in question. Poor people, Black people, and immigrants can all be criminals, whereas conservatives who rioted on January 6 are being persecuted by a tyrannical government for their political beliefs.
For all of his supposed outlaw status, Barger had an alternately antagonistic and cooperative relationship with law enforcement, which typifies the symbiotic relationship between vigilante gangs and cops throughout the 20th century in the United States. In the late 1960s and early '70s, Barger regularly served as an informant to Oakland police, offering tips about weapons caches in exchange for leniency for arrested Angels, according to testimony Sgt. Ted Hilliard offered at the time.
"Mr. Barger would load them in the back of my car—automatic rifles and dynamite, for example," Hilliard said, according to The New York Times. The Oakland police preferred to work with the Angels and "let the Angels operate," as Rolling Stone reported at the time, rather than risk the weapons falling into the hands of leftist groups like the Weathermen or the Black Panthers.
That's the history that Carlson was embracing at Barger's service. While the hypocrisy on the surface is glaring, the underlying belief structure is entirely coherent. The law is a tool to punish out-groups that have been criminalized, while vigilante gangs that reinforce the dominant social order — whether Hells Angels or the Oathkeepers — must be celebrated and defended.
"I'm honored to be here," Carlson concluded his weekend remarks. "Thank you for having me." The applause from the assembled Hells Angels made clear that the admiration was mutual.
Reprinted with permission from Media Matters.