Tucker Carlson Serves Up Kremlin Propaganda On Pipeline Explosion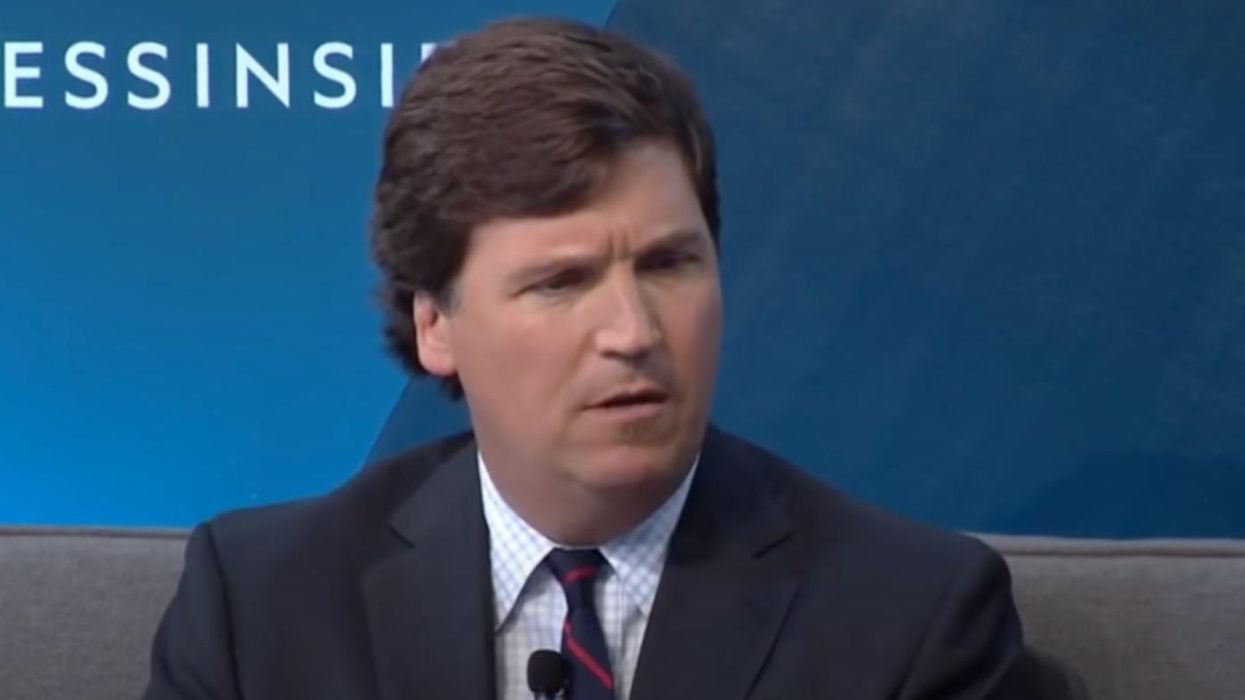 Youtube Screenshot
Fox News host Tucker Carlson's dubious allegation that the United States sabotaged a natural gas pipeline between Russia and Germany as part of a sinister "escalation" of Russia's war with Ukraine echoed the Kremlin's own propagandists. Carlson's report is now getting substantial attention from Russian state TV, which is promoting his theory — and his suggestion for how Russia could strike back at U.S. interests in light of the supposed attack.
On Monday, "two powerful underwater explosions" damaged the Nord Stream 1 and Nord Stream 2 pipelines. While the former had been shut down by Russia in August and the latter never became operational, both contained pressurized gas which is now leaking into the Baltic Sea. The international consensus is that the pipelines were sabotaged, with U.S. and European Union officials suggesting Russia is behind the explosions.
But the Kremlin, in turn, is suggesting that the U.S. sabotaged the pipelines, latching on to a since-deleted Tuesday tweet from Radek Sikorski, a Polish E.U. parliamentarian, which stated, "Thank you, USA," alongside a photo of the leak. On social media, a Russian Foreign Ministry spokesperson immediately questioned whether Sikorski's tweet was an "official statement that this was a terrorist attack," while another Russian official likewise thanked Sikorski for "making it crystal clear who stands behind this terrorist-style targeting of civilian infrastructure!" Russian state media outlet RT quickly amplified their theorizing under the headline "U.S. praised for Nord Stream explosion."
US praised for Nord Stream explosion https://t.co/ZfiYrgwRdM pic.twitter.com/RpOuPOxDzM

— RT (@RT_com) September 28, 2022
Carlson's coverage of the crisis created by Russia's February invasion of Ukraine generally aligns with the Kremlin's preferred narratives, to the point where Russian state media outlets, following their government's explicit instructions, regularly air clips from his program.
That is what happened following the apparent sabotage of the Nord Stream pipelines.
Just hours after Russian officials floated the narrative that the U.S. was responsible for damaging the pipelines, Carlson adopted it as his own.
Describing the ruptures as an "act of industrial terrorism," Carlson quickly dispatched with the notion that Russia or its dictator, Vladimir Putin, might be involved. According to Carlson, Putin "would not do that" and would have to be "a suicidal moron to blow up your own energy pipeline."
Instead, Carlson strongly suggested that the U.S. had sabotaged the pipelines. "If they did this, this will be one of the craziest, most destructive things any American administration has ever done," he said. "But it would also be totally consistent with what they do. What do they do? They destroy."
Carlson's comically weak case revolved around two main pieces of evidence – Sikorski's tweet, and a February statement from President Joe Biden that if Russia were to invade Ukraine, "there will be no longer a Nord Stream 2. We will bring an end to it." That seems to very obviously reference what happened after Russia invaded – Germany froze the pipeline project, which has yet to become operational. But in Carlson's typically dishonest translation, Biden "said 'there won't be a Nord Stream 2. We'll put an end to it. Will take it out. Will blow it up.'"
On that scanty evidence, Carlson suggested that the U.S. had blown up an ally's energy infrastructure. While on-screen text stated "Today's escalation will have huge consequences," Carlson asserted that "we've entered a new phase, one in which the United States is directly at war with the largest nuclear power in the world." He added: "If we actually blew up the Nord Stream pipelines, why wouldn't Russia sever undersea internet cables? What would happen if they did that?"
It was inevitable that Carlson's theory would spread through the right-wing media, given his influential role in that ecosystem. But it isn't just the likes of Charlie Kirk rushing to follow him in blaming America.
Carlson's monologue "entered heavy rotation" on Russian state TV, as The Washington Post's Philip Bump noted on Thursday. Bump highlighted 12 different times that Russia's Channel One, Russia1, and Russia24 networks had aired clips of Carlson highlighting his theory.
Julia Davis, a Russian media monitor and Daily Beast columnist, compiled and translated some of the segments. She noted that the Russian commentators seemed particularly interested in Carlson's suggestion for how their state might retaliate for the supposed U.S. attack.
Meanwhile in Russia: every state TV program is feasting on Tucker Carlson's accusations that the Biden administration is somehow involved in causing the Nord Stream damage. Military expert loved Tucker's idea about cutting undersea internet cables & said, "Sure, why not?" Watch: pic.twitter.com/bDVwl2Z7yN
— Julia Davis (@JuliaDavisNews) September 29, 2022
Reprinted with permission from Media Matters.