Tucker Carlson's January 6 Counter-Programming Was A Dud
@NikkiMcR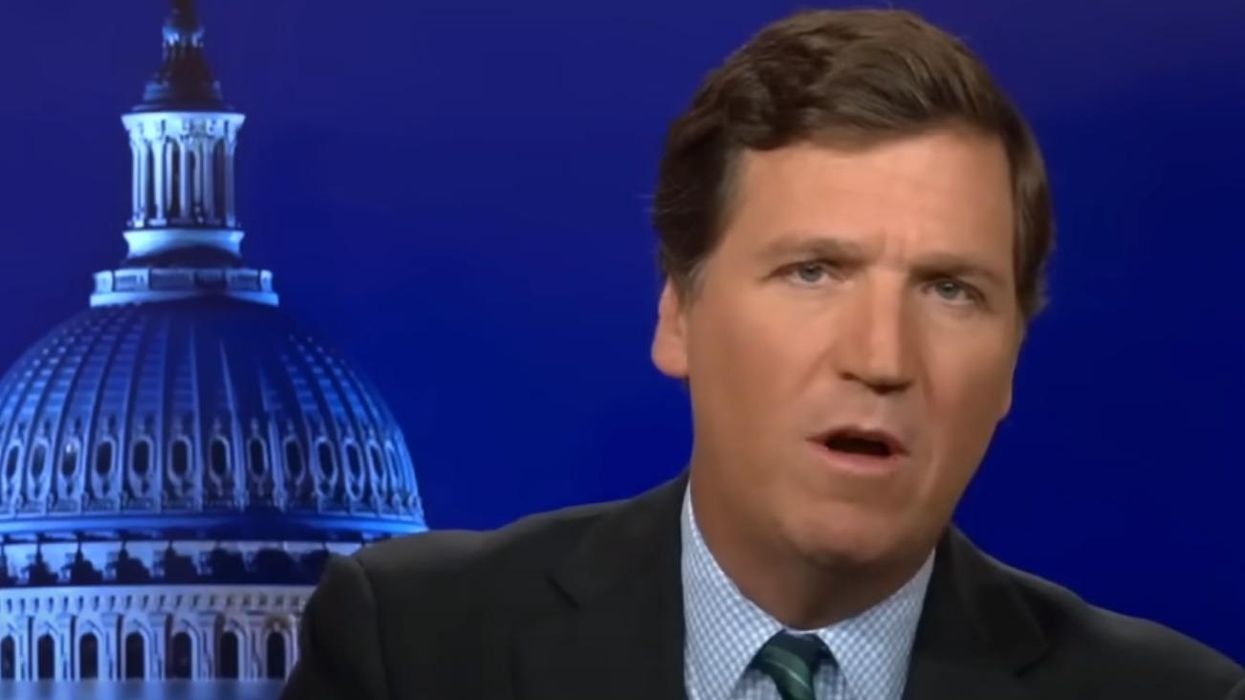 Youtube Screenshot
On Thursday night, as cable and broadcast networks switched their feeds to live coverage of the first public hearing by the House select committee investigating the January 6 insurrection, Fox News host Tucker Carlson opened the hour with a declaration that his show was "the only hour on an American news channel that will not be carrying their propaganda live."
Defending Fox's decision to not carry the January 6th hearings, Tucker Carlson calls the January 6th attack on the Capitol "a forgettably minor" outbreak of violence. pic.twitter.com/GgInsOwwOh
— nikki mccann ramírez (@NikkiMcR) June 10, 2022
As the January 6 committee released disturbing new footage and revelations of the attack and its planning, Carlson aired a commercial-free hour recapping more than a year's worth of his network's revisionist agitprop surrounding the 2021 attack on the U.S. Capitol. Viewers were given what amounted to a stern reminder from Carlson that Fox had already told them what they needed to know about January 6, and he condemned the hearings as a show trial that ignored the real questions about the events.
Those "real" questions constitute a contradictory, easily-debunked, and outright laughable set of claims Fox has presented to viewers as an alternate reality. That version exonerates both the network and Republican officials from their role in promoting false claims about the 2020 election — false claims that would result in a mob attempting to prevent, and succeeding in disrupting, the certification of Joe Biden as president-elect.
Carlson and his guests claimed that the January 6 attack was "a forgettably minor" outbreak of violence. He hosted a white nationalist-affiliated conspiracy theorist who claimed January 6 was a "clear hoax." Other guests, including right-wing pundit Ned Ryun, so-called "independent journalist" Michael Tracey, and former Rep. Tulsi Gabbard, disparaged the hearings as illegitimate and a "show trial" while refusing to engage with the substance.
The committee revealed evidentiary texts between Fox host Sean Hannity and former White House press secretary Kayleigh McEnany coordinating a media strategy in response to the attack. During the discussion of the texts, the Fox broadcast zoomed in on the committee dais as Rep. Liz Cheney (R-WY) addressed the committee, while Carlson blasted other networks for airing "unfiltered propaganda."
What was happening on four channels at the moment Cheney was reading Sean Hannity's texts. pic.twitter.com/wL1VZ2EBsc

— Matthew Gertz (@MattGertz) June 10, 2022
At its core, Fox's refusal to engage with the hearings is an act of self-preservation. The style of coverage fits a pattern for Carlson and the network, as I have previously written. Carlson has thrown a mess of misinformation — conspiracy-mongering, minimization, and obfuscation — at the insurrection in the hopes of delegitimizing any serious inquiry into the events of that day. In the 18 months since the attack, he has shifted from condemning the violence to downplaying the insurrection as nothing more than "elderly people [who] showed up with signs," to producing a three-part torture-porn series calling the attack a "false flag."
The network had a clear role in the propagation of President Donald Trump's claims of election fraud. The Murdochs are no strangers to putting a blindfold on their viewers in favor of protecting their bottom line, and Fox understands that delegitimizing any attempt at inquiry into the factors that fomented the violent culmination of January 6 is also a mechanism for protecting the network itself from scrutiny.
Reprinted with permission from Media Matters.