Tweets Of The Week: The 'Mitt's A Terrible Candidate' Edition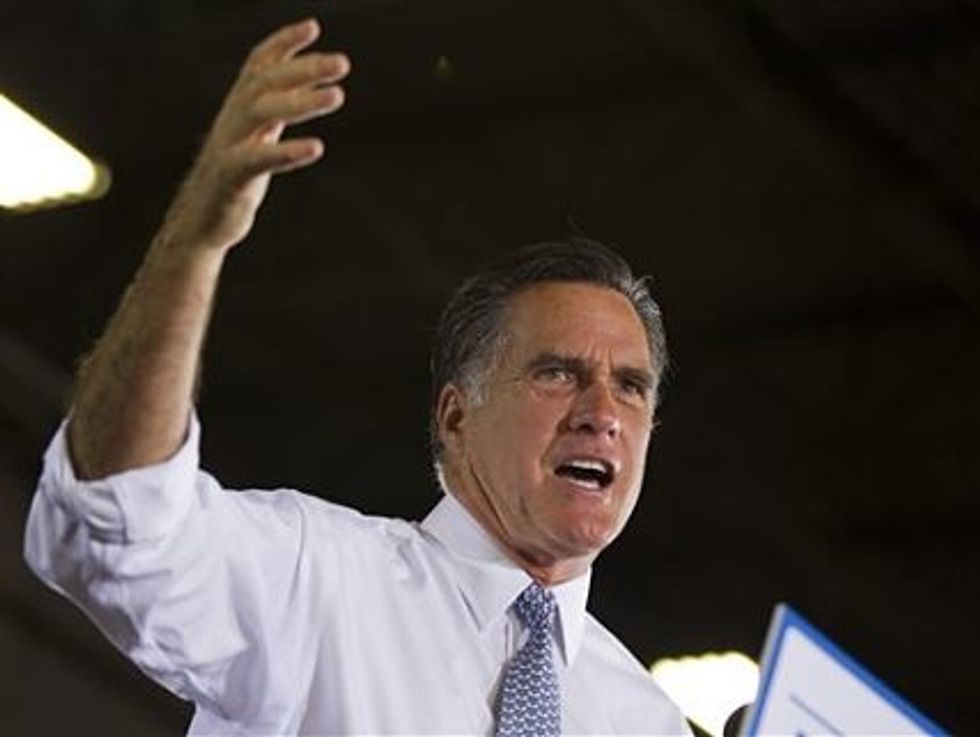 There are two schools of thought about this campaign. The conservative establishment—including Rupert Murdoch, Jack Welch and the Wall St. Journal—believes that Mitt Romney isn't a running a very good campaign. The other side sees Mitt as a fatally flawed candidate who, by even remaining competitive, must be running an amazing campaign.
I side with the latter. Mitt is terrible. In a crisis created by the financial class, he's a financier. In a party that hates health care reform, he's a health care reform pioneer. In a country of human beings, he's Mitt Romney. It's as if the GOP hated fried chicken so much, they nominated Colonel Sanders. The only way he could be more ill suited to be the GOP nominee right now is if it turns out he was born in Kenya.
So what do you think? Is Mitt terrible candidate running a good campaign? Or vice versa? Let us know in the comments along with any sharp tweets we missed.
Met Romney last week.Tough O Chicago pros will be hard to beat unless he drops old friends from team and hires some real pros. Doubtful.

— Rupert Murdoch(@rupertmurdoch) July 1, 2012
Hope Mitt Romney is listening to Murdoch advice ont campaign staff..playing in league with Chicago pols..No room for amateurs — Jack Welch (@jack_welch) July 2, 2012
Right now, we're watching Rick Santorum's primary campaign argument against Romney be vindicated. — Brian Beutler (@brianbeutler) July 2, 2012
Obama vs. Romney now resembling Bush vs. Kerry — if John Kerry had been the main architect of the Iraq War. — Eric Kleefeld (@EricKleefeld) July 2, 2012
Things Romney can't have because he's running for president: illegal landscapers, moderate social stances, pride in Mass HC reform, empathy — Daniel Gross (@grossdm) July 5, 2012
Conservatives demand Romney run the campaign that would satisfy them, not the campaign he needs to run nymag.com/daily/intel/20… — Jonathan Chait (@jonathanchait) July 5, 2012
I'd go further than @jonathanchait. I think @ericfehrn & team not only not blowing it, but doing amazing job w/, uh, suboptimal candidate. — Michael Grunwald (@MikeGrunwald) July 5, 2012
Never let a shot go unanswered: Via @ThePlumLineGS: "Where's the pushback on Bain and offshoring attacks?" wapo.st/LAtfAU

— Rick Wilson (@TheRickWilson) July 5, 2012
Who among us hasn't gotten into hot water at work for secret offshore bank accounts?

— Matt Yglesias (@mattyglesias) July 5, 2012
Romney spokesman says Mitt's programs will explode debt… unless he comes back & does the hard stuff later, which he TOTALLY will.

— David Waldman (@KagroX) July 5, 2012
Must be frustrating for Romney that he can't leverage his campaign to the hilt and cash it out after loading it up with debt.

— Jed Lewison (@jedlewison) July 6, 2012