Twitter: Banning White Supremacists Will Toss Out Republicans, Too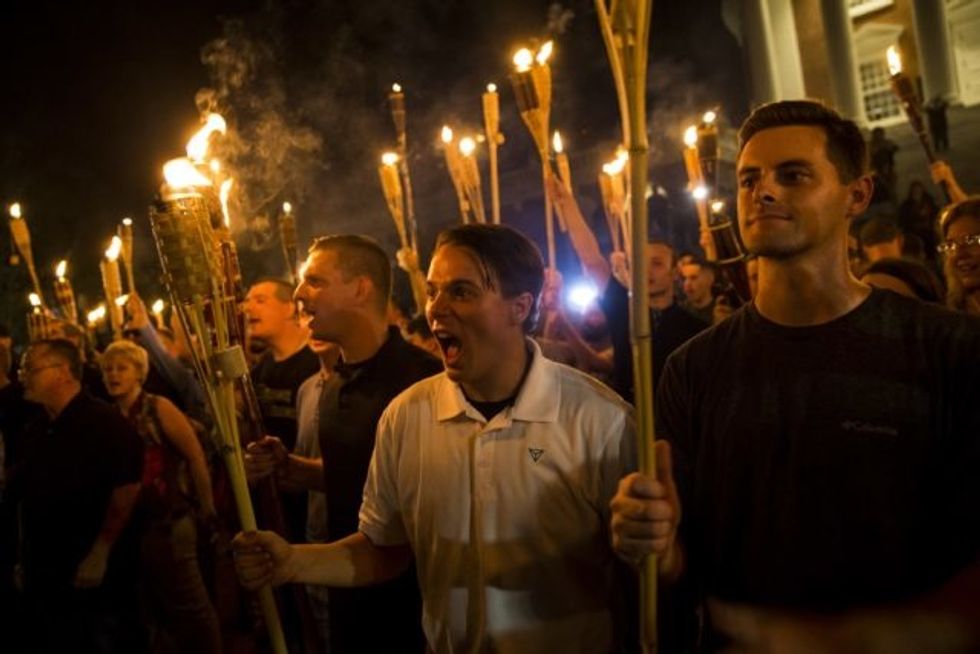 Twitter is running into obstacles in trying to eliminate white supremacists from its platform because the Republican Party has adopted so much of the same rhetoric.
An employee of the company argued at an internal, all-hands meeting that "on a technical level, content from Republican politicians could get swept up by algorithms aggressively removing white supremacist material," Vice reported on Thursday.
Particularly since Trump has become leader of the Republican Party and the wider conservative movement, the right has further embraced racist and divisive ideas and rhetoric.
For a company like Twitter, which has been repeatedly criticized for allowing hate to flourish, there appears to be a concern that Republicans would get wrapped up in a dragnet.
"Most people can agree a beheading video or some kind of ISIS content should be proactively removed, but when we try to talk about the alt-right or white nationalism, we get into dangerous territory, where we're talking about [Iowa Rep.] Steve King or maybe even some of Trump's tweets," Amarnath Amarasingam, an extremism researcher at the Institute for Strategic Dialogue, explained to Vice.
Trump has repeatedly used his Twitter account to push hateful material.
In November 2017, British Prime Minister Theresa May publicly rebuked Trump for promoting videos from the anti-Muslim hate group Britain First through his account.
"I'm very clear that retweeting from Britain First was the wrong thing to do," May said.
The message didn't work.
In August of last year, Trump caused an international incident by tweeting that he was instructing Secretary of State Mike Pompeo "to closely study the South Africa land and farm seizures and expropriations and the large scale killing of farmers." The tweet was in reference to long-ago debunked racist conspiracy theories about "white genocide." Former KKK leader David Duke and other infamous white supremacists around the world applauded Trump for his stance.
The South African government had to issue a statement making clear that they had no interest in Trump's inflammatory Twitter conspiracy.
Trump isn't the only problematic Republican who could theoretically get blocked in an effort by Twitter to remove white supremacist rhetoric from its platform.
House Minority Leader Kevin McCarthy infamously used his Twitter account last year to spread the anti-Semitic smear that Jewish donors were helping Democrats "to BUY the election." The top-ranking House Republican later had to delete the tweet after it was widely criticized.
The aforementioned Rep. Steve King (R-IA) has repeatedly used his Twitter account to spread racist material. Last year, King tweeted in praise of a white supremacist who has openly described himself as a "Nazi sympathizer" who expressed admiration for Adolph Hitler.
Before that, King echoed white supremacists directly in a tweet where he declared, "Diversity is not our strength" and argued that mixing cultures lowers the quality of life. King has repeatedly promoted known white supremacists with his Twitter account, including Canadian Faith Goldy, who has been banned by Facebook for her openly racist material.
Twitter has long struggled with how to create and enforce rules to keep hate speech off its platform. But by so often echoing racists and making their hateful messages so central to the conservative cause, members of the Republican Party — including the party's leader — Republicans have muddied the waters and made it an all but impossible task.
Published with permission of The American Independent.
IMAGE: CHARLOTTESVILLE, USA – AUGUST 11: Neo Nazis, Alt-Right, and white supremacists encircle and chant at counter protestors at the base of a statue of Thomas Jefferson after marching through the University of Virginia campus with torches in Charlottesville, Virginia, on August 11, 2017. (Photo by Samuel Corum/Anadolu Agency/Getty Images)