Twitter Bans Conspiracist Huckster Alex Jones
@FAWFULFAN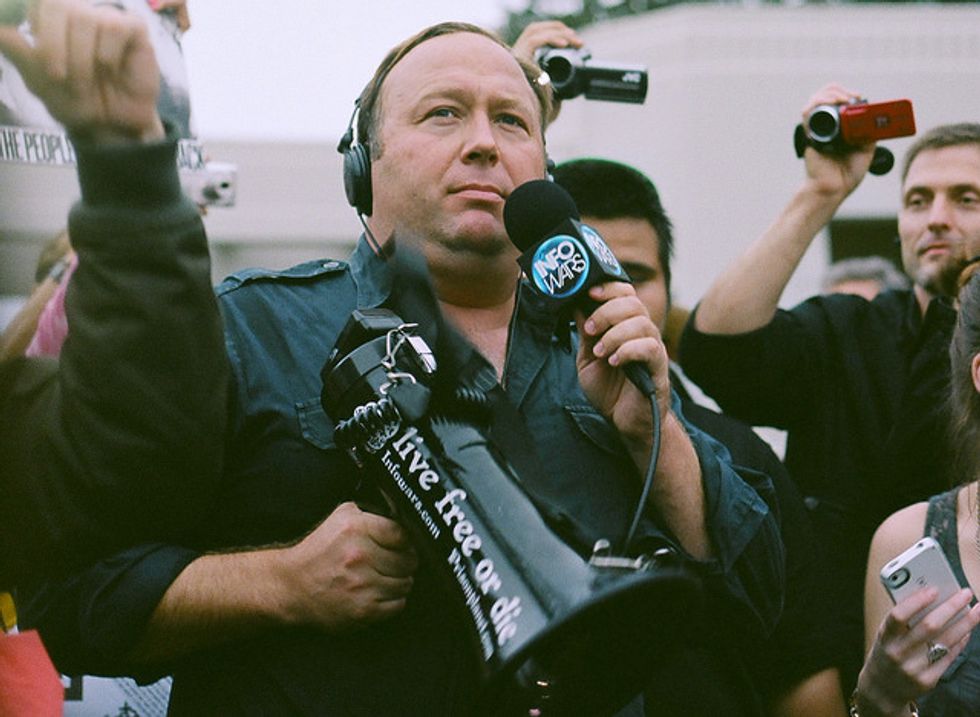 Reprinted with permission from AlterNet.
On Thursday afternoon, Twitter announced that it is permanently suspending far-right conspiracy theorist talk radio host Alex Jones, as well as accounts associated with his InfoWars program, from its platform.
Today, we permanently suspended @realalexjones and @infowars from Twitter and Periscope. We took this action based on new reports of Tweets and videos posted yesterday that violate our abusive behavior policy, in addition to the accounts' past violations. https://t.co/gckzUAV8GL

— Twitter Safety (@TwitterSafety) September 6, 2018
We will continue to evaluate reports we receive regarding other accounts potentially associated with @realalexjones or @infowars and will take action if content that violates our rules is reported or if other accounts are utilized in an attempt to circumvent their ban.

— Twitter Safety (@TwitterSafety) September 6, 2018
Most other big platforms, including Facebook, YouTube, Apple, and Spotify, banned Jones last month. Twitter, however, had resisted, prompting Jones to triumphantly declare the social media platform's CEO, Jack Dorsey, a friend in the fight against the "globalists" seeking to impose a one world government.
Dorsey, for his part, tried to justify the decision by claiming Jones had not violated any content policy — which was promptly debunked by a CNN investigation. Jones' videos have frequently included harassment, threats, and denigrations of other people's religion and gender identity. Jones was subsequently suspended for a week over the violations, but not banned outright. And this week, Twitter was further embarrassed by allegations Dorsey himself had intervened to prevent Jones from being banned, a charge Dorsey denies.
The mass purging of Jones' accounts from social media has been a severe blow. Despite his boasts that being "persecuted" would only drive more people to his cause, traffic to the InfoWars site has plummeted since its social media accounts were eliminated.
Jones has become notorious for promoting inflammatory conspiracy theories, delivered daily on his radio show with a characteristic grating scream. He has accused the government of controlling the weather, feminizing the population with chemicals in our water, and staging everything from 9/11 to the Oklahoma City bombing to the Sandy Hook massacre. He has dabbled in anti-Semitism, claiming vast segments of our economy are run by the "Jewish Mafia." He has argued that Democrats plan to declare civil war, that Michelle Obama is secretly a man, and that Barack Obama and Hillary Clinton are literally demons from the fires of hell.
Throughout all of this, Jones has used his conspiracy theories to scare people into buying dubious products through his online store, including a line of supplements he calls "nutraceuticals" that will supposedly cleanse people of the new world order's efforts to control and sicken the population — some of which, ironically, might be tainted with lead.
But eventually, Jones ran afoul of social media's terms of service. And he is now paying the price.