Two People Stabbed To Death In Portland While Standing Up To White Supremacist's Hate Speech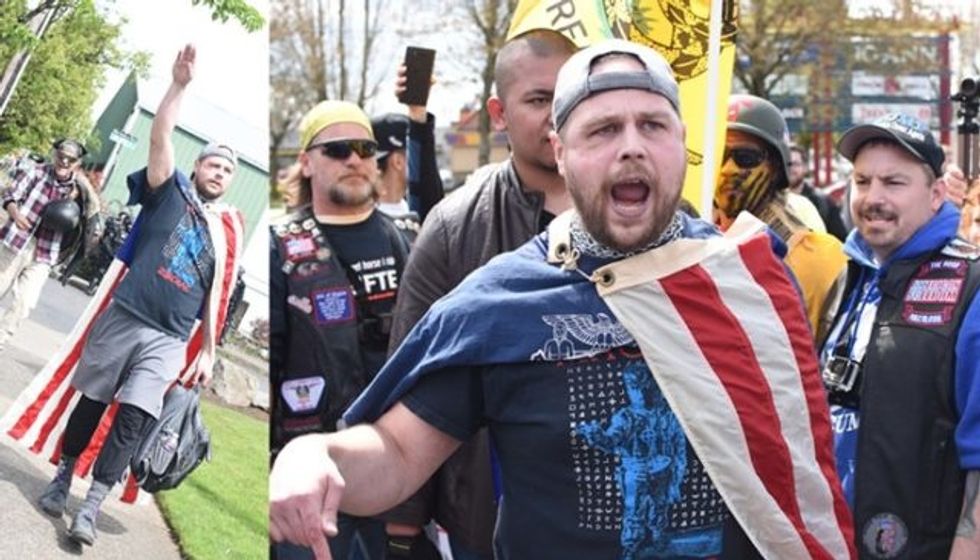 Reprinted with permission from Alternet.

As commuters in Portland, Oregon headed home Friday afternoon on a public transit MAX train, a passenger began screaming violent hate speech directed at a number of groups and religions. He particularly targeted two teenage girls, one of them black and one a Muslim wearing a hijab. When a few good samaritan male passengers attempted to calm the man and defend the girls, he stabbed two of them to death and hospitalized a third, according to witness reports.
Update: On Saturday afternoon, police identified the two men who died as 53-year-old Ricky John Best of Happy Valley which borders Portland, and 23-year-old Taliesin Myrddin Namkai-Meche of Southeast Portland. The third stabbing victim, who is not believed to have life-threatening injuries, is 21-year-old Micah David-Cole Fletcher of Southeast Portland.*
Authorities have since identified the perpetrator of the stabbing as 35-year-old Jeremy Christian, a known white supremacist.
According to Portland Mercury's report about the incident, Christian showed up to the right-wing "March for Free Speech" in Portland on April 29 carrying a baseball bat "in an attempt to assault left-wing protesters. The bat was quickly confiscated by Portland police officers. He ranted how he was a nihilist. He'd soon yelled racial slurs ("fuck all you n*****s") and gave the Nazi salute throughout the day. He yelled 'Hail Vinland' throughout the day."
Portland Mercury also reports that police officers at the stabbing incident appeared familiar with Christian "but not threatened by him. They claimed he had a head injury and was mentally ill."
Here is a video from April 29:
One of the stabbing victims died on the train and the second died in the hospital, while the third is expected to survive, but remained hospitalized through Saturday morning.
According to witness and police reports, Christian's angry slurs were apparently directed at two female passengers on the train who appeared Muslim. Reports ahve since been released stating that the two girls were teenagers, one of them black and the other a Muslim wearing a hijab. Approximately 50,000 Muslims live in Portland, and Friday marked the start of the month-long Muslim fast of Ramadan. Most of the world's 1.6 billion Muslims observe the holiday.
Author and frequent CNN and Fox News commentator Harris Zafar, who has lived in Portland for 31 years, spoke with the Oregonian/OregonLive Friday night. He called the incident "tragic and concerning" and said he was inspired by the men who "had nothing to gain by putting themselves in harm's way," to help the women on the train. "Of course, that's immediately replaced by an intense emotion of sadness that they've lost their lives," he said. "My heart goes out to the families of those individuals, who are also now lost in grief."
"As a Muslim, it's unnerving to know—being a father, being a husband, being a son—that this could have been one of the many women in our mosque and the greater Portland area," he told the Oregonian.
Christian attempted to flee the scene when the train stopped, but police caught him and he was booked on two aggravated murder charges, two intimidation (hate crime) charges, and for being a felon in possession of a restricted weapon.
The FBI said in a statement Friday evening that it is "offering any resource that may assist Portland Police in their investigation" and will "determine whether there is any potential federal violation."
"At the core of the FBI's mission is the belief that every person has the right to live, work and worship in this country without fear," the FBI statement continued. "Hate and bigotry have no place in our community, and we will not allow violence in the name of hate to go unanswered."
According to the Portland Mercury, Christian has several felonies on his record, including first-degree robbery and second-degree kidnapping, as well as a "conviction for carrying/using a dangerous weapon from 2002."
The Facebook page the Southern Poverty Law Center identified as belonging to Christian, is littered with anti-Semitic statements and violent, hateful speech as well as enthusiastic support for Donald Trump. His rantings appear to be the product of mental illness. Here are a few examples pulled from his page:
Portland Mayor Ted Wheeler was flying from London to Portland when the crime occurred, so Portland City Commissioner Chloe Eudaly released a statement on behalf of the city council Friday night. She praised those who bravely stood up to hate speech and helped police locate Christian.
"These are troubling times across our city, our country and the world," she said. "We cannot let this divide us. We need to unite against all forms of violence and hate. Our differences should be a cause for celebration, not something that foments hate."
On Saturday morning, Mayor Wheeler issued a public statement:
"There is too much hatred in our world right now, and far too much violence. Too much of it has arrived here in Portland. My heart goes out to the families of those who lost their lives, and to those who witnessed what happened. Thank you to our first responders, who provided aid, and police who captured the suspected killer. Now is the time, we must come together as a community and love one another. We must reject hatred and violence. We must seek justice."
Portland restaurateur Nick Zukin has organized an online fundraiser for the families of the stabbing victims. A spokeswoman for GoFundMe, the platform hosting the fundraiser, told Oregon Live the company is working with Zukin to ensure all funds go to the victims and their families.
Another GoFundMe campaign seeks to raise funds for the man critically injured in the stabbing attack. Its organizer, Carlos Espinoza, said the victim is a friend. The GoFundMe spokeswoman said that campaign is also authentic, and that the company will similarly work with Espinoza.
This article has been updated since it was originally published to reflect new information released to the public.
April M. Short is a yoga teacher and writer who previously worked as AlterNet's drugs and health editor. She currently works part-time for AlterNet, and freelances for a number of publications nationwide.
This article was made possible by the readers and supporters of AlterNet.
Header image source.