Two Years After Hurricane Sandy, Thousands Await Aid To Rebuild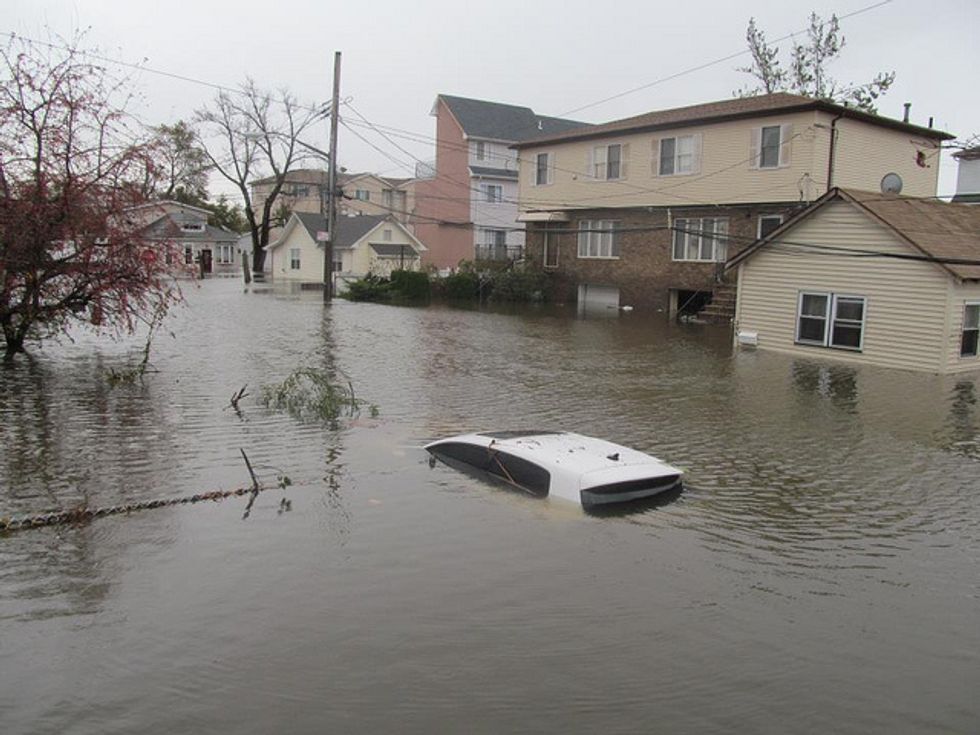 By Maddie Hanna and Andrew Seidman, The Philadelphia Inquirer
TRENTON, N.J. — Two years after Hurricane Sandy battered the Jersey Shore, the state has distributed about a quarter of the money allocated by the federal government, as thousands of homeowners await aid to rebuild.
Of the $3.26 billion the U.S. Department of Housing and Urban Development has provided to New Jersey, state officials say they had paid out $802 million as of Sept. 30. More than half of the money went to homeowners. Some went to businesses, municipalities and housing developers.
The federal government provided its first allocation, $1.8 billion, to the state about seven months after the storm. The state has yet to distribute any of the $1.46 billion approved by HUD in May. A final round of $880 million is expected next spring.
That round, state officials say, will be enough to cover everyone on the waiting list for the state's main housing fund, the Reconstruction, Rehabilitation, Elevation and Mitigation program, which offers homeowners grants of up to $150,000. The state has given $10,000 grants to 18,500 people to encourage them to stay in their communities.
Some people also have received aid from the Federal Emergency Management Agency, which has given out $422 million in housing and other assistance.
For those awaiting money, the recovery effort has not moved fast enough.
"Why, after two years, are people still out of their homes?" said Sandy Trebour, who began to rebuild her Sandy-destroyed house in Brick with help from a flood-insurance payout, but is awaiting a RREM grant to finish.
Trebour, who received some state assistance to rent a home, said she and her husband have had to run through their savings while also making mortgage payments.
"I don't know how anything can take two years when you have people out of their homes," she said.
Of 630 New Jersey residents tracked by the Monmouth University Polling Institute who were forced from their homes for at least a month after Sandy or whose home sustained $8,000 in damages, 40 percent were still displaced, according to a survey released Tuesday.
Just one in three of those surveyed reported being satisfied with the state's recovery effort, and 71 percent said they felt they had been forgotten. The survey results statistically do not represent the broader population of residents recovering from Sandy, the institute said, but still show the effect of the recovery's slow pace.
State officials said last week that of 8,900 homeowners preliminarily approved for the RREM program, about half had signed grant agreements. As of Sept. 30, the state had disbursed $285 million to homeowners in the program, officials said.
An additional 2,100 people remain on a waiting list. More people could become eligible for grants depending on a state review of applications initially rejected.
By comparison, New York City has distributed $58 million to help repair 150 homes and start construction at 700 others. New York state has awarded $495 million to 9,500 homeowners through its main housing program, but they have not all received the full amount yet.
About 6,000 other applicants are awaiting aid or will not be eligible, said a spokeswoman for Gov. Andrew Cuomo.
The Oct. 29, 2012, storm caused 117 deaths in New York, New Jersey, Pennsylvania, West Virginia, Connecticut and Maryland. In New Jersey, it caused severe or major damage to 40,500 owner-occupied homes and 15,600 rental units, and unprecedented property and economic damages, the state said.
Touting progress in the state's recovery last week at a fire station in Toms River, New Jersey Gov. Chris Christie said rebuilding would be "a multi-year effort."
While businesses and infrastructure have been repaired, Christie said, "housing is going to take the longest." He said the mayor of Biloxi, Miss., recently told him it took eight years to rebuild housing there after Hurricane Katrina.
"This is long, painstaking, difficult work," Christie said, acknowledging residents' frustration. "It's been frustrating for me, too."
Residents in the station applauded, though some also expressed concerns about the governor's handling of the recovery. "He had a forceful presence in the very beginning," said Carol Raab Davis, who is waiting for a grant to elevate her house in Toms River. "And then, when a year passed, everyone felt we should be home."
The state's recovery effort has come under fire for a number of reasons, including the firing of the contractor in charge of the RREM program, allegations that the grant process had been politicized, and complaints from housing advocates that the state assigned too little priority to helping renters.
A Christie spokesman did not make the governor available for an interview for this article.
State officials have said their efforts were hampered by the federal government's initial delay in allocating money and remained slowed by red tape, including required environmental reviews of damaged properties.
Critics have said the state should have performed those reviews for homeowners more quickly — a step it is now taking, said Lisa Ryan, a spokeswoman for the state Department of Community Affairs.
Other recent changes to the RREM program cited by Ryan include giving grant applicants the options to email and fax documents instead of driving them to a housing center; to receive a 50 percent advance payment upon signing a grant award; and to choose their own contractors.
In the past, the state offered homeowners the option of using a preapproved contractor rather than finding their own.
That approach caused problems for Frank and Pat Sinquett, who in January were awarded $150,000 to rebuild their house in Brick.
Ten months later, they aren't back home, after RREM rejected estimates by state-approved contractors as too expensive, Frank Sinquett said.
After the couple found their own contractor and got their plans approved, they had to wait for permits from the township.
"We're very grateful to get the money," Sinquett said. "But it's a shame it takes so long."
Ryan, the Department of Community Affairs spokeswoman, said the state could not comment on specific cases because of federal privacy regulations.
Complicating the state's recovery was its decision to hire Hammerman & Gainer Inc., a Louisiana firm that oversaw a Katrina grant program.
New Jersey fired HGI in December, six months into the job, later citing poor performance. HGI improperly rejected scores of applications for aid. In a settlement agreement with several advocacy groups, the state in May agreed to review the rejected applications. Ryan said that review was ongoing.
New Jersey has paid HGI $36 million; the company says the state still owes it $22 million. Arbitration is scheduled for April.
The state has paid $75 million to six other contractors currently assisting with housing programs, state data show. It owes them $40 million more.
Homeowners who have been promised money say it isn't always quick to arrive. Tom Largey said that when his parents signed a grant agreement Sept. 3 for $150,000, they were told they would get the money in installments over six to eight weeks.
So far, they've received one check for $7,193 to rebuild their Sea Bright home — and were recently told it would be an additional five to six weeks before more money would be released.
"There's always an excuse, there's always a delay, there's always another equivocation," Largey said.
Some back in their homes also await resolution.
Debbie Fortier and her husband, Tom, moved into a new house in Brick this month, though they have yet to be awarded money after being taken off the RREM program wait-list in July. They hope to be reimbursed for $25,000 they spent trying to repair their original home before township officials said they had to tear it down.
While Debbie Fortier is glad to be home, elsewhere along her street, neighbors are just starting to knock houses down.
"I feel bad," she said. "I know what they have to go through."
Photo via Flickr
Want more national and political news? Sign up for our daily email newsletter!