U.N. Shelter In Gaza Shelled, Killing At Least 15; Cease-Fire Elusive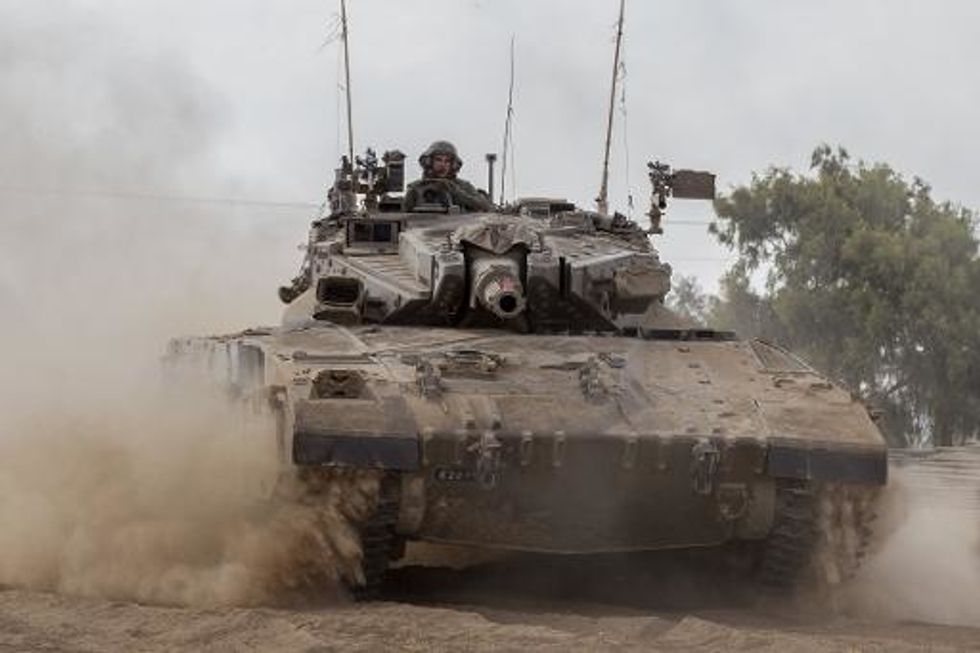 By Alexandra Zavis and Batsheva Sobelman, Los Angeles Times
GAZA CITY — With a cease-fire accord remaining elusive despite intense diplomatic efforts, a U.N. shelter in northern Gaza was shelled on Thursday, causing "multiple deaths and injuries," according to a spokesman for the U.N. refugee agency.
At least 15 people were killed and scores hurt when a school compound in Beit Hanoun, designated as a haven for the displaced, was bombarded by Israeli forces amid heavy fighting with Palestinian militants, a Gaza health official said.
Chris Gunness, a spokesman for the U.N. Refugee and Works Agency, or UNRWA, tweeted that the precise coordinates of the shelter had been relayed to Israeli forces. The strike on the compound was not immediately confirmed by the Israeli military.
Earlier, the Palestinian death toll in Gaza rose above 720 in overnight and early-morning bombardment. Meanwhile, militants fired a flurry of rockets into Israeli territory, with most either falling harmlessly or intercepted by Israel's Iron Dome antimissile defense system.
In the 17th day of the confrontation between Israeli forces and the militant group Hamas, regional mediators continued to work toward a halt to the fighting.
Secretary of State John F. Kerry, back in Cairo after a day of shuttle diplomacy in Israel and the West Bank, was conferring Thursday with Egyptian officials, according to Egyptian media reports.
British Foreign Secretary Philip Hammond, in Israel for talks with Prime Minister Benjamin Netanyahu, expressed hopes for a speedy truce. While acknowledging Israel's right to defend itself, Hammond said his government was "gravely concerned by the ongoing heavy level" of civilian deaths and injuries in Gaza.
"We want to see a cease-fire quickly agreed," he said.
Netanyahu said Israel was trying to minimize civilian casualties, but declared that "we cannot give our attackers immunity or impunity." He did not mention the efforts to strike a truce.
Israel said it had detained dozens of suspected militants overnight in Gaza, and Israeli media carried images of the captured men in their underwear being marched toward or across the frontier, bound for a military detention center in southern Israel.
Israeli media reports also cited military sources as saying that 500 militants affiliated with Hamas or other Islamist armed groups have been killed since the start of the offensive. However, the United Nations and others have estimated that up to three-quarters of the dead are civilians, many of them women and children.
For a third day on Thursday, many international flights to and from Tel Aviv were canceled, after a rocket fell Tuesday near Ben Gurion International Airport. The U.S. Federal Aviation Administration late Wednesday lifted a ban on American carriers flying into or out of Ben Gurion, and European aviation safety authorities followed suit on Thursday. However, many of the day's arrivals had already been scrapped.
Israel's summer tourism season, already dampened by the outbreak of fighting, has been hit hard by the curtailed air service, and industry officials, including those in Israel's high-tech sector, have voiced concerns about long-term economic damage. Hamas has trumpeted the flight suspensions as an important military success.
While most of Israel's casualties have been military, with 32 troops killed to date, three civilians have died on the Israeli side of the frontier. After a Thai farm worker was killed Wednesday by a mortar in the fields of a farm community close to Gaza, Thailand urged Israel to transfer some 4,000 of its nationals to safer areas and provide better protection for them.
Los Angeles Times staff writer Zavis reported from Gaza City and special correspondent Sobelman reported from Jerusalem. Times staff writer Laura King contributed to this report from Cairo.
AFP Photo/Jack Guez
Interested in world news? Sign up for our daily email newsletter!