U.S., China Announce Pact To Reduce Greenhouse Gas Emissions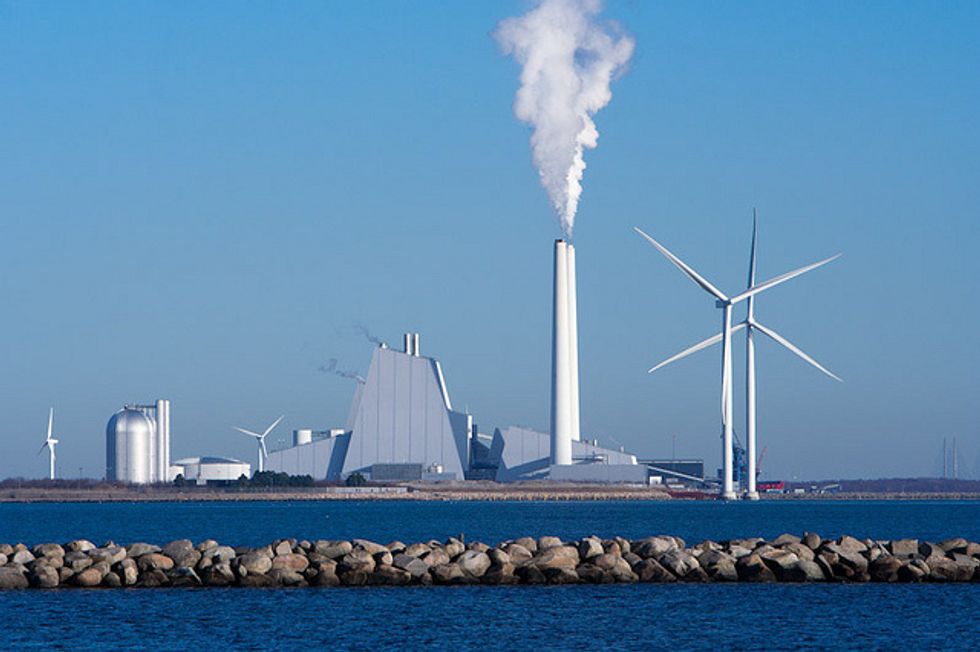 By Stuart Leavenworth, McClatchy Foreign Staff (MCT)
BEIJING — Creating an opening for a larger international agreement, China and the United States on Wednesday announced new targets for greenhouse gas emissions that are intended to help curb global climate change.
As part of the arrangement, announced by the White House, the United States would cut net greenhouse gas emissions 26 to 28 percent below 2005 levels in the next 11 years.
At the same time, President Xi Jinping of China agreed that China for the first time would set a date when its emissions would hit a peak, after which it would begin cutting its use of fossil fuels. According to the White House, China will aim to peak its carbon dioxide emissions "around 2030," with the intention of trying to hit that target sooner. At the same time, China would work to increase the non-fossil fuel share of its energy use to 20 percent by 2030.
China and the United States account for more than one-third of the world's greenhouse gas emissions.
"Today's joint announcement, the culmination of months of bilateral dialogue, highlights the critical role the two countries must play in addressing climate change," the White House said.
The agreement, the White House said, "will also inject momentum into the global climate negotiations" in advance of a meeting in Paris next year aimed at producing an international agreement on emissions reductions.
The accord immediately drew fire from Sen. Mitch McConnell (R-KY), who is expected to be Senate majority leader during the last two years of President Barack Obama's presidency.
"Our economy can't take the president's ideological war on coal that will increase the squeeze on middle-class families and struggling miners. This unrealistic plan, that the president would dump on his successor, would ensure higher utility rates and far fewer jobs," he said in a statement. "`Easing the burden already created by EPA regulations will continue to be a priority for me in the new Congress."'
Unable to get congressional approval to reduce greenhouse gas emissions, President Obama in his first term used Environmental Protection Agency authority to reduce carbon emissions from power plants, vehicles and other sources. That plan has helped the administration in negotiations with China, which previously had said that developed countries should take the lead in efforts to reduce greenhouse gas emissions.
With Wednesday's announcement, the United States agreed to step up efforts to reduce such emissions, although not as quickly as many scientists and environmentalists have called for.
According to the White House, the new U.S. goal will double the current pace of carbon pollution reduction — 1.2 percent per year on average — to 2.3 to 2.8 percent per year on average between 2020 and 2025. Administration officials say this "ambitious target" will keep the United States on a trajectory to reduce overall emissions roughly 80 percent by 2050.
In recent years, China has become the world's largest investor in renewable energy and has taken other steps to reduce industrial emissions, in part because of public unrest over severe air pollution.
The announced agreement will speed China's development of renewable energy sources by 2030. According to the White House, the pact will require China to deploy an additional 800 to 1,000 gigawatts of nuclear, wind, solar and other zero-emission capacity by 2030 — "more than all the coal-fired power plants that exist in China today and close to total current electricity generation capacity in the United States."
Xi and President Obama hold their final meeting Wednesday in the president's three-day trip to China, which hosted this year's Asia Pacific Economic Cooperation summit. Separate from Wednesday's China-U.S. agreement, the 20 countries of APEC agreed on several measures to improve energy efficiency and reduce greenhouse gas emissions. These include:
-A goal to double the share of renewable energy in APEC's overall energy mix by 2030.
-A renewed commitment to phase out "inefficient fossil fuel subsidies that encourage wasteful energy consumption."
-Steps to retrofit and protect energy infrastructure to natural disasters and climate change, a response to the nuclear disaster in Fukushima, Japan.
APEC countries, which include China, the United States, Japan, South Korea and Russia, account for 60 percent of global energy demand.
Photo via Wikimedia Commons