U.S. Intensifies Airstrikes Near Syrian City Of Kobani, But Is Not Working With Militia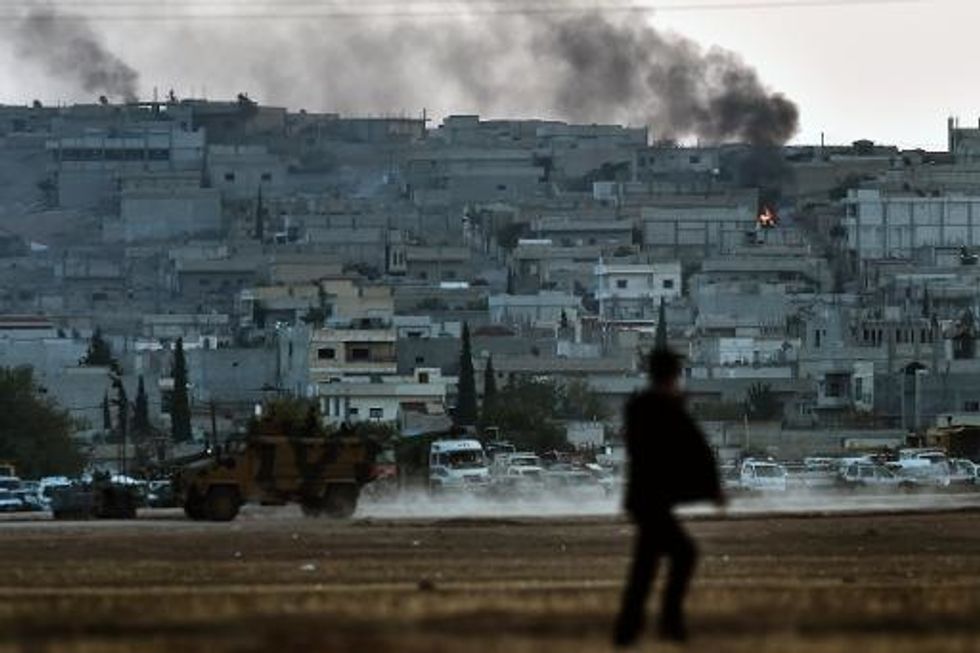 By W.J. Hennigan, Tribune Washington Bureau
For a second day, U.S. and Arab allies pounded Islamic State strongholds near Kobani, a Syrian border city on the brink of falling to the militants.
Warplanes belonging to the U.S. and the United Arab Emirates carried out six strikes Tuesday and Wednesday near the besieged town. The attacks were in addition to five strikes that took place the day before.
But U.S. officials cautioned that airstrikes were of limited effectiveness in defending the town.
The Islamic State militants are "not going to go away tomorrow, and Kobani may fall," Pentagon spokesman Rear Adm. John Kirby said Wednesday on CNN. "We can't predict whether it will or it won't. There will be other towns that they will threaten and there will be other towns that they take. It's going to take a little bit of time."
Kobani, also known as Ayn al-Arab, has been facing an onslaught from three sides since last month, forcing some 130,000 mostly Kurdish Syrians to flee to neighboring Turkey.
The area has been one of the most active fronts in Syria in recent days. The secular Kurdish militia, known as the Popular Protection Units, are defending the town against militants of the Islamic State, a radical Sunni militia.
Kirby said that although the U.S. military carried out 11 airstrikes in the region over the last two days, it is not in communication with the Kurdish militia in Kobani.
"We don't have a willing, capable, effective partner on the ground inside Syria," he said. "It's just a fact. I can't change that."
Despite the lack of communication, the military is confident that airstrikes are hitting Islamic State strongholds in the region, Kirby said.
"We're very careful and very discriminate about what we hit from the air, and again, we believe we have been effective," he said. "We know we're hitting what we're aiming at."
Taking Kobani would mark a symbolic victory for the Islamic State, also known by the acronyms ISIS or ISIL, who control a vast swath of land across northern Syria and northern and western Iraq from its declared capital of Raqqa in Syria.
Turkish lawmakers recently authorized the country's army, one of the region's strongest, to push into neighboring Syria and Iraq to fight the militants. But the army has not moved in on Kobani, whose Kurdish defenders are allied with Turkey's longtime nemesis, the Kurdistan Workers' Party.
Islamic State militants, advancing along several fronts in northern Syria, have reportedly overrun more than two dozen mostly Kurdish villages, prompting terrified Kobani residents to abandon their homes out of fear of ethnic cleansing.
Pro-Kurdish protests broke out Monday throughout Turkey in response to the militants' advance on Kobani. The events turned deadly Wednesday as four people died in demonstrations, bringing to the total death toll to 18, according to Turkey's Anatolian News Agency.
"Many people died at these incidents," Turkish Deputy Prime Minister Numan Kurtulmus was quoted as saying to press during a visit to Macedonia, referring to the protests. "Those who pushed Turkey into such chaos, what problem do they plan to solve with that method?"
At the United Nations, the world body's special envoy for Syria, Staffan de Mistura, called on the international community to defend Kobani.
"The world, all of us, will regret deeply if ISIS is able to take over a city which has defended itself with courage but is close to not being able to do so," de Mistura said in a statement. "We need to act now."
The U.S. began bombing Islamic State targets near the city on Sept. 27, but carried out only eight airstrikes before this week.
The six strikes near Kobani that took place Tuesday and Wednesday destroyed four Islamic State armed vehicles, two artillery pieces and an armored personnel carrier, according to U.S. Central Command. There were three other strikes against the militants elsewhere in Syria.
Separately, officials said that American, British and Dutch forces used fighter jets and armed drones to conduct five airstrikes against the Islamic State in neighboring Iraq, where the U.S.-led campaign against the militants began on Aug. 8.
AFP Photo/Aris Messinis

Want more political news and analysis? Sign up for our daily email newsletter!