U.S. Issues Fresh Warning To Russia Over Turmoil In Ukraine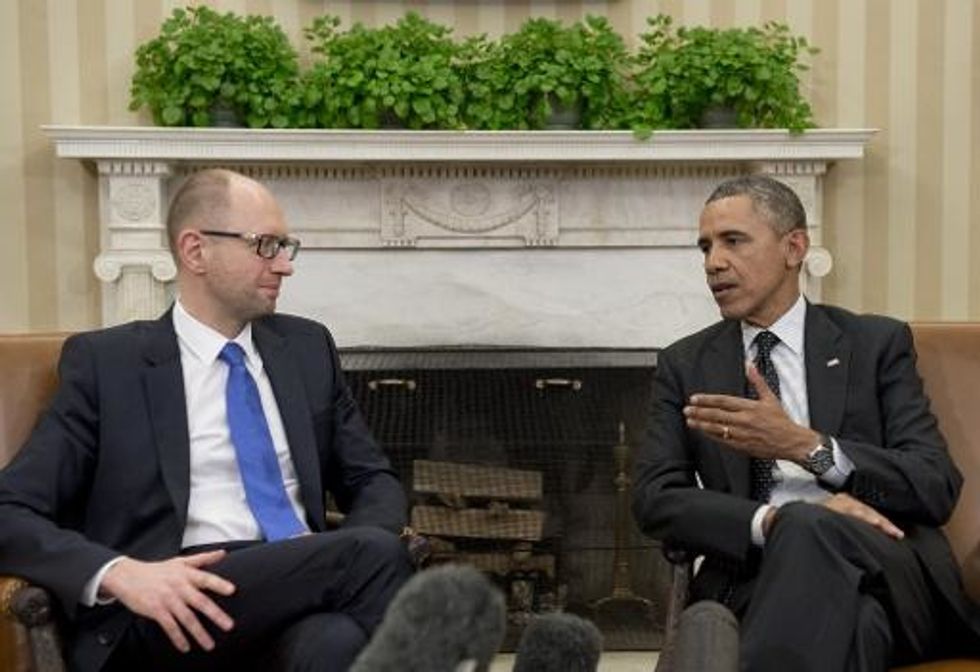 By Paul Richter, Tribune Washington Bureau
WASHINGTON — The Obama administration Monday accused Russia of promoting separatist agitation in eastern Ukraine and threatened to step up economic sanctions on Moscow unless it reverses course.
As pro-Russia separatists in the eastern region seized government buildings and demanded votes on secession, Washington strongly suggested that Moscow was sending in paid agitators and raising tensions by moving thousands of Russian troops along Ukraine's border.
Secretary of State John F. Kerry called Russian Foreign Minister Sergey Lavrov on Monday to express Washington's "great concern" and to convey its view that pro-Russia demonstrations and the seizure of government buildings "do not appear to be a spontaneous set of events," spokeswoman Jen Psaki told reporters at the State Department.
Kerry "made clear that any further Russian effort to destabilize Ukraine will incur further costs for Russia," she said.
Hundreds of pro-Russia activists took part in demonstrations over the weekend in the eastern cities of Donetsk, Kharkiv and Luhansk, raising new fears that the Kremlin might order another military intervention a month after it annexed Ukraine's Crimean peninsula. The demonstrators seized several Ukrainian government buildings.
Psaki stopped short of directly accusing Moscow of sending in paid agitators. But she said there was "strong evidence" that some pro-Russia demonstrators were paid and "were not local residents."
In his phone call with Lavrov, Kerry noted that Ukrainian authorities had recently arrested what he described as Russian intelligence operatives working in Ukraine. He called on Russia to "disavow the activities of separatists, saboteurs and provocateurs," and he called for dialogue to ease tensions.
Senior administration officials last month warned Moscow that the U.S. could slap Moscow with broad economic sanctions if Russia escalated its pressure on polarized Ukraine. The Treasury Department last month blacklisted a number of Russian and Ukrainian officials and one elite bank in retaliation for Russia's moves on Crimea.
But it remains unclear whether the European Union, which is more economically intertwined with Moscow than is the United States, would support new strictures. U.S. penalties wouldn't be nearly as effective if Europe didn't go along.
Kerry also signaled a desire to start four-way talks with Russia, Ukraine, the European Union and the United States in hopes of easing tensions. Psaki said U.S. officials hoped the group could sit down within days to negotiate a de-escalation.
U.S. officials have hoped that Russian President Vladimir Putin would be satisfied with his control over Crimea, the southern Ukraine peninsula that is home to the Russian Black Sea fleet and is the country's most strongly pro-Russia region.
But the weekend protests, if orchestrated by Russia, would suggest that Putin at the very least is willing to use his leverage in eastern Ukraine to increase his power there at the expense of the fragile interim government in Kiev, Ukraine's capital.
Jay Carney, the White House press secretary, said that "if Russia moves into eastern Ukraine, either covertly or overtly, this would be a very serious escalation."
However, Psaki said the administration was not considering military options.
AFP Photo/Saul Loeb