U.S.-Led Strikes Hit Jihadists Closing On Syria Border Town
@AFP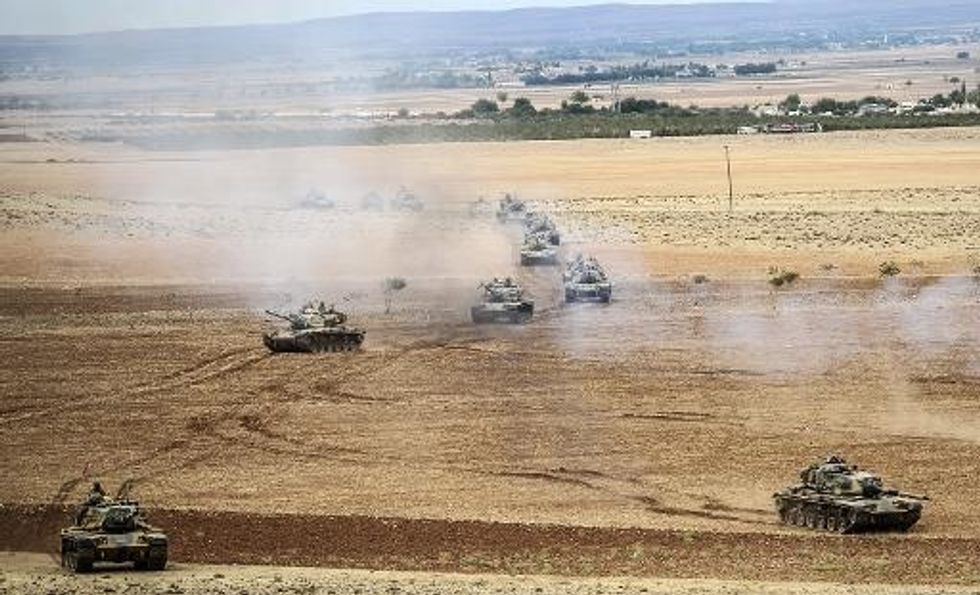 Mursitpinar (Turkey) (AFP) – U.S.-led strikes hit Islamic State group fighters closing on a key town on Syria's border with Turkey as Ankara prepared to request parliamentary authorization Tuesday to join the coalition.
In neighboring Iraq, Kurdish forces launched pre-dawn attacks against the jihadists on three fronts in a bid to recapture territory they lost to IS last month, senior officers said.
It was in support of Kurdish forces in northern Iraq that Washington launched its air war against IS on August 8, following a wave of atrocities by the advancing jihadists, before extending it to Syria.
The strikes by the U.S. and its Arab allies against IS targets in Syria are now in their second week but they have yet to stop the jihadists pressing an advance that would give them unbroken control of a swathe of Syria's northern border.
NATO member Turkey reinforced its side of the frontier on Monday as IS fighters penetrated within five kilometers (three miles) of the border town of Ain al-Arab.
It was the closest the militants had come to the town, known as Kobane in Kurdish, since they began their advance nearly two weeks ago, sending tens of thousands of mostly Kurdish refugees across the border.
The latest coalition strikes hit IS fighters in nearby villages east and west of the town, the Syrian Observatory for Human Rights said.
Both the coalition and Ankara have been heavily criticized by Kurdish leaders for not doing more to help Kurdish militia forces defending the town against the far better armed jihadists.
One of the leaders of a Turkish pro-Kurdish party called for urgent action by Ankara against the jihadists after crossing the border for talks with Syrian Kurdish leaders in Ain al-Arab on Tuesday.
"There were IS terrorists just two kilometers (a little more than a mile) away," said Selahattin Demirtas, a co-leader of the People's Democratic Party (HDP) who came third against President Recep Tayyip Erdogan in August presidential elections.
"Turkey can minimize the disappointment among its citizens only if it takes action," said Demirtas, who is to hold talks with Prime Minister Ahmet Davutolgu on Wednesday.
Turkey, after months of caution in the fight against IS, has decided to harden its policy.
The government was poised to ask parliament later Tuesday for authorization to take military action against the militants. However what this may entail is so far unclear.
In Iraq, Kurdish forces were fighting IS militants in the center of the town of Rabia on the Syrian border, commanders said.
It was one of three fronts on which Kurdish peshmerga fighters launched pre-dawn assaults. They also went on the offensive north of jihadist-controlled second city Mosul, and south of key oil hub Kirkuk, the commanders said.
Troops backed by artillery and warplanes were also attacking the town of Zumar, near the reservoir of Iraq's largest dam, which has been a key battleground between the Kurds and the jihadists, a senior peshmerga source told AFP.
Both Rabia and Zumar were areas which the peshmerga seized in the chaos that followed the jihadists' capture of Mosul in a lightning offensive in early June.
IS forces made a fresh push two months later and inflicted stinging setbacks on the peshmerga, one of the reasons for the US air campaign that began on August 8.
"We have ousted IS from 30 positions, including in the Zumar and Rabia areas," peshmerga spokesman Halgord Hekmat said.
"The advance on Rabia will facilitate efforts to recapture Sinjar," Hekmat added.
Sinjar is a town further southwest which the jihadists captured in early August, prompting tens of thousands of civilians — mostly from the Yazidi minority — to flee their homes.
In one of the most dramatic episodes of the nearly four-month-old conflict, some Yazidis were besieged for days in nearby mountains where they took refuge, while others were killed or abducted during their flight from the town.
With the United States now conducting what it says are "near continuous" strikes in both Iraq and Syria, a Washington-based think-tank warned that the costs of the campaign to the U.S. taxpayer could swiftly escalate.
U.S. aircraft have flown roughly 4,100 sorties in the air war against the jihadists in Iraq and Syria since August, including surveillance flights, refueling runs and bombing raids, a military officer said Monday.
The Centre for Strategic and Budgetary Assessments estimated that when U.S. air strikes against IS in Syria got under way last week, Washington had already spent as much as $930 million (735 million euros) on the campaign against IS.
If air strikes continue at a moderate level, the cost will run at between $200 million and $320 million a month, but if they are conducted at a higher pace the monthly cost could rise to as much as $570 million, the think-tank projected.
AFP Photo/Bulent Kilic