U.S.: Sanctions 'Very Soon' If Russia Stays Course On Ukraine
@AFP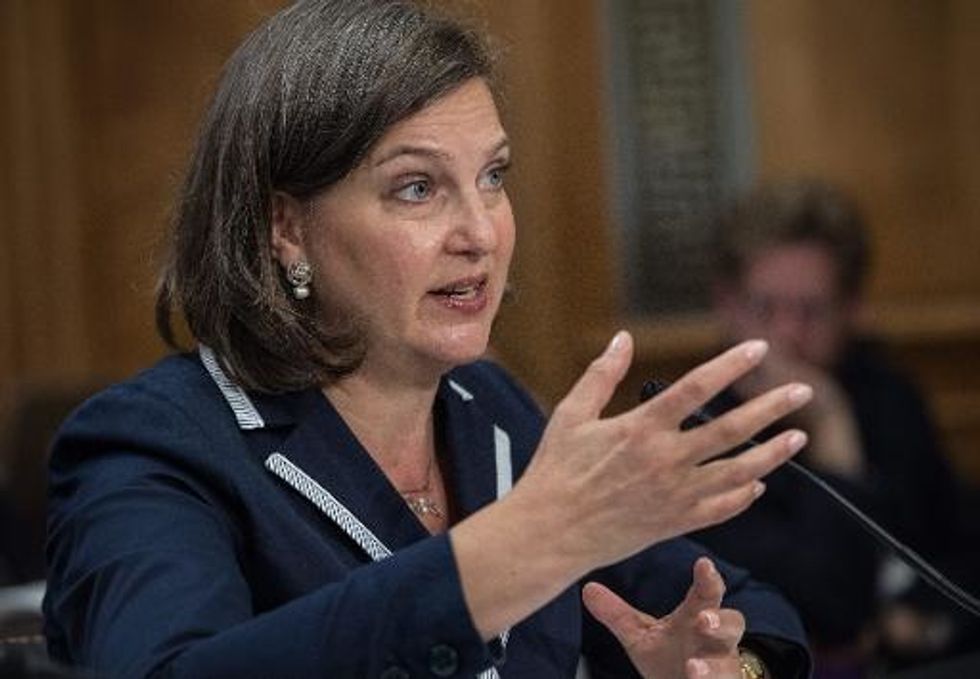 Washington (AFP) – The United States is prepared to impose tough new economic sanctions on Russia "very soon" if Moscow refuses to sever ties with Kremlin-backed separatists in eastern Ukraine, a U.S. official told lawmakers Wednesday.
But senators, frustrated with U.S. inaction, said Washington's repeated threats ring hollow.
"We are ready to impose more costs — including targeted, sector-specific sanctions — very soon if Russia does not decisively change course and break its ties with separatists," Victoria Nuland, the assistant secretary of state for European and Eurasian affairs, told members of the Senate Foreign Relations Committee.
Nuland charged that separatists used a recent ten-day ceasefire to conduct "violence, bloodshed and land grabs," and that "Russia allowed tanks, heavy artillery and fighters to flow" into Ukraine and built up its own forces on the Russia-Ukraine border.
She said Washington was working closely with European allies on timing of the sanctions, and said a decision could come as soon as July 16, when EU leaders meet before a summer break.
Kiev and its Western allies accuse Russia's President Vladimir Putin of helping to arm and fund the separatists in reprisal for the February ouster of a Kremlin-backed leader who had rejected closer European ties.
Washington slapped sanctions on high-ranking Russian officials and businesses close to Putin after Moscow annexed the Crimean peninsula from Ukraine in March.
But in a series of tense exchanges, the panel's top Republican, Senator Bob Corker, told Nuland the United States was "acting like a paper tiger," unwilling to take specific steps against Moscow.
"I'm embarrassed for us," he said. "I just wish the administration would quit saying publicly (that the US will take tough action) when we're not going to act."
Committee chairman Senator Robert Menendez, a Democrat, also expressed concern Washington was failing to keep pressure on Russia.
He pointed to EU calls for Russia to end support for the separatists, control the border, return seized checkpoints to Ukrainian forces, release hostages and begin negotiations on Ukrainian President Petro Poroshenko's peace plan.
"I see no advance in any of those standards. So what are we waiting for?" he asked Nuland.
Nuland said that while new sanctions would be more effective if done in concert with Europe, "the president has always made clear that if necessary we will act on our own."
AFP Photo/Nicholas Kamm