U.S. Sees Russian Agents Behind East Ukraine Unrest
@AFP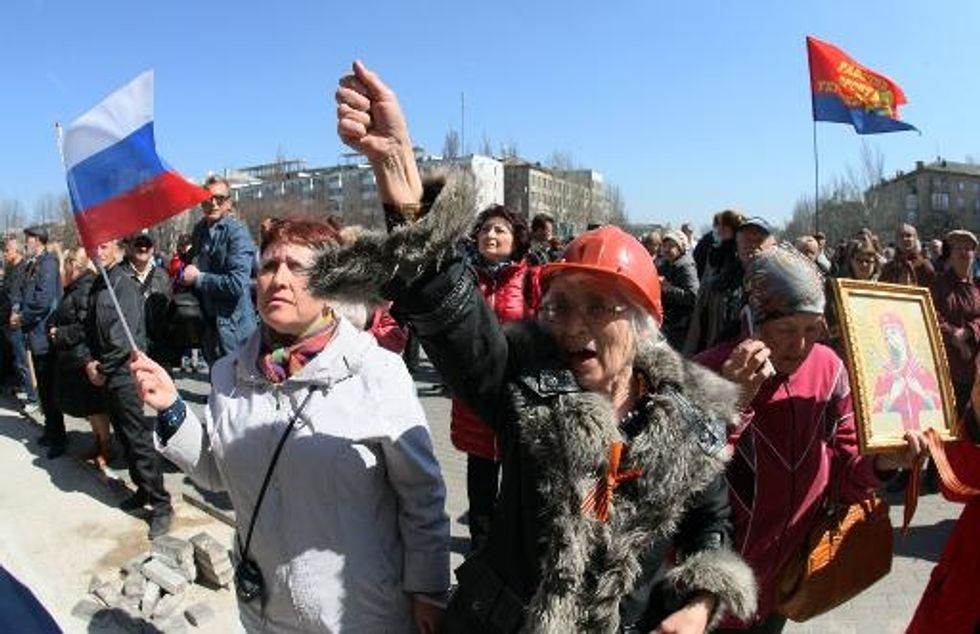 Donetsk (Ukraine) (AFP) – The United States accused Russia on Tuesday of sending its agents to stoke a flaring secession crisis in eastern Ukraine that Moscow itself conceded could spill over into civil war.
The blunt U.S. charge came as Ukraine's embattled leaders waged an uphill battle to keep their culturally splintered nation of 46 million together after the February ouster of a pro-Kremlin president and subsequent loss of Crimea to Russia.
An eery echo of the Black Sea peninsula's separation sounded on Sunday when militants — many of them masked — stormed a series of strategic buildings across a swathe of heavily Russified eastern regions and demanded that Moscow send its troops for support.
Ukraine mounted a counter-offensive on Tuesday by vowing to treat the separatists as "terrorists" and making 70 arrests in a nighttime security sweep aimed at proving the Kremlin's involvement in the secessionist movement.
An urgent deployment of forces saw Kiev also regain control of an administration office in Kharkiv and the security service headquarters of Donetsk — the stronghold of Viktor Yanukovych prior to his ouster as president and flight to Russia.
But Kalashnikov-wielding militants still held on to the main police building in the nearby city of Lugansk after breaking into its massive weapons cache and releasing several activists who had been accused of plotting a coup.
Ukraine's state security service said on Tuesday it had "established" that the Lugansk militants had rigged its regional center with explosives and were holding 60 people "against their will, not letting them leave the building and return home."
But the agency did not explain why it was making the announcement two days after the actual raid or say how it had gained information from inside the heavily-fortified building.
Hundreds of pro-Russians also remained holed up inside the Donetsk administration center a day after proclaiming the creation of a sovereign "people's republic" and demanding that an independence referendum be held before May 11.
"We have formed a provisional government in Donetsk," separatist leader Vadym Chernyakov told AFP inside the occupied building.
The 33-year-old said his forces intended to control the region's airport and railway stations in order to "maintain order".
The heart of Donetsk itself was a mesh of razor wire and hastily-assembled barricades of old tires that could be set on fire in case the riot police decided to mount an assault on the regional government seat.
But calm had returned to the city of Kharkiv after a night of violence that saw retreating militants throw Molotov cocktails at the administration building as hundreds of police regained control of it.
Months of deadly political turmoil threaten not only to break up the vast nation on the EU's eastern frontier along its ethnic divisions but also plunge Moscow's relations with the West to a low that may take decades to repair.
U.S. Secretary of State John Kerry appeared to cast aside the last vestiges of diplomatic decorum on Tuesday by explicitly accusing the Kremlin of sending operatives into eastern Ukraine in order to foment unrest.
"Everything that we've seen in the last 48 hours, from Russian provocateurs and agents operating in eastern Ukraine, tells us that they've been sent there determined to create chaos," Kerry told U.S. lawmakers.
British Foreign Secretary William Hague backed up that message by noting the flareup bore "all the hallmarks of a Russian strategy to destabilize Ukraine."
And NATO chief Anders Fogh Rasmussen reaffirmed on a visit to Paris that Moscow — its forces now massed along Ukraine's eastern frontier — would be making an "historic mistake" if it were to intervene in Ukraine any further.
Yet the sharply barbed rhetoric has not yet led to a complete breakdown in diplomatic relations similar to the one that had endangered global security in the nuclear-charged decades of the Cold War.
Kerry said he intended to meet Russian Foreign Minister Sergei Lavrov "in Europe next week" to discuss preparations for possible four-way talks with Ukraine and EU diplomats.
The increased tensions helped Europe's main stock markets to retreat further on Tuesday.
London's FTSE 100 dropped 0.49 percent to close 6,590.69 points, while in Paris the CAC 40 shed 0.25 percent to 4,424.83 points. The DAX 30 in Frankfurt fell 0.21 percent to 9,490.79 points.
The West's anxiety stems in part from Russian President Vladimir Putin's vow to use "all means necessary" to protect his compatriots in Ukraine.
Moscow is further demanding a decentralization of power that could push Ukraine's east further out of Kiev's reach and into what the West fears may turn into the Kremlin's permanent ambit.
The Russian foreign ministry put still more pressure on Kiev on Tuesday by accusing it of making "military preparations (in eastern regions) that are fraught with the risk of unleashing a civil war."
Russia has also put tough conditions on Washington's four-way talks idea by stressing that negotiations should also include representatives of Ukraine's southern and eastern regions — a condition implicitly unacceptable to Kiev.
"When we are talking about negotiations at such a level, they should only include official state representatives," Ukrainian foreign ministry spokesman Yevgen Perebiynis said.
AFP Photo/Alexander Khudoteply