U.S. Senate Race In Hawaii Pits Opposing Wings Of Democratic Party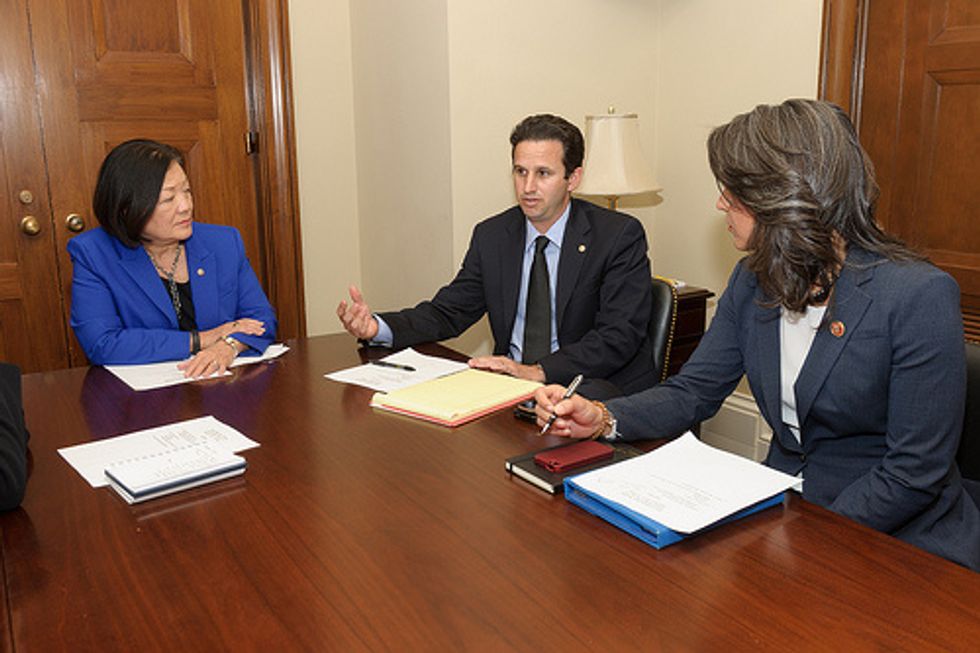 By Mark Z. Barabak, Los Angeles Times
HONOLULU — In primaries across the country — in Idaho, Kentucky, Mississippi and other states — Republicans are locked in a heart-and-soul battle between purists and pragmatists clashing over what it means to represent the party, its philosophy and core values.
Here in Hawaii there's a similar fight over power and purpose, but this one is between Democrats. It's a fight for a U.S. Senate seat, a rare enough prize in a state that has elected just six people senator since statehood in 1959. But it is also a battle over age and gender, over ethnicity and identity, over old grudges and new tensions.
Rivalries and historical resentments often surface in Hawaii politics — sometimes years later, like a bottle cast to sea — and the fierce contest between appointed Senator Brian Schatz and his fellow Democrat, Rep. Colleen Hanabusa, is no different: The two ran against each other in a 2006 congressional primary, and they both lost.
The latest contest arises from the death of Democratic Senator Daniel K. Inouye in December 2012, less than a month shy of completing his 50th year in the Senate. Democratic Gov. Neil Abercrombie ignored what was presented as Inouye's dying wish, that the senator's protege, Hanabusa, be named his successor, and instead appointed Schatz, the lieutenant governor and a former head of the state party.
In choosing, Abercrombie cited seniority as an overriding factor. Schatz is 41 and Hanabusa is 62, which suggests — actuarially speaking — he could serve many more years and gain more clout for a state that has counted for decades on a generous ladling of federal largess, thanks to Inouye's power and longevity. After tourism, the U.S. military is Hawaii's biggest source of income.
"Go to Washington, bring federal dollars home," said Randy Perreira, head of the Hawaii Government Employees Association, the state's largest and most powerful union, which has endorsed Schatz. "That's the game."
Abercrombie's mention of age led Hanabusa to accuse the governor of sexism, suggesting his comments insulted women who devote themselves to family and start their professional careers later in life. (Hanabusa has no children but practiced law for several years before launching her political career.) "We make choices," Hanabusa said in an interview. "We have to."
Another fault line is race and ethnicity. Asians make up the largest segment of the population, about 4 in 10 residents, followed by whites, at just over 25 percent. Nearly a quarter of the population identifies itself as being of two races.
A generation of Japanese-American World War II veterans, including Inouye, helped break down long-standing economic and social barriers that had once favored white plantation owners and businessmen and, with the help of organized labor, converted pre-statehood Hawaii from a Republican-leaning territory into today's Democratic stronghold.
Within the party, however, there has long been a divide between pragmatists and a smaller group of activists, typically younger, whiter and more ideological. For years, Inouye and Abercrombie represented those wings; now, it's Hanabusa and Schatz.
They took opposite sides in the bitter 2008 Democratic presidential contest: Hanabusa, like Inouye, backed Hillary Rodham Clinton. Schatz, like Abercrombie, was an early and ardent backer of native son Barack Obama and ran his successful Hawaii campaign.
Philosophically, though, the Senate contestants are largely in sync. The National Journal, which annually rates congressional members by ideology, has Schatz tied with two others this year as the most liberal member of the U.S. Senate. Hanabusa, who was elected to Congress in 2010 after serving as state Senate president, consistently ranks among the more liberal House members.
There are differences on some issues, among them Hanabusa's support for limited drilling in Alaska's Arctic National Wildlife Refuge, reminiscent of Inouye's long alliance with Republican former Senator Ted Stevens of Alaska, who pushed to open oil production there. Schatz opposes it.
Hanabusa also opposed forcing drug companies to pay the federal government a rebate for bulk purchases under the Medicare and Medicaid programs and voted to support the Simpson-Bowles commission, which, among its proposals, suggested raising the age for Social Security benefits to help cut the federal deficit.
Hanabusa said she opposed changes to Social Security but supported the commission's model as a starting point for discussion. Indeed, members of the Democratic House leadership also backed Simpson-Bowles.
Still, the Schatz campaign raises those examples to question Hanabusa's fealty to the Democratic Party's principles. His first TV ad featured the senator in a homey setting with his elderly father-in-law, vowing to protect Social Security. Hanabusa, who has raised only about half as much campaign cash as Schatz, has yet to begin her TV advertising.
Schatz said the race should be about performance, favorably comparing his year-plus in the Senate with Hanabusa's House record. He says his endorsement by President Obama — a rare intervention in a primary — and support from Senate Democratic Majority Leader Harry Reid of Nevada, along with much of the rest of the party establishment, means he can deliver in ways the congresswoman cannot.
"That's what I want to make this election about," Schatz said in an interview.
Hanabusa said she would have "the same kinds of relationships and opportunities afforded to me as well" if elected to the Senate. Sounding a rare note of bipartisanship, she said it was important to work across the aisle, as Inouye did. "Times change and majority status changes," she said. "What doesn't change is relationships that are built."
Much of the drama surrounding the race so far has focused on a letter, ascribed to Inouye on his deathbed, seeking Hanabusa's selection. Abercrombie has questioned the authorship and said Inouye told him, privately, to use his best judgment in filling any vacancy.
"I wouldn't want the Senate race to get lost in this question of what Sen. Inouye wanted or didn't want," Abercrombie told the Los Angeles Times this month.
With so many cross-currents, there seems little chance of that. Polling is difficult in Hawaii, a state with one of the worst turnout rates in the country. But all sides agree the race is exceedingly close and will probably stay that way to the end.
The outcome probably won't affect the fight for control of the Senate. Whoever wins the August 9 Democratic primary is overwhelmingly favored to win in November and serve the remainder of Inouye's term. Then, it is expected, the incumbent will seek a full six-year term in 2016.
Photo: Senator Brian Schatz via Flickr