U.S. States Mulling Execution Methods Amid Drug Shortage
@AFP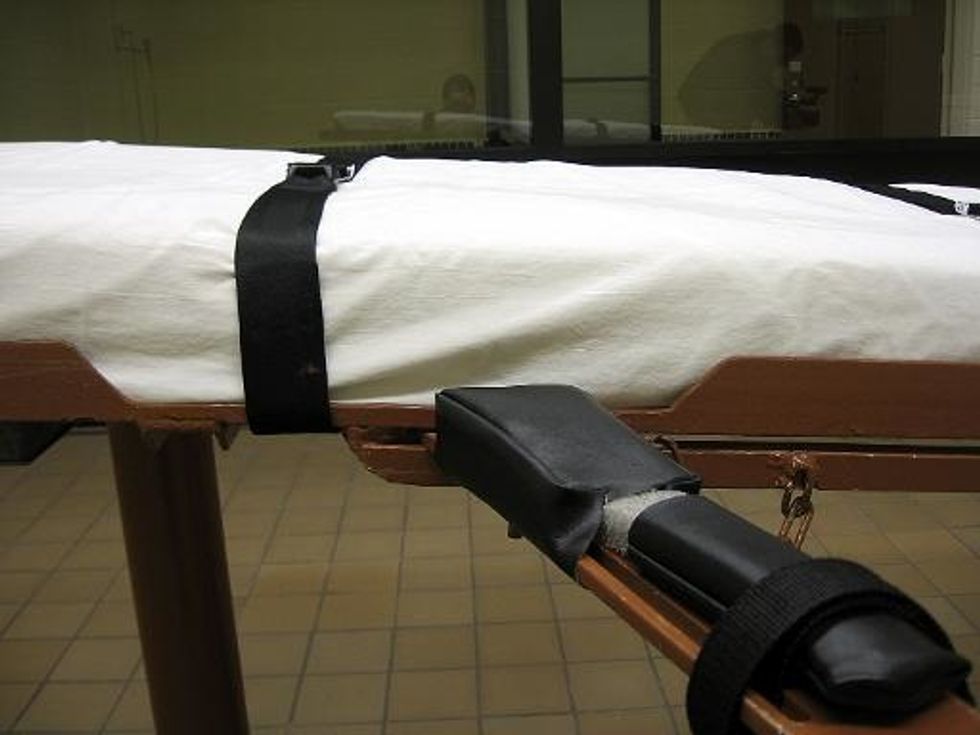 Washington (AFP) – Electric chairs, gas chambers or firing squad: American states that retain the death penalty are mulling a return to long-abandoned execution methods as they grapple with a shortage of lethal injection drugs.
A handful of officials in Virginia, Wyoming and Missouri are proposing to return to methods of execution from a bygone era, horrifying abolitionists who want to see the death penalty scrapped altogether.
Since 1982, lethal injection has gradually become the execution method of choice across the 32 states that practice the death penalty.
But as European manufacturers stopped selling their drugs to U.S. states if they were to be used to put humans to death, officials have been forced to find other suppliers, often turning to non-federally regulated U.S. pharmacies.
That has prompted an increasing number of lawsuits which allege the new drug cocktails amount to "cruel and unusual punishment" for those condemned to die — a violation of the U.S. Constitution.
Deborah Denno, a professor of law at Fordham University's School of Law, believes any return to old execution methods will be difficult.
"The very reason they went to lethal injection is because electrocution wasn't working, lethal gas wasn't working," she told AFP.
But the states in question are undeterred. In Virginia, lawmakers approved a bill on January 22 authorizing the use of the electric chair if barbiturates for lethal injections were unavailable. The text, sponsored by local Republican Jackson Miller, must pass through Virginia's state Senate to become law.
Virginia is one of eight states that already allow condemned inmates to choose the electric chair instead of lethal injection. Killer Robert Gleason chose to die by this method in January last year, the first execution by electrocution in the U.S. since 2010.
Meanwhile, in Missouri, which has been stymied by lawsuits over the origin of its lethal injection drugs, state Attorney General Chris Koster has advocated a return to use of the gas chamber.
Koster said the litigation against lethal injection had raised an "artificial hurdle" preventing death penalties from being carried out.
"Unless the court changes its current course, the legislature will soon be compelled to fund … alternative methods of execution to carry out lawful judgements," he said.
The gas chamber, which is legal in Missouri, Wyoming and Arizona if the inmate chooses it, was last used in 1999.
Another Missouri Republican, Rick Brattin, is proposing a return to the use of firing squads, an Old West style of execution last used in Utah in 2010.
Firing squads have also found favor with a Republican lawmaker in Wyoming, Bruce Burns. The state, which has only one prisoner on death row, currently allows the gas chamber be used instead of lethal injection where necessary.
However, Wyoming does not have a functioning gas chamber, and Burns is proposing firing squads as a cheaper alternative in a bill which will be debated on February 10.
Legal analysts, however, believe the rush to embrace alternative methods of execution could backfire for the politicians involved.
"Politicians in so many states are starting to lose credibility," said Fordham law expert Denno.
"How many times can you be flipping around, switching a method of execution without drawing attention to the fact we just don't know what we're doing?"
And anti death-penalty advocates believe the wider use of execution methods such as the electric chair and firing squad could strengthen the case for abolition.
"If we started to have these old methods in regular executions, we'd have terrible stories," said Richard Dieter, executive director of the Death Penalty Information Center, predicting greater public and judicial scrutiny over methods blamed for "too many botched executions."
Ron McAndrew, a former warden at Florida State Prison, has a gruesome recollection of a bungled electric chair execution he saw in March 1997.
"There was a plume of smoke coming out from underneath the capper helmet on his head, followed by a long flame," McAndrew told AFP.
"Then we had a lot of smoke and more fire coming out from underneath the helmet. From the next 11 minutes, the room filled up with smoke, we burnt the top of his head off. It was the worst smell I've ever smelled in my life."
 Photo: Caroline Groussain via AFP