U.S. Stocks Rise On Mostly Solid Corporate Earnings
@AFP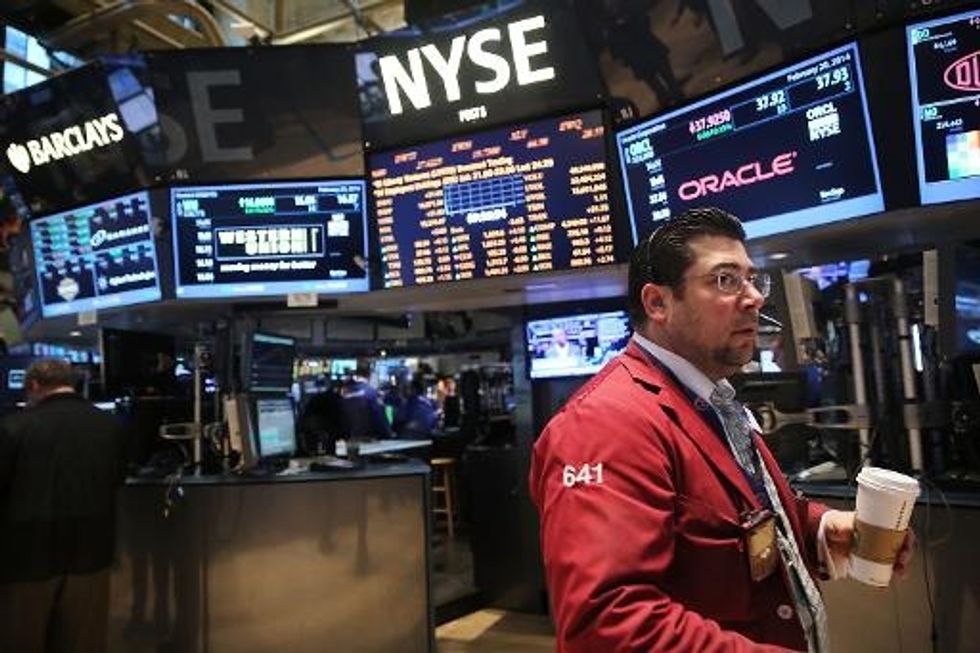 New York (AFP) — Wall Street stocks Tuesday moved higher in early trade on a stream of generally solid earnings reports that suggest the U.S. economy is continuing to pick up momentum.
About 40 minutes into trade, the Dow Jones Industrial Average advanced 73.55 points (0.43 percent) to 17,125.28.
The broad-based S&P 500 gained 10.89 (0.55 percent) to 1,984.52, while the tech-rich Nasdaq Composite Index rose 35.92 (0.81 percent) to 4,460.62.
Briefing.com analyst Patrick O'Hare said most of the earnings reports have bolstered confidence.
"The overall takeaway is that the earnings reporting period is off to a good start," O'Hare said.
"Most companies are doing what they normally do during an earnings reporting period, which is report better-than-expected results through a combination of demand growth, cost cutting, and/or share repurchase activity."
Still, several members of the blue-chip index reported results that disappointed analysts.
Dow member McDonald's fell 1.9 percent as it reported second-quarter earnings of $1.40 per share, four cents below expectations. The fast-food giant pointed to lower comparable sales in the United States and Europe.
Coca-Cola reported a three percent decline in net profit to $2.6 billion for the second quarter as volumes rose eight percent in Asia Pacific but were flat in North America, Europe, and Latin America. Shares fell 3.2 percent.
Travelers, the insurance company, sank 4.1 percent as earnings of $1.95 per share missed expectations by 15 cents. The company cited a large increase in catastrophe losses.
United Technologies, a Dow component that provides technology and services to the building and aerospace industries, said earnings jumped 7.7 percent to $1.7 billion, beating analyst expectations. But shares still fell 1.1 percent.
Off the Dow, Chipotle Mexican Grill shot up 11.8 percent as net income in the second quarter rose more than 25 percent to $110.3 million. The company said it opened 45 new restaurants in the quarter.
Lockheed Martin gained 2.2 percent as it raised its 2014 profit forecast after beating analyst expectations in the second quarter. The defense contractor now projects earnings per share of $10.85-$11.15, up from $10.50-$10.80 previously.
Shares of Apple rose 0.7 percent ahead of the company's earnings, which will be released after the market closes.
Bond prices declined. The yield on the 10-year US Treasury rose to 2.48 percent from 2.47 percent Monday, while the 30-year advanced to 3.28 percent from 3.26 percent. Bond prices and yields move inversely.
AFP Photo/Spencer Platt
Interested in economic news? Sign up for our daily email newsletter!