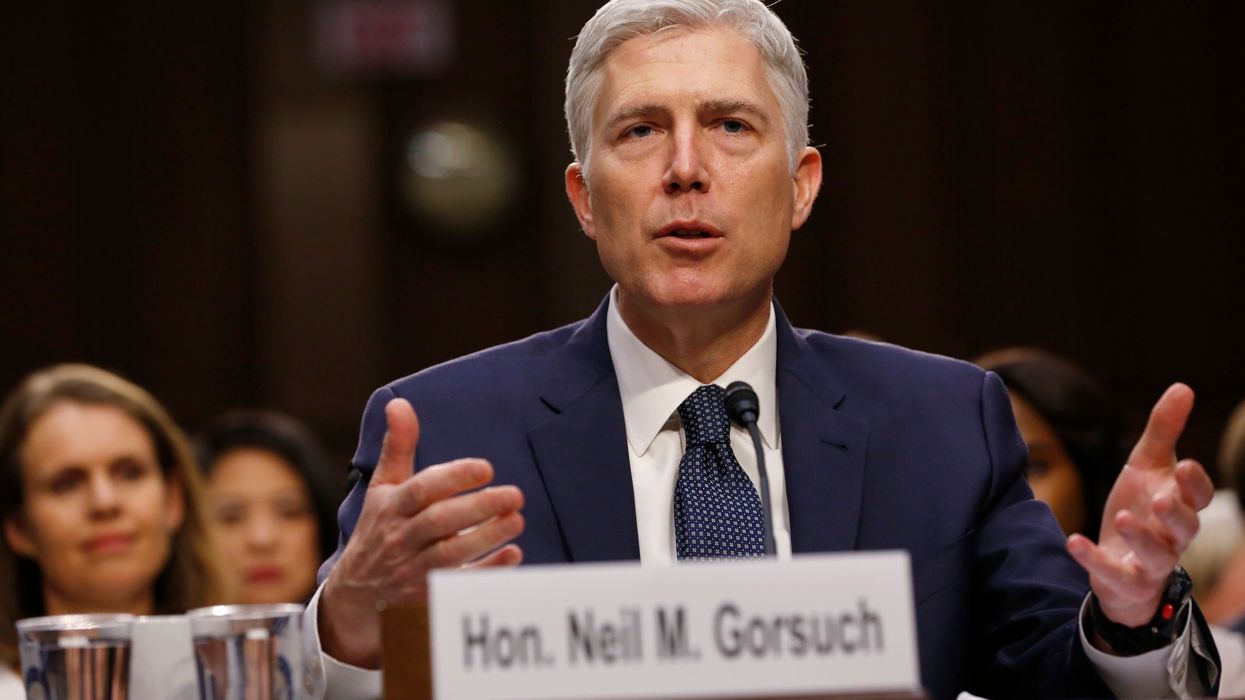 Amid expert warnings about the dire implications for public health and democracy, right-wing justices on the U.S. Supreme Court on Friday appeared poised to strike down the Biden administration's contested federal vaccination requirements even as the coronavirus pandemic rages across the country.
Oral arguments in the two sets of cases before the high court came amid a tidal wave of infections driven by the ultra-contagious Omicron variant, which has resulted in tens of thousands of hospitalizations nationwide. Each day, an average of 1,400 individuals in the U.S. are suffering largely preventable deaths from Covid-19.
As cases rise "exponentially across the nation, pushing the hospital system beyond its capacity," justices must "weigh this grim reality," Lawrence O. Gostin, a professor at Georgetown University and director of the World Health Organization Collaborating Center on National and Global Health Law, and two co-authors wrote in a Washington Post op-ed published last week.

"The Supreme Court needs to uphold" President Joe Biden's Covid-19 vaccine policies "without delay," wrote Gostin and his colleagues. "Not doing so would be an affront to public health and the law."
But the high court's right-wing majority on Friday signaled that they are likely to rule against Biden's vaccination requirements, the New York Timesreported.
"More absolutely unhinged behavior from the Supreme Court's conservative wing, which seems ready to strike down a perfectly lawful vaccine mandate while we're still in the middle of a deadly pandemic," tweeted Indivisible, a progressive advocacy group. "They are irredeemable. We need to expand the court now."

Justice Elena Kagan, one of three liberal justices, defended the Biden administration's vaccine rules, arguing that they are necessary to mitigate the ongoing public health crisis.
"This is a pandemic in which nearly a million people have died," said Kagan. "This is the policy that is most geared to stop all this... Why isn't this necessary and grave?"
Justice Sonia Sotomayor, added: "Why shouldn't the federal government—which has already decided to give OSHA the power to regulate workplace safety—have a national rule that will protect workers?"
According to Ian Millhiser, a senior correspondent at Vox and the author of Injustices: The Supreme Court's History of Comforting the Comfortable and Afflicting the Afflicted, "These cases ask what steps the United States can realistically take to quell the spread of a disease that has already killed more than 820,000 Americans. But the full stakes in these cases are even higher."Millhiser wrote earlier this week:
Someone has to decide how the United States will respond to a global pandemic, and the Biden administration's argument essentially boils down to a case for democracy. An elected Congress authorized the executive branch to take certain steps to encourage vaccination, and Joe Biden was elected to lead that branch. So that means that President Biden and his duly appointed subordinates get to make difficult decisions, even if some Americans don't like those decisions.
The parties challenging Biden's policies, meanwhile, effectively argue that the Supreme Court should decide America's vaccination policy. They couch their arguments in arcane legal doctrines, with weighty-sounding names like the "Major Questions Doctrine" or "nondelegation," But these doctrines are vague—so vague that they are easily manipulated by justices who disagree with the Biden administration's policies and wish to conceal their desire to halt those policies behind a patina of legal reasoning.
In an effort to improve safety in the workplace—a major source of viral transmission—the Biden administration in November imposed three Covid-19 rules affecting roughly 100 million people.
The move to encourage uptake of lifesaving shots—supported by a majority of adults but fiercely opposed by disinformation-soaked GOP voters—was immediately met by a tsunami of legal challenges from business groups and Republican-led states.Within days, right-wing judges, some of whom were appointed by former President Donald Trump, suspended their implementation.
"The cases before the court Friday are technically emergency applications for immediate—but temporary—relief, not final judgements on the merits of the mandates, which are still being litigated in lower courts," ABC Newsreported. "A decision from the justices is expected in days or weeks, rather than months, given the expedited nature of the case and the ongoing public health emergency."
The first rule, issued by the Occupational Safety and Health Administration (OSHA), states that all employers with 100 or more employees must require workers to be fully inoculated or be tested weekly and wear masks on the job.
In the first case, National Federation of Independent Business v. Department of Labor, the Supreme Court will consider the legality of this vaccine-or-test mandate for big companies.
SCOTUS Blogreported Thursday:
Several challenges were filed around the country and eventually consolidated in the U.S. Court of Appeals for the 6th Circuit, which reinstated the mandate after another court had put it on hold. The challengers quickly came to the Supreme Court, asking the justices to freeze the 6th Circuit's ruling. In a brief order on Dec. 22, the justices set two of those requests for oral argument on Jan. 7 but left the 6th Circuit's ruling reviving the mandate in place.
A second Biden administration rule, issued by the Centers for Medicare and Medicaid Services (CMS), requires all healthcare workers at facilities that participate in Medicare and Medicaid programs to be fully inoculated unless a medical or religious exemption is obtained.
In the second case being heard by the Supreme Court, Biden v. Missouri, justices will consider the legality of this vaccine mandate for staff at medical facilities reliant on federal funding.
SCOTUS Blog reported:

A federal district court in Missouri put the rule on hold for 10 states, while a federal district court in Louisiana did the same for 14 other states. That prompted the Biden administration to come to the Supreme Court in December, asking the justices to put the district courts' rulings on hold and allow the rule to take effect nationwide while litigation continues.
A third rule, the president's executive order requiring federal contractors to have a fully vaccinated workforce, is currently blocked by courts in Kentucky and Georgia but has not yet reached the high court.
According to Gostin and his colleagues, "Lower-court rulings that blocked the rules from taking effect were fundamentally flawed... They disregarded the broad scientific consensus that Covid-19 poses a major public health threat requiring a strong emergency response; indeed, the public health emergency has only become more acute in recent weeks."
They continued:
A threshold issue is whether Covid-19 is a public health emergency that warrants bypassing the usual cumbersome regulatory process. For the employer mandate, OSHA issued an emergency standard which can be implemented rapidly. For the rule involving healthcare workers, CMS waived the normal period for taking public comment into consideration before issuing final regulations, a process that can take months if not years. Both had good reason for acting swiftly.
OSHA conservatively estimated its new rule would prevent more than 6,500 deaths and 250,000 hospitalizations. CMS established an impressive record showing the unique vulnerability of Medicare and Medicaid recipients, who are older, disabled, chronically ill, or have complex healthcare needs. The rule can save hundreds of lives each month. The science is also clear that the vaccine is the best way to ameliorate risks of Covid-19 infections, hospitalizations, and deaths. Delaying the implementation of the rules would cost lives.
A core argument made by plaintiffs in these cases is that OSHA and CMS didn't receive congressional authorization to protect workers, but Gostin and his two co-authors explained why "that's incorrect":
The Occupational Safety and Health Act empowers OSHA to mitigate "grave" workplace dangers through emergency measures. OSHA has required the only effective tools known to science: vaccines, testing, and masks. Vaccination is the best tool, but OSHA allows employees to opt-out simply by testing weekly and masking. It's hardly an overreach. In fact, regulating biological hazards is among OSHA's primary responsibilities. The agency has a long history of regulating protections against airborne and bloodborne pathogens.
Likewise, when Congress established the Medicare and Medicaid programs, it granted the secretary of health and human services authority to require facilities to meet requirements deemed "necessary in the interest of the health and safety." There are ample reasons to support the conclusion that vaccinations are necessary for the safe operation of participating facilities: the vulnerability of residents, the need for a healthy workforce, and the unique effectiveness of vaccines.
"There are good reasons Congress has chosen to delegate broad regulatory powers to agencies," the trio argued.
Unlike career agency professionals—who have the expertise and the ability to respond "more quickly [and] with more flexibility... than the legislative process allows"—lawmakers, who "cannot foresee the broad range of risks Americans will face," are ill-positioned to act on "rapidly changing and complex scientific information needed to make wise regulatory decisions," they wrote.
"The need to act rapidly is especially important in a health emergency," they added. "If the high court were to curb federal public health powers now, it could prove ruinous when the next crisis strikes."
On top of the potential epidemiological consequences associated with the impending decision, Millhiser argued in Vox that democracy itself is at stake in the Supreme Court's vaccine cases.
"The premise of any democratic republic is that there are some decisions that must be made collectively, and that these decisions are legitimate because they are made by elected officials," wrote Millhiser.
"The justices' commitment to the idea that the right to govern flows from the will of the people" will be tested when the Supreme Court hears Biden v. Missouri and National Federation of Independent Business v. Department of Labor, he continued.
U.S. vaccination policy, noted Millhiser, "will either be made by the man chosen by the American people, or the Supreme Court will wrest that decision away from him and give it to themselves."
"This is not democracy," Millhiser argued. "It is a decision to replace the judgment of men and women elected to make life-and-death decisions with the views of a few unelected lawyers."
Kagan concurred. "Who decides?" she asked Friday. "Should it be the agency full of expert policymakers, politically accountable to the president?... Or courts can decide."
"Courts are not politically accountable," said Kagan. "Courts have no epidemiological expertise. Why in the world would courts decide this question?"
Article reprinted with permission from Alternet